This post was last updated on December 3rd, 2022 at 07:42 pm
Choosing the best fly rod combo for trout fishing can be quite a difficult process. The best fly rod combo for you is a very subjective topic that will have many good options to choose from.  The best fly rod combo will also vary depending on where you fish, whether freshwater and saltwater. All of these factors will change which type of gear you need. Read this article to learn everything you need to know about choosing the best fly rod combo for trout in 2021.
My Top 4 Best Fly Rod Combos for Trout in 2021
Here's our quick list of the best fly rod combos for trout in 2021:
Our Review of the Best Fly Rod Combo for Trout
New and old fly fishermen will need to purchase fly rod combos eventually. They're one of the best ways to get a perfectly balanced fishing combo for trout. There are many combinations available in 2021, from high end to value buys, there's an option for every angler! Read on to learn more about each oof our top fly rod coombos.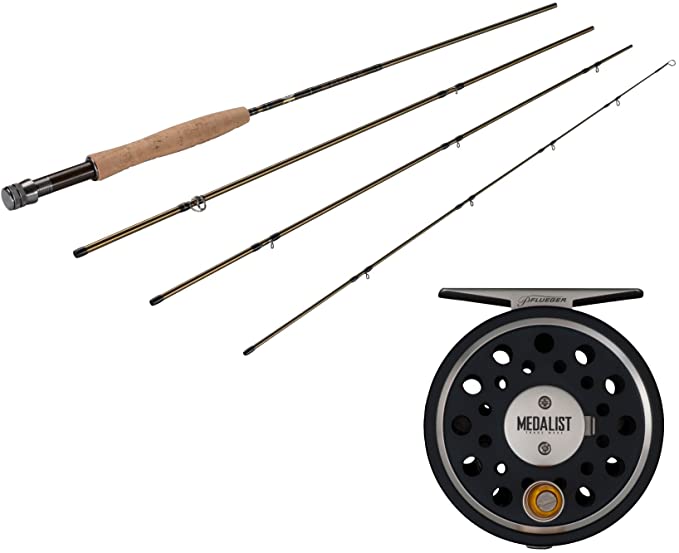 Fenwick is one of the most recognizsble names in fly fishing. The Medalist reel makes this rod and reel combo an excellent value for the money. The Fenwick rod is another highly respected piece of equipment.
The rod features a medium fast action. When it comes to a fly fishing for trout, we recommend the 4 or 5 weight kit.
The wooden handle and Medalist reel have a really cool look and feel. This specific model comes with the smaller sized arbor reel versus the large arbor reel. The reel comes pre-spooled with backing and a floating fly line as well.
Overall, this is a great option for anyone looking for a fly rod combo for trout.
Pros:
Cons:
May not be enough for more experienced anglers
Does not include a case
Specifications:
Available weights: 4, 5 and 8
Comes in four sections
Includes Fly rod, reel, backing, fly line, and tapered leader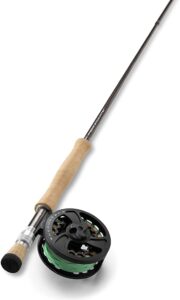 The Orvis Encounter is a great fly rod combo for the beginner. For freshwater fishing, we recommend 5 or 6 weight combos because of their softer actions and light tips. This will allow you to feel each strike better so you can land more fish. Saltwater fishermen should get 7 or 8 weights with faster action rods (though they are heavier) to handle the bigger fish.
The lightweight but durable rod tube included also helps protect your investment!
Orvis has been around for decades, so you can feel confident in the quality from them.
Pros:
Good action for beginners
Good selection
Good strength
Cons:
Conssidered too heavy by some
Reel contains plastic
Specifications:
Available weights: 5 – 8
Comes in 4 sections
Includes Fly rod and case, reel and reel pouch, backing, fly line, and tapered leader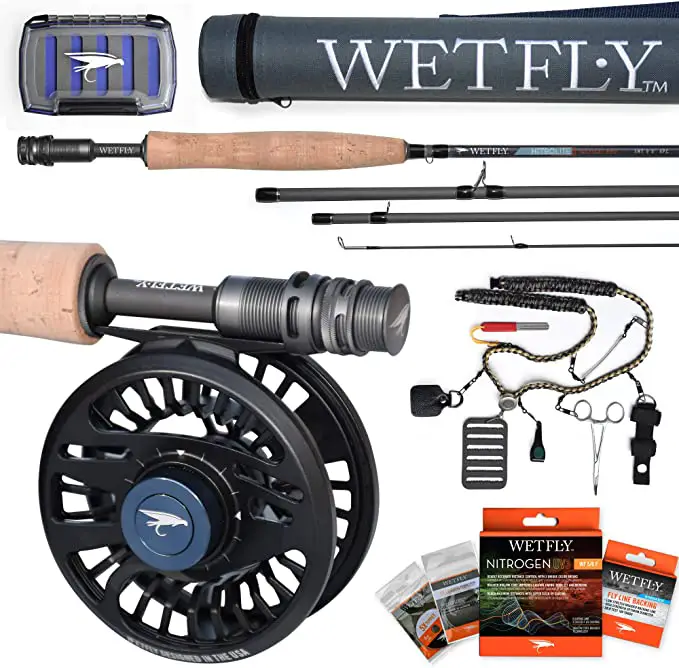 The Wetfly Nitrolite fly rod is powerful enough to cut through heavier winds yet still sensitive enough to feel smaller bites. The carbon fiber rod is durable and very lightweight. The rod has medium-fast action.
The reel is a Nitrolite SD Sealed Drag Reel. It offers high resistance to corrosion, freezing temps and abrasion. It's designed in the US with a lightweight, heavy duty frame with click and pawl retrieve. It comes with a large arbor design enabling maximum line recovery.
Pros:
Lightweight rod
Corrosion resistant reel
Great value for the money
You get a ton of stuff!
Cons:
Some users didn't like the reel
Specifications:
4 Sections
5-7 weight
Combo includes multiple items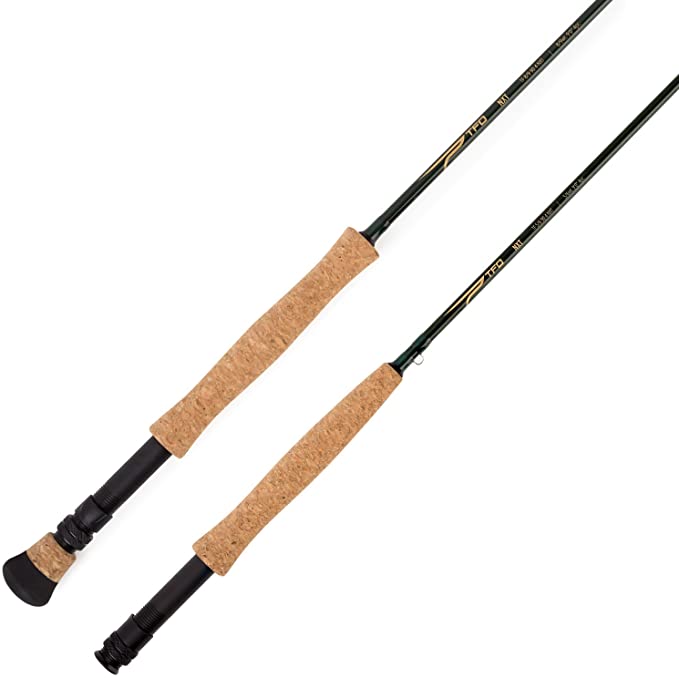 This rod makes fly fishing easier for beginners. Many experts still enjoyed it as well. It's a great rod to learn the sport, but even better, one you don't need to ditch as you become more experienced.
It comes in a 5 and 8 weight. They've hit the mark for a great beginner fly rod. The grips are reconstructed cork with aluminum reel seats for solid durability. The NXT Black Label is a reliable, durable rod and reel combo.
The 5 weight combo comes with the NXT BLX II reel and the 8 weight combo comes with the NXT BLX III model. Both of these are very well balanced with the larger Arbor reels. The reel also comes loaded with backing and a good weight-forward fly line to help you start landing fish ASAP.
As an added bonus, it comes in a nice case to protect your purchase. Overall, this is a great rod especially for beginners looking to learn.
Pros:
Great value for the money
Comes with lifetime warranty on the rod
Good long term purchase
Cons:
Specifications:
Available weights: 5 & 8
Comes in 4 sections
IncludesFly rod, reel, rod, and reel case, backing and fly line
How To Choose The Best Fly Rod Combo for Trout
Now that you're more familiar with some of the best fly rod combos for trout on the market, let's discuss what makes a good fly rod combo and how to choose the best one for your style.
Which type of fishing will you be doing?
Fly fishing is a sport that requires patience and skill. But when it comes to choosing the right fly rod, there are many factors you'll need to consider before selecting which one will work best for your needs. Fly rods come in different weights depending on what type of fish or body of water you're typically targeting with them; freshwater usually only require 3-5 weight while saltwater can reach 6+.
What's Included in the Best Fly Fishing Combo for Trout?
Fly rod combos will come with a rod, reel and are usually pre-spooled with fly line. However, like some on this list, some come fully stocked with all of that plus flies, containers and more. This can be a big bonus to new fly fishermen who don't have a lot of gear yet, or don't what exactly they'll need.
When comparing the cost of fly fishing combos, be sure to consider all of these factors since you're likely going to need them.
The Rod
When looking at fly rods, make sure to consider your environment and your casting style. Some rods are better for tossing long distances while others best suited for roll casting. It all depends on your style and where you're fishing.
The Reel
If you're picking up a combo, the only thing as important as the rod is the reel. The reel has a lot of technical parts. Its important to consider things like corrosion resistance, quality, warranties and brand recognition. Some companies are better than others when it comes to repairing or replacing reel parts.
Fly Fishing for Trout Video!
If you're looking for the best fly rod combo for trout, I assume you're interested in actually catching them. Be sure to check out this video for some important tips on catching trout while fly fishing.
Conclusion – The Best Fly Rod Combo for Trout is…
The Fenwick Eagle Fly Rod Combo 
I really like the Fenwick combo this year. It comes with two pieces from big players in fly fishing and it's a solid value all around. Fishermen have seen a lot of success with this fly rod combo for trout specifically, but also for many other freshwater fish.