This post was last updated on July 1st, 2021 at 07:14 am
Gifts and Stocking Stuffers For the Fly Fisherman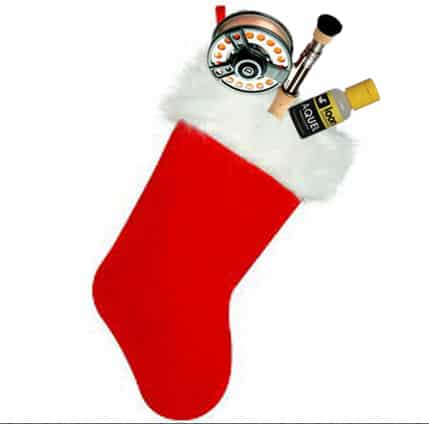 If you have a brother, father or other fly fisherman on your gift list, then here are some items that you really can't go wrong with. These gift ideas fall into the category of being "always needed". So buying these great fly fishing gift ideas will surely be a hit! Whether you are shopping for Christmas, Fathers day or a birthday here are my recommendations for the perfect presents. I have done my best to appeal to all price ranges in this article, so no matter what size your gift giving budget is. you are sure to find a gift on this page your recipient will love.
The New Latest and Greatest Fly Fishing Rods
There are several new rods that hit the market this year that are sure to be plastered all over every fly fisherman's gift list. I will give you here a broad range of rods to choose from in order to try and suit anyone's budget.
Sage Method Fly Rod
This tremendous rod has taken the fly fishing industry by storm. If you have a husband or a father who knows how to appreciate the finer things in life this super awesome rod is certain to put a smile on his face on Christmas morning! This gift will be remembered throughout history as possibly the best fly fishing gift you could give. With Sage's lifetime unconditional warranty, you can rest assured that it will be a member of the family for many, many years to come.
Redington Voyant
I bought one of these rods just last week to test it out. I can say with extreme confidence that the mild price tag should not lead you to think this is not a good rod. Considering it costs less than half of the Sage Method rod above, you are surely getting more value than you think.
If I were stuck with only one type of fly rod for the rest of my life this would be a good one to be stuck with. Taking into consideration  Redington's unconditional lifetime warranty, you might just be stuck with this rod for many years! They don't care at the company how the rod breaks, if it is broke it will be repaired or replaced- no questions asked.. Consider this a very affordable fly fishing gift idea that is certain to keep on giving for the rest of the life of the owner.
Fly Lines:
All fly fisherman need good fly lines. If you can manage to sneek a peek at the gift receivers fly rod, you will know what type and size to buy. Here's how to identify the right line: on the base of the flyrod just above the cork you will see a set of numbers such as 9′ 5/6 weight rod, or it might even say 6 weight line etc. right on the rod. If the person you are buying for fishes for mostly trout then it will likely be a 5 or 6 weight line that is needed. You should be able to figure this out for sure by looking at the rod.
Fly Floatant:
This will make a perfect stocking stuffer! All fly fisherman need floatant; this is the stuff that you apply  to your fly to keep it floating on the surface of the water. You can buy almost any brand for under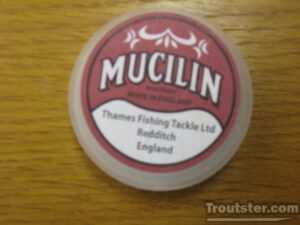 $10 and I can assure you this is a small gift that won't go to waste! If you are wondering which brand to buy you can see some of the top types of fly floatants here.
Shop For Fly Floatants Here
Wader Repair Kit
If your gift recipient spends time on the water wearing waders, then they are bound to get a hole eventually. Here is a quick little stocking stuffer that could really save the day for them. These can be a very valuable thing to have if you have a hole in your waders. They will be thinking of how thoughtful of a gift giver you are when they can continue on their fishing trip dry, because you are such a pro gifter! 🙂 This stuff dries in seconds once it is hit by UV rays! You can patch a pair of waders within 60 seconds. Yes it still dries fast even when its cold and cloudy without the sun. This is possibly the ultimate fly fishing gift idea for a stocking stuffer.
Fly Fishing Rod Combo
If you know someone who has talked about getting into fly fishing for quite some time, but they have never been motivated enough to go out and buy a rod for themselves, well here's your opportunity to help them out in a big way! Fuel their passion and start them on the rewarding new hobby of fly fishing. This kit is perfect for the beginner. I actually own this rod and use it frequently for various trout fishing applications. This would be the perfect size for the person who might want to tackle even quite large trout and still be a good size for bluegill in the local park pond. At $125 you will not find a better deal to get into the great sport of fly fishing. You could easily spend 5x more if you wanted to, but that's not really required for a beginner. If you want more info about the Redington pursuit rod you can read a review here.
Leaders and Tippet Material
These are great stocking stuffers! If you don't know what leaders and tippet are you can read about them here. They are basically the clear line that you tie your fly to. They are a perfect gift, because they are mandatory items for the fly fisherman. You can rest assured that you have provided a gift that will get used if you pack a couple of these in the stocking on Christmas Eve.
Curious about what size and material to buy?
You would be safe to go with 4x or 5x leaders if you are shopping for a trout fisherman. You can also buy tippets in the spool sizes of 2x, 3x, 4x and 5x. There are a couple options for materials so you can opt for the nicer of them with fluorocarbon, this is a new high tech material that will make the line nearly invisible to fish. It does cost more however than standard monofilament.
I hope you got an idea or two from this article. If you are really confused and need more assistance you can leave a comment below, or you can use my contact form to ask specific questions. I can imagine gift shopping for fly fishing stuff can be a very painful task if you don't know anything about it. I hope to have helped you on your way to finding that perfect fly fishing gift.