This post was last updated on April 15th, 2014 at 01:13 am
Let the Adventure Begin!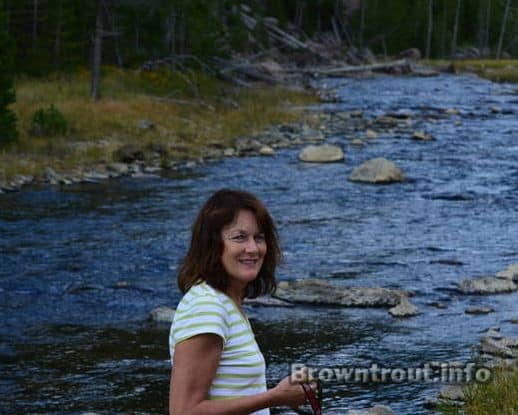 Let me introduce myself, my name is Sandy and the mother of W.C. Paetz IV (Founder, owner and author of troutster.com). First a little background information. W.C. has been a fly fishing guide at the Teton Valley Lodge just outside of Driggs ID. for the last several summers. This summer his dad and I ( also W.C. only the III) planned a trip out to see our son. The day arrived when W.C. finally got a day off, probably the most dreaded fishing excursion yet on the Snake River for him. (I am not an experienced fly fisherman, in fact, I have never even cast one fly line.).
We get an early start, or at least it seemed that way and arrive in SwanValley (somewhere in Wy. ) on the Snake River. As we prepare for take off, we get out food for lunch, pop, water, a blanket for my Chihuahua, and of course my cell phone, camera, and oh yes, the dreaded fly rod.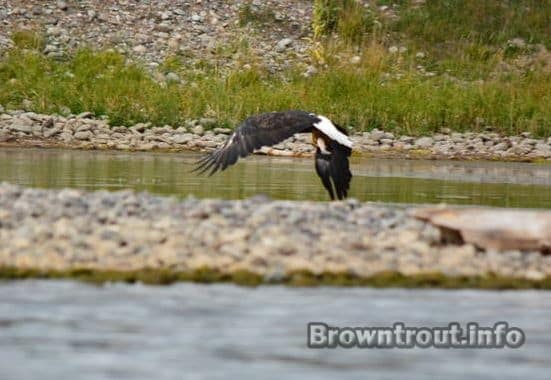 We prepare to launch and let me lay this out for you. My husband in the front, my son in the middle at the oars with his faithful dog Chimp at his feet, myself in the back with Rufus my Chihuahua and Zoie my Pomeranian, along with my fly rod and camera at hand. (Seems more like a dog kennel then a drift boat to my son.)
Prior to the first cast we see a proud Eagle flying and if you can imagine this, he flys down and shows me how to catch a fish. I have to say, I am better with a camera then a fly rod. I was able to get a picture of the eagle flying away with the fish.
My son explains (without trying to hurt my feelings) that it may be best if only one of us fish at a time being I am unexperienced. He then explains, as long as dad is in the front we might as well let him go first. (Actually, I don't think he wanted to fry his patience so early in the day). My husband catches numerous fish of various species and then proceeds to tell my son to give me a turn. I thought, after all this watching, mend right, throw downstream and set it, I had this down, it looks easy.
Rather then rowing to the side, my son says (do you guys think you can switch places without pulling over). We both respond with sure, no problem. The switch begins, picture if you will, he climbs by my son over his dog Chimp and makes it almost to the back. I then get up and attempt to balance and climb to the front, holding my camera in one hand, my Chihuahua in the the other, and my Pomeranian close behind as we proceed over Chimp. I then reach back and ask my husband to hand me the fly rod, he states how you going to carry it. I then tell him, put it under my arm. Needless to say the Snake River is much rougher then I thought. My son intervenes on that one and says, you better sit down first and I will hand you the fly rod. In my mind I think, how can you hand someone a fly rod when they are so flexible and bend so easily . Actually, I do make it to the front without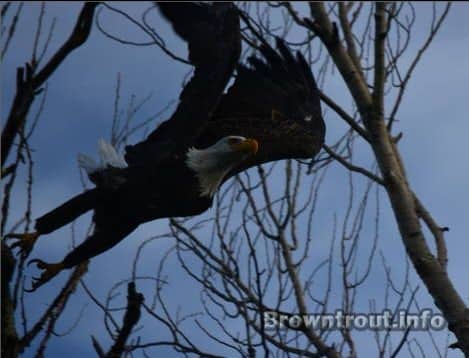 getting anyone knocked out, but I will say, I am much better at changing places then I am at the fishing that takes place next.
I stand up behind the body support,( or whatever its called) and grab the $500. fly rod that my son hands me. I explain to him, why don't you give me the cheap model because I would hate to break the tip, or even worse drop it in the water. He explains, that's the cheapest and oldest one I have. That didn't make me feel much better, $500 being the cheap one, Oh No. With rod in hand , I proceed to pull the line out and fling it back and forth as I had seen him and my husband do for years. I flip that line back and forth and hear them yell, out to the front, my son calming says, cast to the front, downstream, downstream, DOWNSTREAM. After several more trout fishing tips, finally, my line is in the water and as fast as I get it in the water it's already under his oars. Needless to say its time to cast again. The dreaded second cast. With rod in hand, I arrange the line as I had before and the flinging begins. I hear him say downstream, downstream and then the dreaded OUCH. Yes, I had winged him with a streamer. I turn around and see him holding the side of his head and saying I almost gave him a concussion. I felt bad and concerned and ask him if he was ok. He claims he was, not wanting to hurt my feelings, as he holds the left side of his head. I ask him if in all his years of guiding if anyone has ever hit him before, he explains they have lots of times but but not with a streamer. I proceed to to tell him I will send him my old police riot helmet with visor attached when I get home. Needless to say he didn't think it was all that funny.
My next few cast I think I got this down, he proceeds to say almost every cast downstream, downstream, mend right, set and yes, each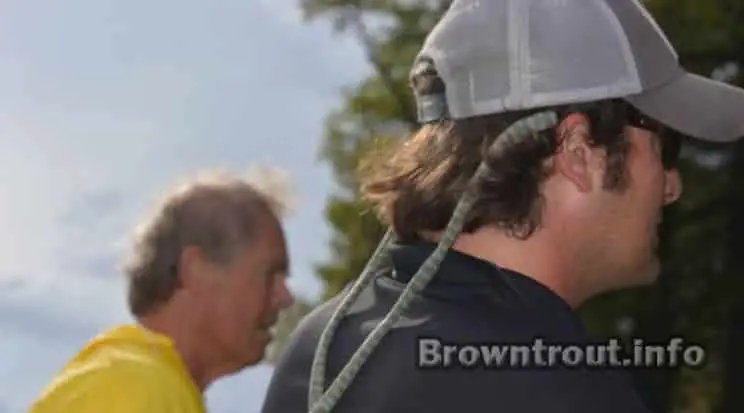 and every time I miss it. He then ask me if I want a recording to continually say "cast down stream".
As clouds begin to gloom over us, W. C. pulls to the side and prepares for the eminent rain which will soon dump on us, which often as he explains  includes hail. I pack away my camera, my most cherished piece of equipment, oh of course aside from my Iphone. Well anyway, they get packed away in one of his waterproof bags. He then gives us all some rain suits and we take off again. At this point I am so hot from the rain clothes and so bulky that I just want it to rain so we can quit and go back. To my disappointment my son informs me that the car is still aprox. 15 miles downriver. He explains the shuttle service drops his car off at the end where he tells them, they are not a taxi service. With that bit of gloomy information I figure I might as well make the best of it. Finally I settle back with the fly rod at hand and begin again just as before; Downstream, up by the foam, mend right and yes, set it. To my surprise I feel a tug, yes its pulling, I can hardly contain myself. the line continues to pull, my son and husbands excitement almost surpasses mine, I can hardly believe its happening . As my excitement escalates so does theirs, they are both telling me what to do. Give it line, give it line, don't pull, work it, work it, don't let it tangle on anchor. I try and hold the line tight but still reel it in. Slowly the fish is worked and getting closer to the drift boat, proud to say I just know this has to be the biggest fish of the day. I am so excited, the fish continues to pull, I continue to work it and its almost to the boat where my son anxiously awaits with the net. And yes, with my excitement I attempt to lift the fish to the net instead of keeping it in the water for him to net, and you guessed it, it's gone. Well maybe it's best this way, I have bragging rights even if it wasn't the biggest fish. In my mind I was convinced it was the biggest brown trout of the day.