This post was last updated on January 26th, 2022 at 02:54 pm
A Beautiful Flower And a Survival Food – (Solidago Elongata) other names: Goldenrod or S. lepida
The Goldenrod is a versatile flower that can be harvested for food at any time of the year. This plant can easily be found even in the heart of the winter due to the height at which it grows. It will usually be visible above the snow, even though it might be brown and tattered looking it can still be consumed.
Eating the Goldenrod Plant and Flower
You can actually eat the entire plant such as making:
Teas
Use the dried leaves stems and roots as flavoring
Grind into a flour
Fresh leaves as a salad
Added to soups for flavor (supposedly particularly good in cream based soups)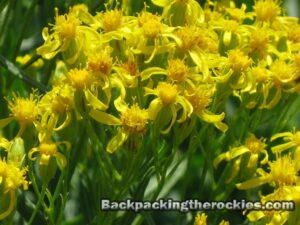 Eczema, arthritis even has been used to treat colds, the flu and fatigue. The list of benefits of the goldenrod is large.
There are over 100 varieties of the Solidago family, they are often found in large clusters or small patches. They can be found on roadsides and in fields. They prefer rocky type soils and usually flower in June-August.