This post was last updated on August 4th, 2021 at 07:43 pm
State and World Record List – Biggest Trout Ever Caught
In this article, we'll discuss the biggest trout ever caught, the current and past world record brown trout, the biggest trout in the world and more! The current world record brown trout is 44.3lbs. It was caught in New Zeland by "Seamus from Turgani."
July 3 2021 UPDATE – New World Record Brown Trout
The IGFA has certified a new world record for the brown trout. Caught last fall (2020) by a man only known as "Seamus from Turgani", the fish checks in at a whopping 44.3lbs! The record brown trout was caught in New Zealand, in the same body of water where the 2013 world record fish was caught. Apparently, a lot of big trout come from these New Zealand canals.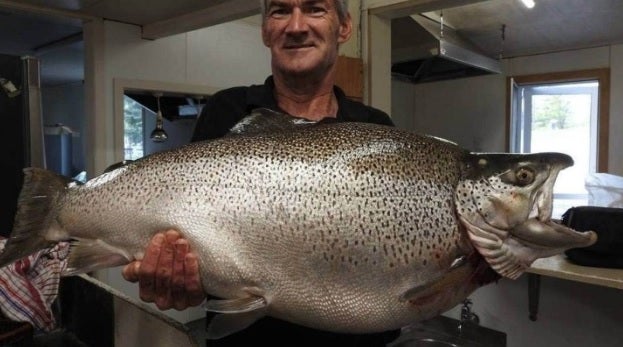 Previous World Record Confirmed in New Zealand
42 pound 1 oz brown trout that was caught in March of 2013 was confirmed a couple days ago as the all tackle world record brown trout. (see the story below)
Previous Brown Trout records and close calls
The state record in Michigan for the brown trout until September 9th, 2009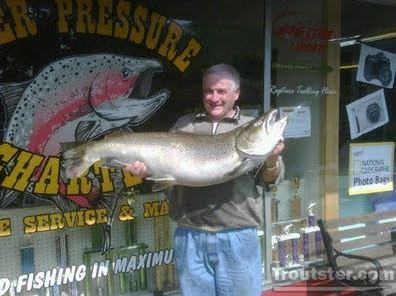 weighed 36.81 pounds and was caught in Lake Michigan in Benzie County in 2007. In 2009 an angler on the Manistee river caught a Brown larger than any other documented in history weighing 41.7  pounds!  Tom Healy of Rockford, Michigan Landed it and unseated the previous world record which was Forty-pounds, four ounces caught in Arkansas. The record before that was also a trout from Arkansas weighing 38-9#.  Manistee County proves to have fabulous fishing in the area. The Manistee river is a Tributary of Lake Michigan, and year after year provides fisherman great opportunities.
Previous World Record Trout from Arkansas
At about 11:00 a.m. Saturday, May 9 1992, 64-year-old Rip Collins was fishing with his friend in a boat on the Little Red river. Using a  maribou jig and 4lb test line he hooked this big female brown trout. It took only five minutes to get her to the side of the boat, but they had to flag down another fisherman to borrow a net to get it into the boat. A 40 pound 4 ounce specimen.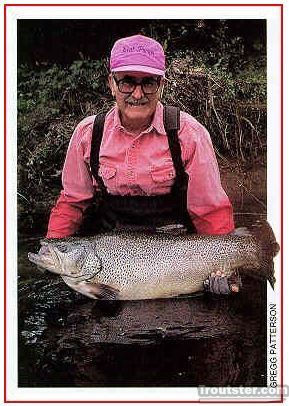 Previous world record brown trout from Arkansas Photo: Gregg Patterson
Update:
 42 pound 1 oz. From New Zealand Confirmed as the New World Record
"Very ugly. Small head, big belly. Just amazing," Otwin Kandolf Said of his monster trout. This would be the world record brown. Nobody is sure if he is going to enter it into the IGFA (international game fish association)  IGFA (there are several conflicting media reports)
In some media stories, the fish was reported to weigh 45 pounds.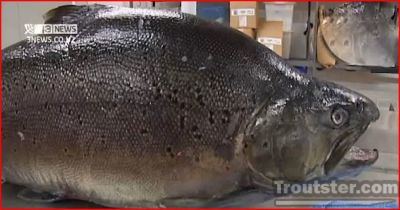 "I just couldn't believe it. It looked to me like a submarine," Kandolf told the news station. "Very ugly, small head, big belly … Just amazing." This fish was caught downstream of a salmon farm. It grew so huge eating Pellets from the farm.
In 2010 there was another Gargantuan caught in Wisconsin
Roger Hellen will share the all-tackle record for brown trout with Tom Healy, who caught a 41.7-pound brown (top of page) Even though Hellen's fish was one ounce larger, it didn't meet the IGFA's requirements to claim sole possession of the record.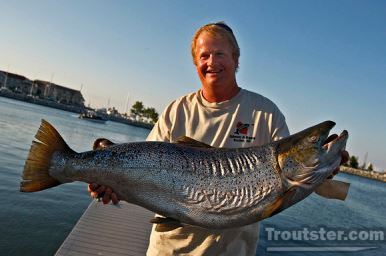 Current Brown Trout Records By state
Here is a full list of the current State Records for the brown trout. (See also the brook trout world record)
| | |
| --- | --- |
| Arizona | 22 lbs 14.5 oz |
| Arkansas | 40 lbs 4 oz |
| California | 26 lbs 8 oz |
| Colorado | 30 lbs 8 oz |
| Connecticut | 16 lbs 14 oz |
| Georgia | 18 lbs 6 oz |
| Idaho | 27 lbs 5 oz |
| Illinois | 36 lbs 11.5 oz |
| Indiana | 29 lbs 03 oz |
| Iowa | 15 lbs 6 oz |
| Kentucky | 21 lbs 0 oz |
| Maine | 23 lbs 5 oz |
| Manitoba | 0 lbs |
| Maryland | 18 lbs 3 oz |
| Massachusetts | 19 lbs 10 oz |
| Michigan | 41 lbs 7.2 oz |
| Minnesota | 16 lbs 12 oz |
| Missouri | 26 lbs 13 oz |
| Montana | 29 lbs 0 oz |
| Nebraska | 20 lbs 1 oz |
| Nevada | 27 lbs 5 oz |
| New Hampshire | 16 lbs 6 oz |
| New Jersey | 21 lbs 6 oz |
| New Mexico | 20 lbs 4 oz |
| New York | 33 lbs 2 oz |
| North Carolina | 24 lbs 10 oz |
| North Dakota | 31 lbs 11 oz |
| Ohio | 14 lbs 10.8 oz |
| Oklahoma | 17 lbs 4 oz |
| Ontario | 34 lbs 6.08 oz |
| Oregon | 28 lbs 5 oz |
| Pennsylvania | 19 lbs 10 oz |
| Rhode Island | 7 lbs 9 oz |
| Saskatchewan | 17 lbs 12 oz |
| South Carolina | 17 lbs 9.5 oz |
| South Dakota | 24 lbs 8 oz |
| Tennessee | 28 lbs 12 oz |
| Texas | 7 lbs 1.92 oz |
| Utah | 33 lbs 10 oz |
| Vermont | 22 lbs 3 oz |
| Virginia | 14 lbs 12 oz |
| Washington | 22 lbs 0 oz |
| West Virginia | 16 lbs 0 oz |
| Wisconsin | 41 lbs 8 oz |
| Wyoming | 25 lbs 13 oz |