This post was last updated on December 1st, 2021 at 11:30 am
You can find the red clover all over the world in many different areas. I have seen them at sea level in lawns and have also seen them in moist areas at very high elevations. This picture I took today is on the edge of a river in Idaho at about 7,000 feet elevation. These are very easy to identify and have several health benefits as well. They have conducted much research and concluded that this little plant has the ability to fight off the growth of certain cancer cells.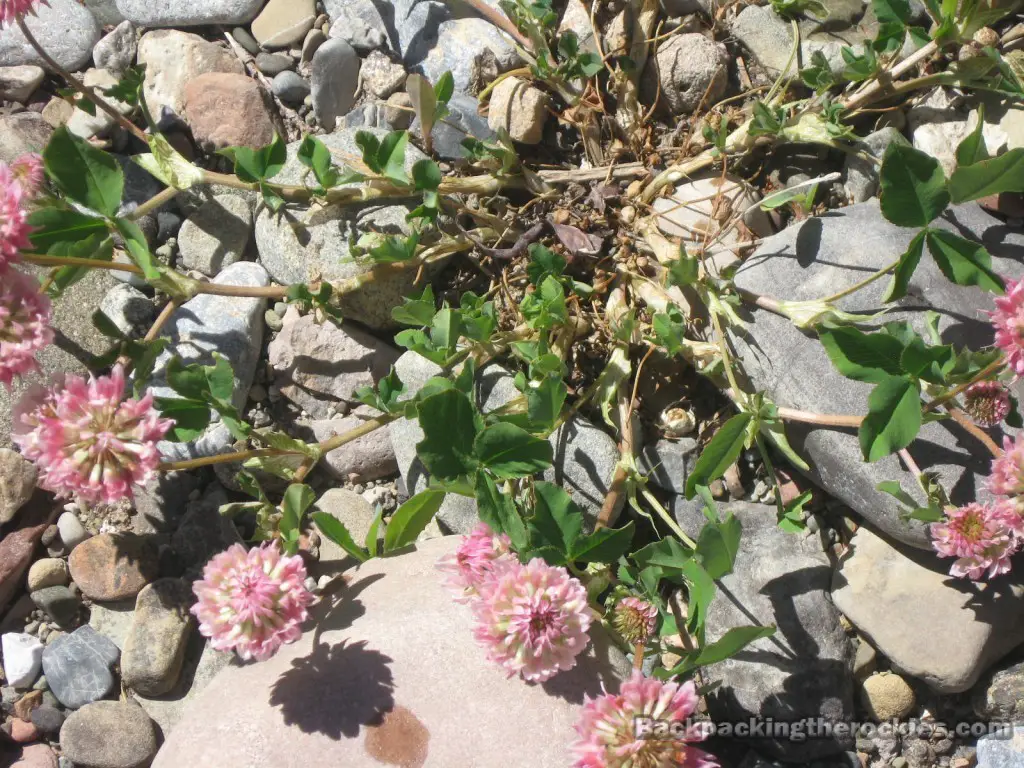 Where to Find Red Clover
The red clover is a plant that grows well with quite a bit of moisture. You will find it mostly in full sun areas. Its one of those plants that are so common to see, you could easily take them for granted. These would make and exceptional addition to any salad or stir fry. They would also be good added to the top of your dehydrated backpacking meal to give you a little fresh flavor.
Is Red Clover Edible?
Yes, red clover is an edible wild plant. Make them into a salad or sprinkle them over a bowl of rice. They are even good just munched as is right off the stalk. You can eat the flowery top and the leaves of this great plant. Some people say that if you soak them for a while it will make them even more desirable, but personally I love the flavor of them as is. Its a grassy type flavor that will really give your dishes a great snap when it is added.The Red Clover is easy to identify as a wild edible and is a delicious plant to eat in many different forms. This is one plant that everyone is somewhat familiar with and should have no trouble spotting. If you were hard up in a survival situation this would be a good plant to be able to ID.
Is Red Clover Bad?
Red Clover is such a common weed you will see it all over the place. Because of that many people think they know everything there is to know about this plant. Yes I said weed. You can find it almost anywhere and everywhere. This plant is plentiful and very easy to identify. Just remember that not everyone knows what you do and telling someone that this is a weed might just make them want to pull it up.
What Are the Benefits of Red Clover?
The red clover has many benefits as a wild edible and should be taken advantage of while you can. This plant grows very easily and can be found all over the world in many different areas. It is easy to identify and has several health benefits as well.
Here are some of the health benefits of red clover:
The red clover has blood-building properties, which can help reduce the risk of cancer.
The red clover is high in vitamins A and C, which aids in strengthening your immune system. The Red Clover also contains B Vitamins, Calcium, Magnesium and Fluoride.
Also found in The Red Clover are estrogenic properties, which is good for women and can help reduce the symptoms of menopause. This is also known to add some balance to your hormones.
The red clover is a very good source of nutrients and phytonutrients which acts as antioxidants in your body. It will remove toxins and may even prevent certain cancer cells from growing.