This post was last updated on December 3rd, 2022 at 07:42 pm
Few flies have caused such controversy as the San Juan Worm Fly. As standard resident in most peoples fly boxes, the San Juan worm pattern can truly make your fishing trip if used under the right conditions. To put it frankly: most of the time this fly probably won't work, but when it does it can work really well! Read on to learn everything you need to know about the San Juan Worm Fly pattern.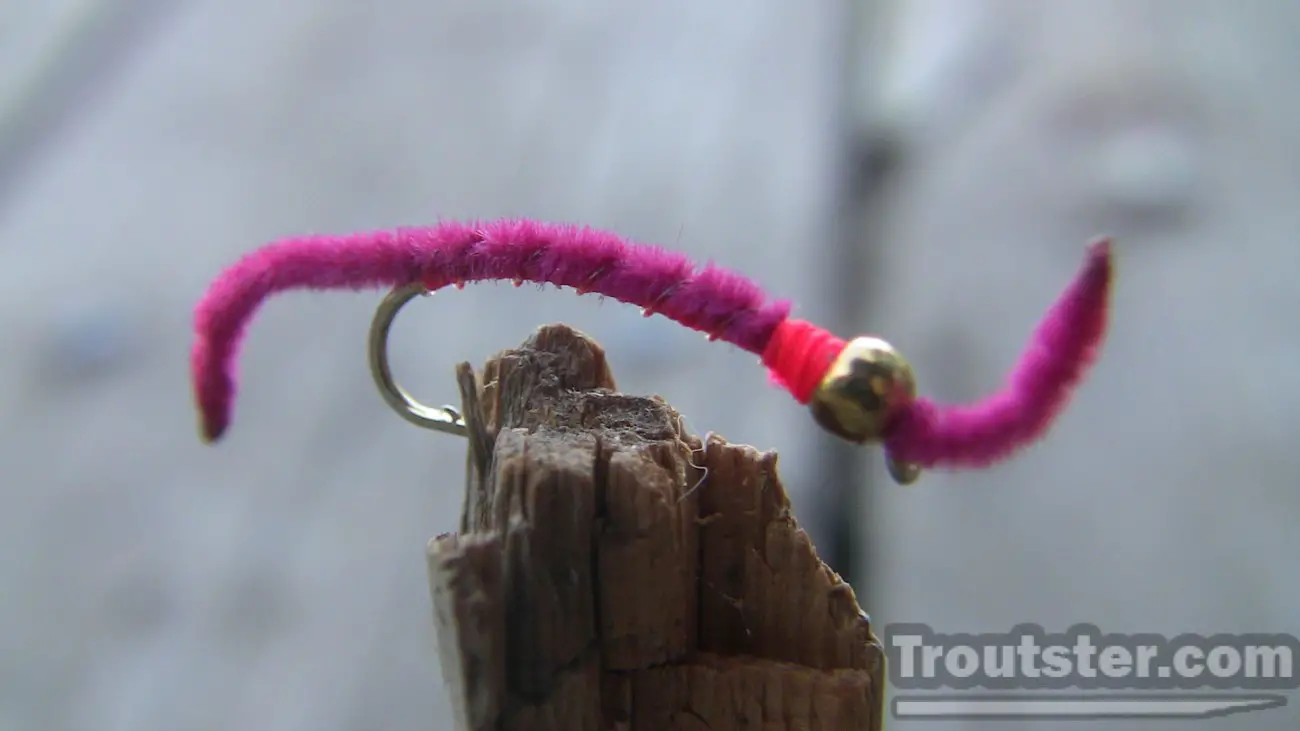 Buy the San Juan worm here at our fly shop
When to Use the San Juan Worm Fly
This fly can truly work miracles in stained and high water conditions. When the rain starts pouring down the worms will make their way to the surface, when this occurs you can expect that these worms are frequently ending up in the river. Banks are eroding and washing them in and the small leaf worms near the banks are on the move falling into the river. Heavy rain will almost always cause worms to become very active and that is the time when the San Juan worm pattern will finally come into play. Last week on the South Fork of the Snake I pumped the stomach of a medium sized rainbow trout during a rain storm to find it had eaten almost exclusively leaf worms. I quickly tied on a San Juan fly similar to the one in the image above and started spanking fish.
The trout's dietary habits almost always include worms so it makes sense to keep a few varieties of this fly in your box. The purple version shown in the image has always been a personal favorite of mine, but red and pink are often very good producers.
San Juan Worm Tying
This fly should be tied on a long shank hook such as an Umpqua Tiemco TMC 2302 Fly Tying Hook. The bead head version shown in the image will often come in handy in the fast and deep water, however these flies are just as effective tied beadless if you are fishing in shallow stuff. I have found a body wrap of gold or silver ribbing will often increase the effectiveness of the fly, since a natural worm will often have a nice sheen.
Materials needed to tie a San Juan Worm Fly
Chenille color of your choice: I have found chartreuse, pink, purple, and even bright orange on occasion to be effective color choices to tie San Juan worms.
Long shank hook
Beads made from brass or tungsten
Thread color of choice (red and pink are my favorites)
A lighter (to sear the ends of the chenille to prevent fraying and creating the taper of the end of the worm).
San Juan Worm Variations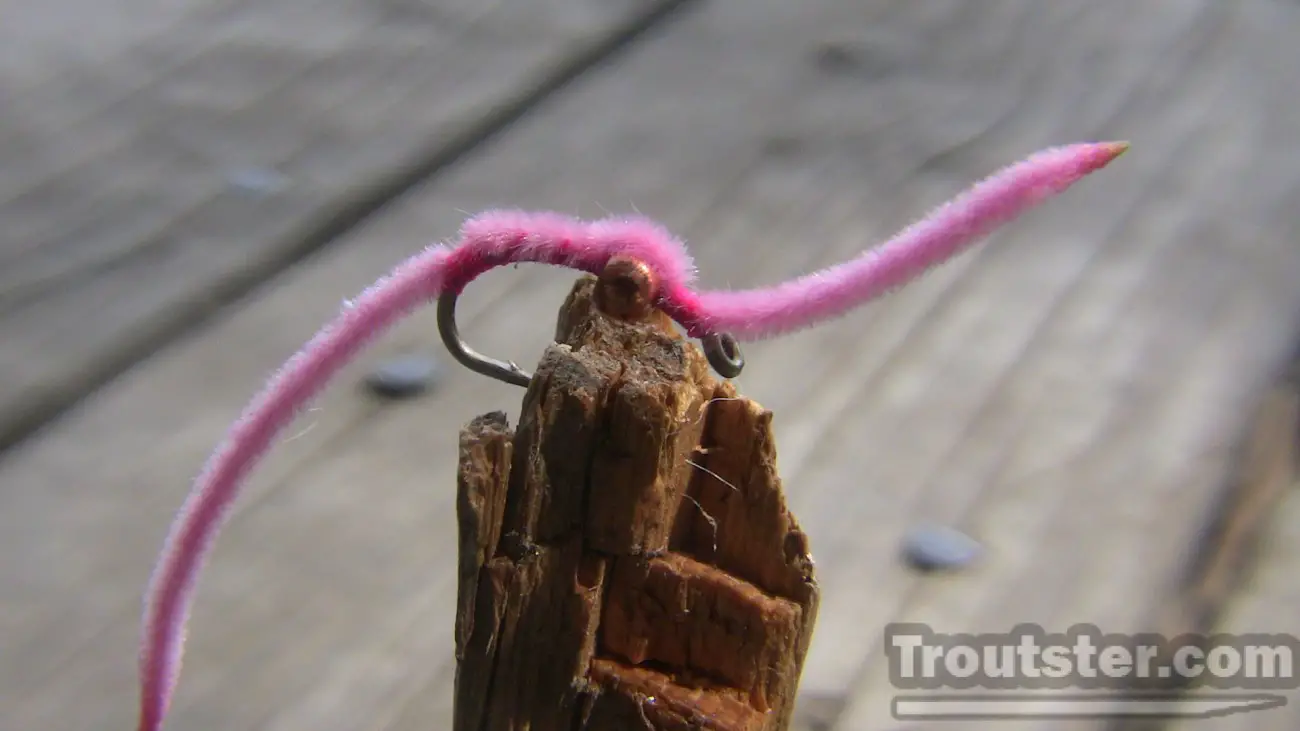 This pink San juan fly is a great trout catcher under many conditions. This is one of my favorite colors. Often times after worms die or spend a long time in the water they become discolored and take on a similar pink appearance to this fly. I recommend keeping a couple of these bubble gum colored san juan's in your box.
---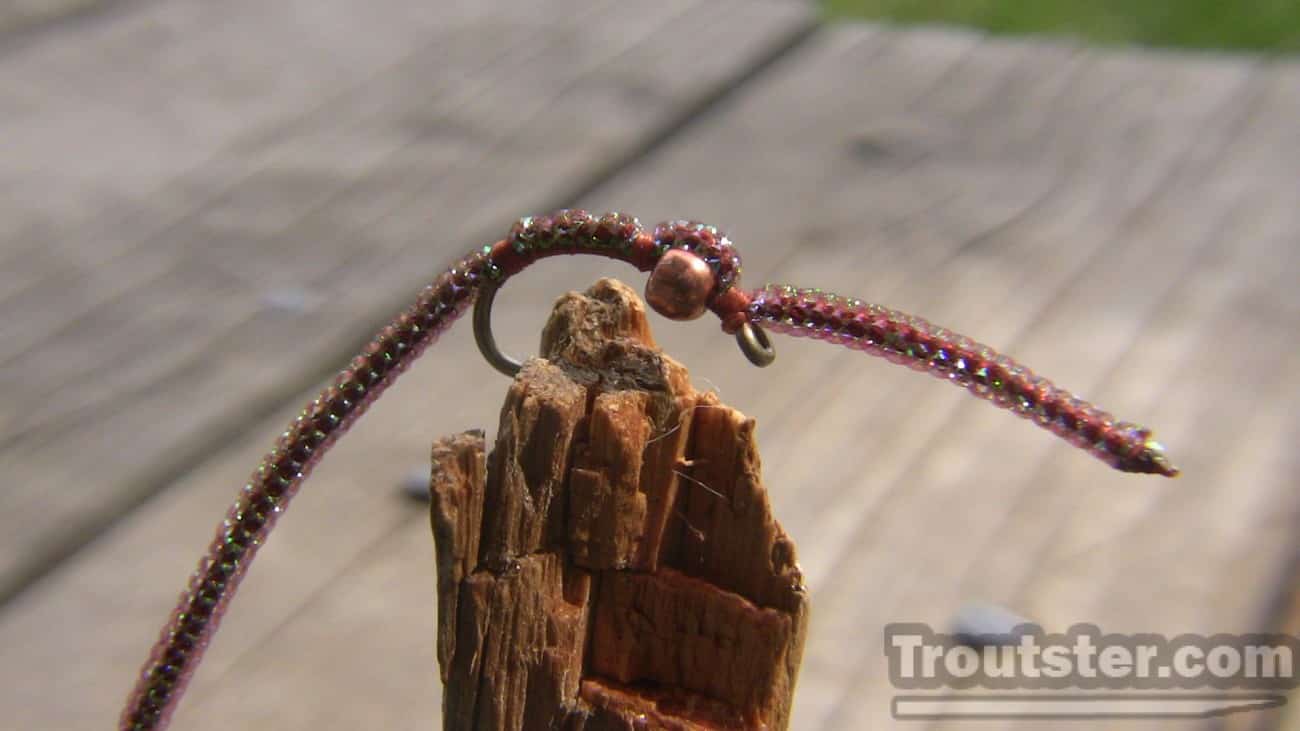 This San Juan worm fly pattern has a little bit of flash to the material. The glistening highlights that this fly takes on when the sun hits it gives it a very natural appearance. You should be able to easily find this chenille at your local fly tying shop. This worm tends to work best in semi-clear water where the sunlight can get down to cause it to shine and flash. This has never been a great color choice for me in dirty or stained water because its natural brown color can often be difficult to see.
---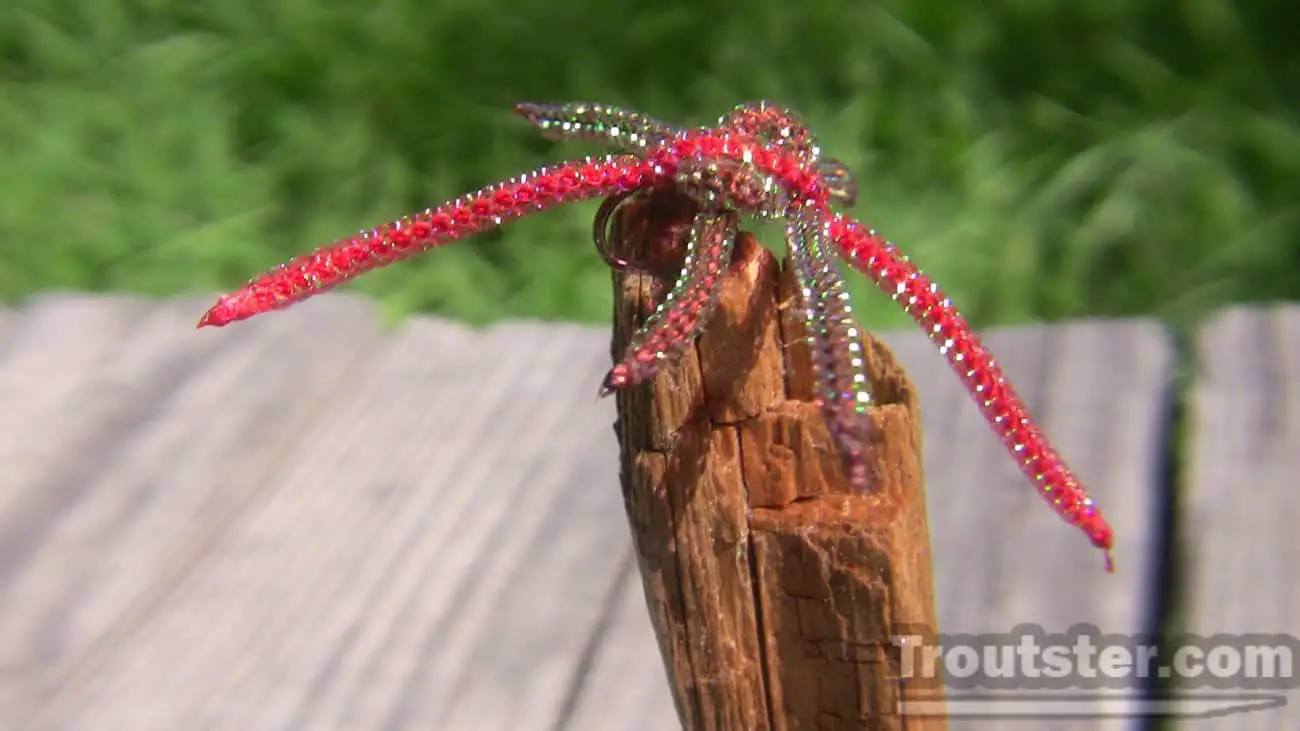 ---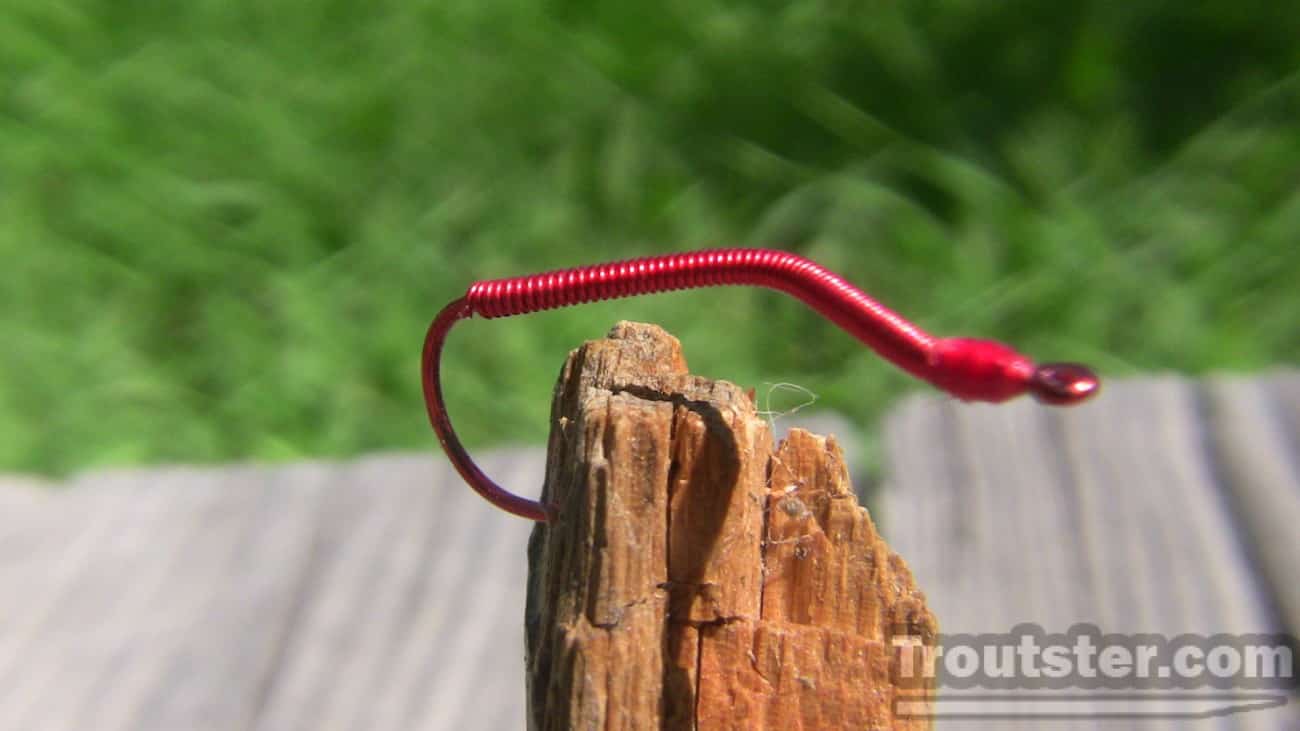 This easy San Juan fly is tied on a tru-turn hook and is made from only a few materials, head cement, red wire red thread and a Tru-turn hook. .
---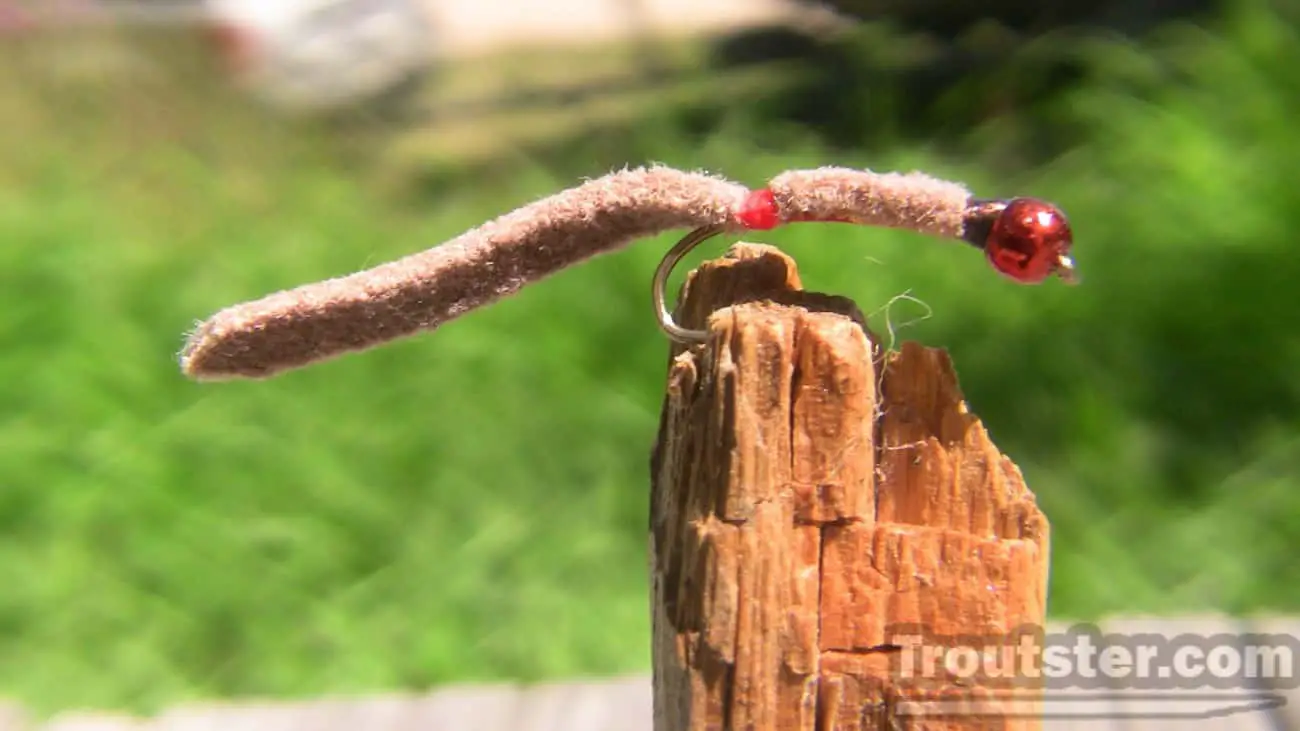 This worm is tied with a red beaded head and a thin strip of moleskin over the back. This is a good pattern in clear water.
---
This San Juan worm is tied using black chenille and an orange colored bead. This is also tied using orange thread. You would be surprised how well this worm works in dirty water conditions. The black and orange really stand out well in murky water. Personally I have never tried this exact pattern in clear water (normally I opt for a more natural look) but it might work well. Just another example of this great fly you can tie up in just a few minutes.
Summary – The San Juan Worm Pattern is a Must Have
This fly can be great if used under the right circumstances. Next time a hard rain blasts your favorite trout stream, be sure to consider the often overlooked San Juan worm fly pattern. It has many variations making it great for stubborn trout. Trout's food habits almost always include worms, so it makes perfect sense to have a few of these San Juan worms available for a rainy day. As I said earlier, the purple version shown in the image above has always been a personal favorite of mine, but red and pink are often very good producers as well. Hopefully this article answers your questions about the San Juan worm. Happy fishing!
---
San Juan Worm FAQ
Do San Juan worms work?
San Juan Worms are awesome for trout fishing, especially after or during a rainy day. Rain and high waters bring out the worms. Trout will feed of those worms making it the perfect time for the San Juan Worm fly.
How big is a San Juan Worm?
The San Juan worm is about 1.5-2 inches long. Many rivers are home to similar worms, which is why the San Juan can be so successful in the right conditions.