This post was last updated on July 23rd, 2021 at 03:45 pm
Yes, you read that right. There is actually trout fishing to be had in Oklahoma. There are several areas in this state that trout are stocked for winter time fishing. In the summer heat there are not too many opportunities in OK, to catch trout; but during the winter they are fair game and planted for your fishing enjoyment. The state of Oklahoma typically starts planting fish on November 1st of each year and continually stocks them until spring.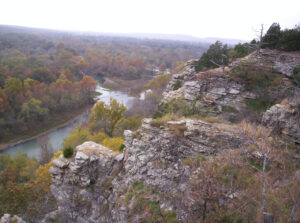 Types of Trout and Fishing Regulations
There are 2 types of trout planted in OK, the brown and rainbow. The daily limit of rainbow trout is 6 in most areas, and the brown trout limit is the same. Most trout areas have no minimum size limit, but you should check regulations because there are exceptions and rules change regularly. The limit for brown trout is 1 fish 20″ or larger at the Lower mountain fork river and lower Illinois river.  Follow this link http://www.wildlifedepartment.com/fishing/trout_areas.htm for a full listing of all of the rules and regulations for trout fishing in OK.
You should also be aware that there have been confirmed cases of didymo, also known as "rock snot" a terrible invasive species that can ruin watersheds by blocking the sunlight. So be sure to properly clean off all of your gear before traveling to a new fishing area. You can learn more about the preventing the spreading didymo and other invasive species, by not wearing felt soled wading boots at the following link https://troutster.com/felt-sole-wading-boots-ban-states-waders/
Check Oklahoma water levels here at USGS.gov