This post was last updated on December 3rd, 2022 at 07:42 pm
This summer I'm hoping to backpack into some remote areas for some fishing adventures. I bought a Redington classic trout 6 piece rod recently to be my weapon of choice. I am convinced that it casts great, is super compact and might just be the best backpacking fly rod you can buy. It is very reasonably priced to fit all budgets, but most importantly….A huge bang for your buck rod! There were a number of times that I almost bought this travel fly rod, but until now I never pulled the trigger. Check out the current price on Amazon here. Check out the rest of this article to learn more about the best backpacking fly rod!
Best Backpacking Fly Rod – What I Love About this Fly Rod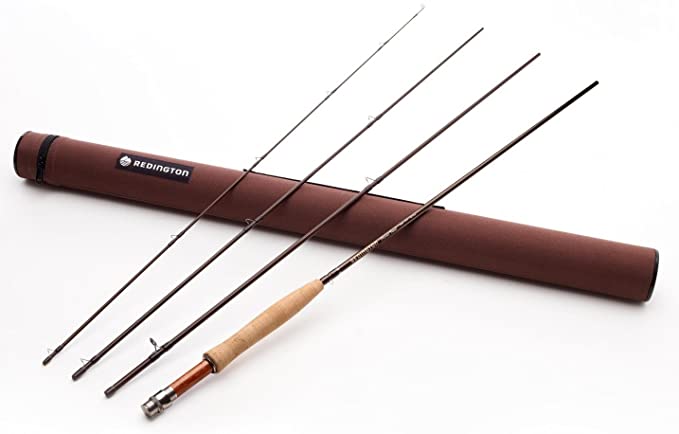 Close to 20 years ago Redington made a rod called Freshwater series. This was my favorite rod for a long time. I had one 8′ 5 weight I bought 18 years ago, I have enjoyed it for most of my adult life, but it bit the dust last year on the Beaverhead in Montana. (It broke the day I was filming this Troutster fishing video,  I almost drowned on camera that day!) This classic trout rod feels a lot like those rods!
It is a classic flex entry level/mid-ranged priced rod, that is extremely versatile. If you are searching for a super crisp rod to cast weighted streamers, this is not it….But if you are looking for a rod to cast dry flies all day with accuracy, this will do the trick! This rod is clearly the replacement for the Redington Temp (another one of my favorite Redington rods of all time!) It has what appears to be the Tempt blank and it feels exactly the same. When I saw that Redinton discontinued the Tempt model, I was truly upset. I am happy to see it was reincarnated into the Redington classic.
The Options
This rod is offered in a bunch of sizes in the 4 piece variety (2 weight – 6 weights), but the six piece model is limited to an 8′ 3 weight and the 9′ 5 weight. I bought the 5 weight looking for more versatility, but If I were hiking into the mountains with brook trout being my target, I would have went with the short 3 weight.
Super Small Travel Flyrods
The difference in length between a 4 piece and a 6 piece model is 8″ in the tube. That might not seem like much, but that is the difference between being able to fit it inside of a small day pack, vs having it stick out the top. Having a travel fly rod stick out the top of the backpack can be a big deal when you are hiking through brush.
Another potential benefit of super compact backpacking fly rods are that they are easy to bring with you on an airplane!
In Conclusion – The Best Backpacking Fly Rod
The best backpacking fly rods are well known for their convenience. You'll also want to consider where you'll be hiking as this can affect the length you should bring. The Redington Classic trout checks all the boxes when it comes to a solid fly fishing rod that works great for backpacking. Hopefully this article help shed some light on the best backpacking fly rod.