This post was last updated on December 3rd, 2022 at 07:42 pm
The truth is that even if you have a incredible vision, there's a limit to what your eyes can see. You will agree that it is impossible to see everything clearly from a distance away. You need the best image stabilized binoculars, especially if you are an outdoor activities enthusiast.
Here's our shortlist of the 4 best Image Stabilized Binoculars
A pair of the best image stabilized binoculars can make a surprisingly big difference when fishing. It can help you spot a fish from a distance and even with a large diameter. Not only do binoculars come in handy when fishing, they can give you a fresh perspective on your surroundings as well. There are numerous types of binoculars. They have distinct strengths and unique features to optimize users' experience. More powerful binoculars can provide more functionnality, but they can be difficult to use. This is where image stabilized binoculars(ISBs) come in.
Unlike standard binoculars, image stabilized binoculars feature an anti-shake technology. This helps you observe moving objects even with wobbly hands. They are optimized for outdoor recreation such as boating, fishing, kayaking, and more.
In any case, there are numerous image stabilized binoculars out there. This makes it challenging to decide the best pair to purchase. This is why we have created this post to help you navigate through the four best Image stabilizing binoculars. We'll discuss the most imporrtant factors to consider when shopping for new binoculars.
Factors to Consider Before Purchasing Image Stabilized Binoculars
Image stabilized binoculars are indispensable for boating, fishing, bird watching, hunting, and more. With that said, they aren't cheap. IT's important to properly assess the best image stabilized binoculars for the money.
It would help to pay prompt attention to some factors and qualities when shopping for your first or next image-stabilized binoculars. To this end, various factors play a significant role when purchasing an image-stabilized binocular. So let's dive into them!
Image Stabilization Technology
The image stabilization technology is an integral part of an image stabilized binocular. It's important to find out whether they have a passive mechanism or an active mechanism. Both mechanisms are excellent tools for viewing moving objects. However their navigation methods differ.
The active mechanism utilizes an electronic sensor. It automatically adjusts your lens to provide you with a steady field of view whenever it detects any movement on your binoculars.
On the other hand, the passive mechanism leverages a gyroscope sensor to regulate an image. It allows you to manually maintain stability by reducing the influence of movements on your binoculars.
ISBs with an active mechanism are good for bird watching or hunting. Image stabilized binoculars with a passive mechanism are ideal for fishing or boating.
Water Proof, Shockproof and Fog proof Mechanisms
Another factor to consider when purchasing image stabilized binoculars is its ability to resist external elements. You should ask yourself the following question. Can this model resist water, fog, and shock? You need to considerr what you'll be using them for and buy the appropriate feature. It is advisable to opt for binoculars that are shock-resistant, fog-resistant, and water-resistant. Nitrogen-filled binoculars are a good choice here. The nitrogen protects the lens against air, dust, and moisture. This prolongs the life of your binoculars.
Weight and Size
If you want to buy an image stabilized fishing binoculars, you should take into consideration the average length of hours you will be operating them. This factor is chiefly determined by the binoculars' prism. The reason is that compared to roof-prism binoculars, porro-prism options are heavier.
If you are going to use the ISBs for long hours, a lightweight choice is better. That doesn't mean that the heavyweight design is not a good choice. You can also use it but with the support of a tripod.
Range of Magnification
Determining the magnification range is also a crucial aspect when shopping for an image stabilized binocular. The wider the magnification, the better the view. Binoculars with magnification powers of 7x to 10x provide better image clarity. On the flip side, ISBs with very high magnifications limit the range of objects or activities you can observe in your periphery.
Field of View
Binoculars with a large field of view are preferable to one with a smaller view. It's because a large field of view will help you to view an extended part of the image. It also helps you to see the objects clearly without pushing harder. In this case, it's the real deal for individuals that wear recommended glasses.
Warranty
When purchasing an image-stabilized binocular, you shouldn't overlook the warranty. Some binoculars come with a two or more year warranty and others come with a year warranty. It depends on what you want.
Make it a point to read what the manufacturer has said about the binoculars. Does the manufacturer promise to repair the model for free? And in what circumstances?
Lens Coating
Lens coating plays a significant role in ensuring the protection of the binocular lens. They also regulate the amount of light that goes through the lenses. Most image-stabilized binoculars have coated lenses to ensure a better viewing experience. The more the lens coatings, the sharper and clearer the images. To bot, ISBs with multi-coated lenses are ideal for murky weather conditions.
The 4 Best Image Stabilized Binoculars for Fishing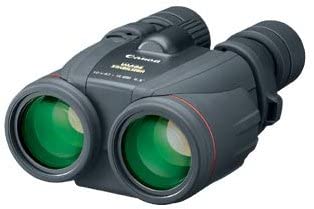 Canon Image Stabilized Binoculars Review – Overall Best Image Stabilized Binoculars for Fishing
The Canon 10x42L is the first water-resistant image stabilized binoculars masterminded by the brand. It is known for its exceptional waterproof capability even in the most extreme weather conditions. Not only is this Canon ISBs safe during harsh weather conditions, but it also eliminates chromatic aberration and provides excellent brightness which in turn allows for detailed and clear images. Its 42mm objective lens and high magnification offers an exceptionally clear view even in poor lighting conditions. It is safe to state that Canon 10 x 42 L is one of the best image stabilized binoculars for fishing or yachting.
There are many more features that make Canon 10×42 a top pick. Let's explore them.
Features and Benefits of the Canon Image Stabilized Binoculars
Anti-reflective Coating
The Canon image stabilized binoculars lens comes with an anti-reflective coating. In this regard, the outcome is a high-quality image with a sassy colour balance. It guards against reflections that could lead to blurry images.
Large exit pupil diameter
The 4.2mm exit pupil ensures a clearer field of view even in the poorest lighting conditions.
Anti-fog Feature
The Canon 10×42 features a special metallic coating. The coatings on the outer layers of the covering helps to resist foggy conditions. Meaning you can use these ISBs in foggy weather conditions without worrying about it being damaged.
Nylon bag
Excellent packaging is one of canon 10×42's strong points. The model comes with a showy nylon bag. You can quickly store the brand in the bag to protect it from the worst environmental conditions such as dust.
Pros of the Canon Image Stabilized Binonculars
Soft rubber surface guarantees firm and secure handling.
Offers 60 months warranty.
Comfy to use with or without glasses.
Cons
Canon 10×42's rain cover may slip off during heavy downpours.
It may become uncomfortable to carry for lengthy hours.
Fujinon Image Stabilized Binoculars Review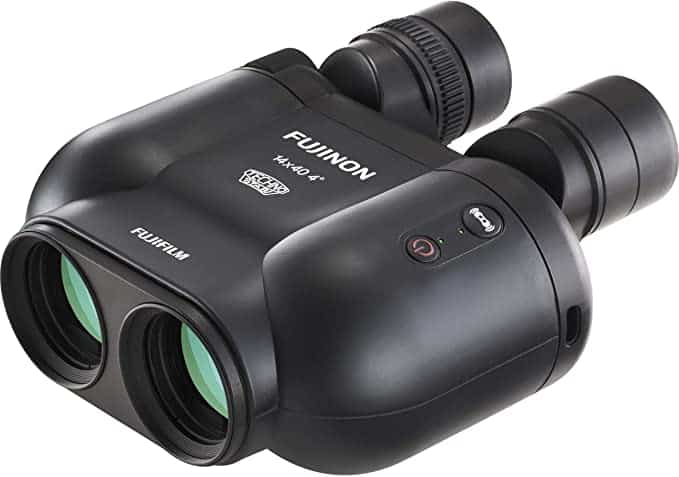 Fujinon 14×40 TSX1440 Image stabilized binoculars, made by Fuji film company, is equipped with outstanding optical and mechanical design technologies. This makes them an ideal choice for wildlife and astronomical observation. It also flourishes in other activities such as fishing and live sports that require numerous spectators.
The Fujinon 14×40 is a popular choice because of its excellent operability and reliability. Its slip-resistant rubber coat helps consumers to enjoy a balanced and easy grip with both hands. The model's diopter rings stabilize the images so that users can observe them properly. Like the pair from Canon, the Fujinon is both fogproof and waterproof. However, it has a 2.8mm exit pupil which is too low and not ideal for use in low light conditions.
Now that you've had a foretaste of Fuji 14×40's capacity, let's look at a few more amazing features.
Features and Benefits of the Fujinon Image Stabilized Binoculars
Objective lens & Ocular lens
The Fuji 14×40 brand has six ocular lenses and four objective lenses. All these lenses play significant roles in ensuring sharper images.
Rubber armored feature
The rubber-armored coating helps the user to hold the binoculars firmly. It follows that the feature will not allow the binoculars to quickly slip away even during heavy rain.
Passive Mechanism
Fujinon 14×40 uses the passive mechanism. It means that it utilizes the gyroscope sensor to control the target image. How does it work?
The gyroscope maintains the orientation of the object(s). This way, users can observe images with little or no vibration from the binoculars.
Pros of the Fuji Image Stabilized Binoculars
The rubberized coating makes it easy to grip.
The gyroscope sensors help to maintain image stability.
The lenses ensure sharper images.
Cons
Fuji 14×40 is too heavy for long periods of observation.
Limits your field of view as a result of its high magnification.
Canon 10×30 Image Stabilization II Binoculars Review – Best Image Stabilization Binoculars for the Money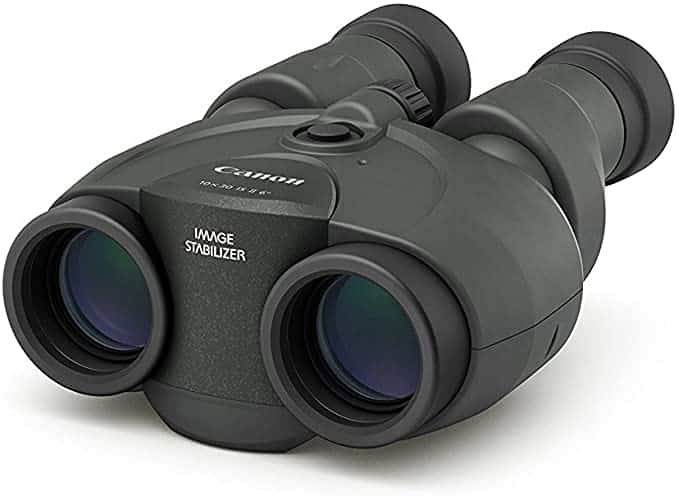 The Canon 10×30 image stabilization II is highly recommended for longer periods of operations. It is known for its versatility and environmental friendliness. In any case, Canon 10×30's magnification and objective lenses perform excellently both in outdoor and indoor activities. It is also lightweight and portable. So it's an excellent device to carry in the course of a range of activities such as hiking. Let's look at a few other features that make Canon 10×30 all worth it!
Features and Benefits of the Canon 10×30 Binoculars
Stabilizer Button
The Canon brand designs 10×30 to ensure comfort and durability. It's little wonder that you can find features like the stabilizer button. The button offers easy fingertip control whenever you're holding the binoculars.
Precision Optics
The optics offer excellent image quality with high resolution. It also wipes out unwanted reflections that could cause a flare.
Optical Image Stabilizer
The image stabilizer eliminates unwanted vibration, steadying the images.
Pros of the Canon 10×30 Image Stabilized Binoculars
Its compactness makes it easier to carry around.
Starts faster than its predecessors
Suitable in all light conditions
Offers longer battery life
Cons
Canon 10×30's battery case has no supplementary protective covering.
It may cause some discomfort for eyeglass users since its eye relief mechanism is not the best.
Kenko VcSmart 14×30 Image Stabilization Binoculars Review – Best for Eyeglass Wearers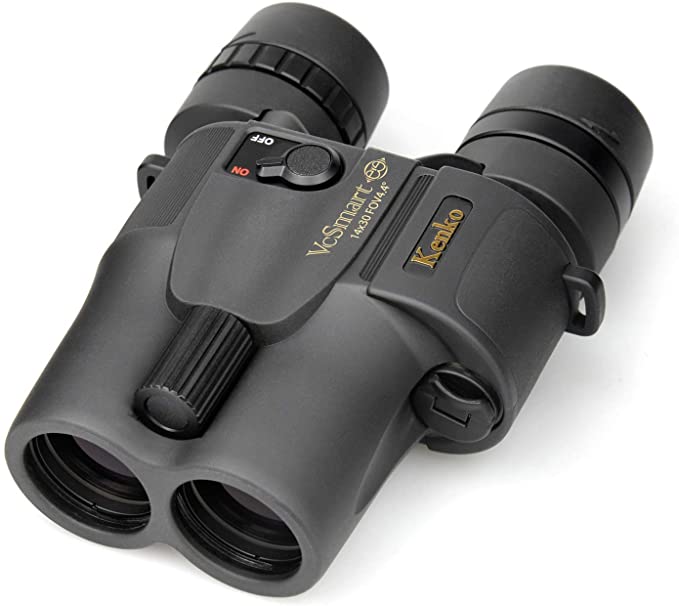 The Kenko VcSmart 14×30 Image stabilization binoculars are the perfect choice for eyeglass wearers since it offers an exceptional eye relief system.
Kenko 14×30 comes with optical vibration control technology. It can work around various activities with this feature. These activities range from morning nature observations, sports to cultural events. The model has an efficient power system that can last for 12 hours.
Features and Benefits of the Kenko Image Stabilized Binoculars
Optical Vibration Control Technology
The most significant benefit of the optical vibration control technology is that it helps to suppress shaking while carrying the binoculars.
Autoswitch Function
The auto-switch function allows you to switch off the stabilization mode automatically after ten minutes. This way, you can save the binoculars' battery life.
Long Eye Relief
The long eye relief system offers a laid back experience for a long time.
Pros of the Kenko 14×30 Binoculars
Kenko 14×30 has an excellent eye relief system that offers high-quality images without hurting your reflexes.
It comes with twisting eyecups that allow for comfy observation.
Cons
Precision optics cannot perform better over 300 yards.
Best Image Stabilized Binoculars FAQ
What are the best image stabilized binoculars for fishing?
The best image stabilized binoculars for fishing are the ones that leverage the gyroscope sensors such as Canon 10×42 L Image Stabilization Binoculars. The Fujinon 14×40 TSX1440 Image Stabilized Binoculars are also a solid choice.
Do Image stabilized binoculars make a difference?
This a popular question. The answer is yes. Having the added benefit of improved vision, plus a steady view can make the difference between a huge day and a skunk.
How can you choose the best image stabilized binoculars for fishing?
You should look out for water-resistant and fog-resistant features. Also, consider binoculars with a magnification of 8x power or less.