This post was last updated on July 27th, 2021 at 08:03 pm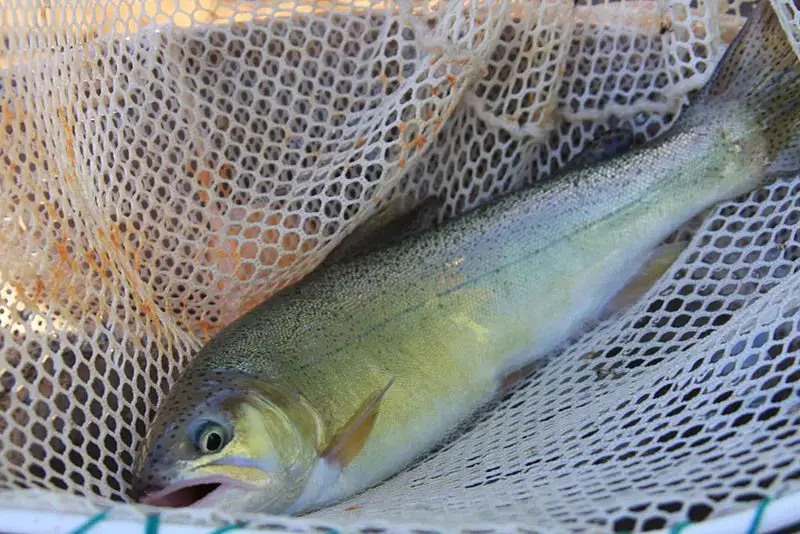 Styles and Materials of Various Trout Nets
This might seem like a mundane subject, but there are a lot of different net styles to choose from. Here I will go over some of the styles offered and why I have chosen the models that I use.
Nets are often a very important tool for the fly fisherman to carry. Here's a few reasons why you should consider taking one on your next trip.
You will land the fish faster and easier, therefore causing it less stress: The less you have to fight a fish, the higher it's chances for survival.
Nets make holding your fish in the water, while you are preparing for a picture very easy: The trout will be happy to wait for your camera if it can breath.
Fine mesh nets will help you to catch insects: Sometimes it can be hard to catch that hatching mayfly in the air with your hand. Use your net to avoid embarrassment jumping around trying to catch them.
The trout are safer in nets than they are in peoples hands: I have seen a lot of fish end up dead from clumsy fisherman handling them. If you want to measure/admire your trout, it is best to do it while your fish is in a net submerged and breathing.
Your Options For Nets Include:
Wooden Trout Nets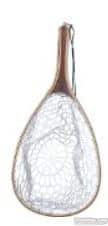 These are usually hand crafted and great looking pieces of equipment. You could easily spend over $100 on a custom wooden net for your trout fishing trips. If you like the classic look of wood that your ancestors likely used, wood nets are a great way to go. They usually come with soft material for the netting that will ensure your trout don't get harmed. The only downside to these nets is they are often fragile and will not tolerate the weather if you leave them outside all year.
Aluminum Landing Nets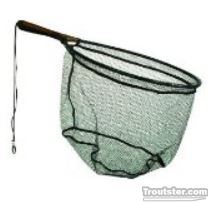 These are strong nets that are great for most anglers. If inexpensive and durability are what you shoot for, these are for you.  They aren't exactly fancy, but they do the job well. They usually have soft rubber or mesh netting that is easy on the fish. They will also last all winter frozen in a solid ice block laying out by the garage.
Folding Trout Nets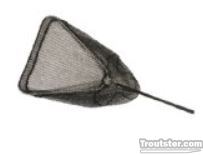 The epitome of convenience and practicality. This great net in the image (left) is made by Airflo, they are light, soft on fish, durable and fairly inexpensive. You could easily fit in in the back of your vest or backpack while you hike to your fishing location.
 The Netting Material Choices
Nets for trout usually fall into one of the following categories:
Soft Rubber: Often heavy weight, but rubber trout nets will be easy to remove your flies from if they get hung up. They are very gentle on fish
Mesh Fabric: This is another great option. Lightweight, and very easy on the fish.  Always try to make sure that your chosen mesh net is of the knotless variety. No knots in the mesh will make it very soft and safe for your trout to sit in. Rub the top of your hand on the mesh a couple times (hard). If it hurts your hand, it will hurt the trout.
Rubber Coated String: These nets can vary in several ways. Often times the rubber coating is abrasive and hard on fish, but others are quite soft and would be great for a catch and release net.
See my review of the Frabill rubber handled trout net here
If you are interested in learning how to make your own trout landing net, see this great video below.