This post was last updated on December 3rd, 2022 at 07:42 pm
I have never been a fan of wearing waders unless it is absolutely mandatory. Wearing wading sandals while fly fishing keep your feet from overheating and by the time you wake up the next day they will be dry, waiting for another day on the river. Frankly, I just consider waders to be more trouble than they are worth 90% of the time. All I can do is chuckle when I see people fishing in waders in 90-100 degree heat. This brings me to the best wading sandals for fly fishing. Some of the best fly fishing sandals are from Keen, Chaco and Simms. Over the years, I have had a lot of experience with various types of sandals used in the harshest imaginable conditions. The life of most of my sandals involves 100 days per year on the water, with an average count of in and out of the water often exceeding 50 times in one day. Those extreme conditions are very hard on anything, whether manufactured or organic. After all, water is able to carve out rocks if given enough time, it will take a major toll on your poor sandals.

Fly Fishing Sandals – Best Wading Sandals of 2021
My Top Choices For Durable Sandals That Will Protect Your Feet in the Water
Now that you have a little background on how much testing I have done on this subject, we will take a look at why I have chosen each pair of sandals I have owned and how they performed. I will be going over the following traits to determine the best buy:
Overall foot protection
Long term durability
How much grip they give you while wading on rocks and logs
Does fly fishing line get caught in any part of the sandal frequently?
Do they maintain proper fit without frequent re-adjustments?
Comfort
Price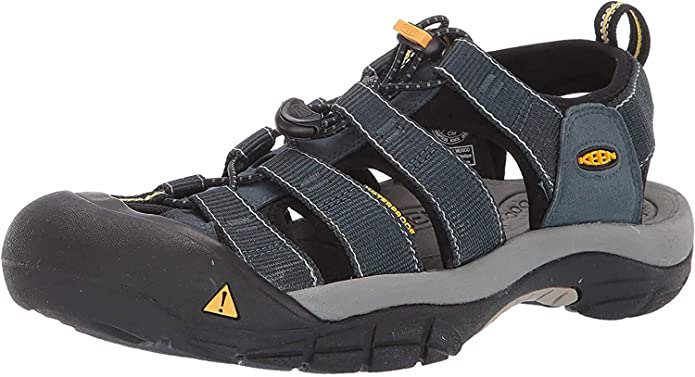 This brand is indeed close to the top of my list of the best wading sandals. I have owned a single pair of these for around 3 years, that seems to be about the maximum lifespan I can get out of them. They are not the most durable brand in my experience, but what they lack in durability they make up for in other areas.
Overall foot protection: Very good, each pair of Keen sandals I have owned have given me great protection. I especially like the front of this brand because of the way they cover the toes so well. I have kicked endless amount of rocks with minimal injuries. I actually did break my toe at one point with a pair of keens on, but I would have had the same outcome with anything short of steel toed boots.
Long term durability: Decent,These sandals last a pretty long time, but they are not the most durable on this list. For an average person who spends less than 30 days per year on the water, they will certainly last several years. All of my Keen sandals have broken in the exact same spot on the heel strap. I usually get a couple extra weeks (or even months) out of them with duct tape, sewing them with fly line backing and I even had good success with a coat hanger and pliers one time.
How much grip they give you while wading on rocks and logs: Very good, these wading sandals grip great. The softer rubber on the bottoms might wear out a little faster than Chaco's, but in my experience they stick to algae covered rocks better than any others I have tried.

Does fly fishing line get caught in any part of the sandal frequently? Very little, the little tab on the top will catch line on occasion, but if you pull on the line it usually releases it. If you tuck the tab under the elastic lacing straps you should never have an issue.
Do they maintain proper fit without frequent re-adjustments? Yes. After an extreme wade you might have to tighten them up with a tug on the tension tassel, but they usually stay fairly tight all day.
Comfort: Great, these are the most comfortable for my feet, but we are all different shapes and sizes. The soft foot bed offers a great resting place for your foot, but it also will accumulate bad odors much faster than some other brands.
Price: A good buy starting at $70
---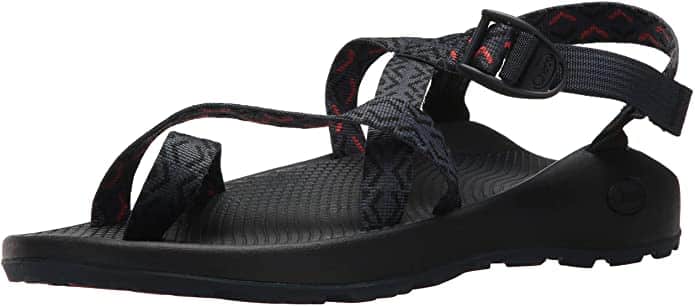 My first pair of these aquatic sandals came from a thrift store for a cost of about $5. That amazing purchase will probably live in my memory forever, because this summer will be our 7th or 8th year anniversary. I still wear those sandals often and they are showing almost no signs of wear. I currently have 2 pairs of Chaco's, I have found the only way to get rid of these things is to lose them or leave them somewhere, because they just plain don't break.
Overall foot protection: Pretty good. Since there is no coverage of the toes with these sandals, you can expect to kick a rock or get poked by a stick on occasion. The durable sole is more likely than the Keen sandals to protect you from a nail or similar item.
Long term durability: So good it's ridiculous! When you buy a pair of these you can expect to have a long term relationship, probably a lot longer than the average marriage in the US.
How much grip they give you while wading on rocks and logs: Not as much as Keen's, but adequate. The hard sole of these sandals doesn't offer outstanding gripping ability on algae and mossy rocks.
Does fly fishing line get caught in any part of the sandal frequently? Almost never, that is not anything to be concerned about with these sandals. On a rare occasion line will get caught underneath the buckle.
Do they maintain proper fit without frequent re-adjustments? Yes, these sandals almost never need re-adjustment, but when they do it can become a hassle. If you let someone else wear them they will take on the size of that person's foot and will require some elbow grease to get a perfect fit back.
Comfort: Good, I cannot complain about the level of comfort, although not as soft as the Keen sandals.
Price: $60+
---
I only had a pair of these sandals for about 1 week, so I cannot give an in depth review like I did for the sandals above. I left them laying on the ground accidentally at a boat launch shortly after my purchase. What I can tell you is they were comfortable and offered pretty good foot protection. From my recollection they did have fairly soft soles that stuck pretty well to the river bed. I will be buying another pair of these this year to try out, hopefully I can hang onto them a little longer than last time. My experiences with all of Simms gear has been good, I am sure these wading sandals would have done well in my extreme durability testing.
---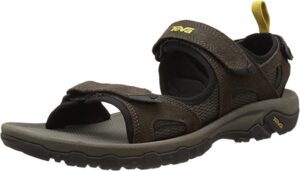 Another good sandal brand to check out are these Teva's. This brand has been around for many years and they are high quality fishing sandals. If you don't like the looks of any of the above sandals, check them out!
---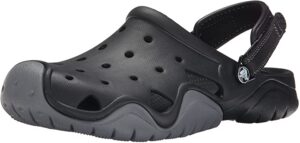 Looking for something effective and inexpensive? Look at these higher end Croc's! They are sure to be in anyones price range and are super comfortable and practical for fishing.
Summary – Best Wading Sandals 2021
The best wading sandals for fly fishing are the ones that work well with your feet, allow you to move freely and can hold up in tough conditions. Some other important things to consider when choosing a pair is finding one that fits comfortably, has strong straps so they don't slip off, and some drainage holes in case of water. Wader sandals can be expensive, but if you're going to invest in them it's worth investing in a good quality pair that will serve you well over time. The last thing any fisherman wants is wet socks! Hopefully this article about the best wading sandals for fly fishing helps you make your decision. Happy fishing!