This post was last updated on February 13th, 2016 at 03:50 pm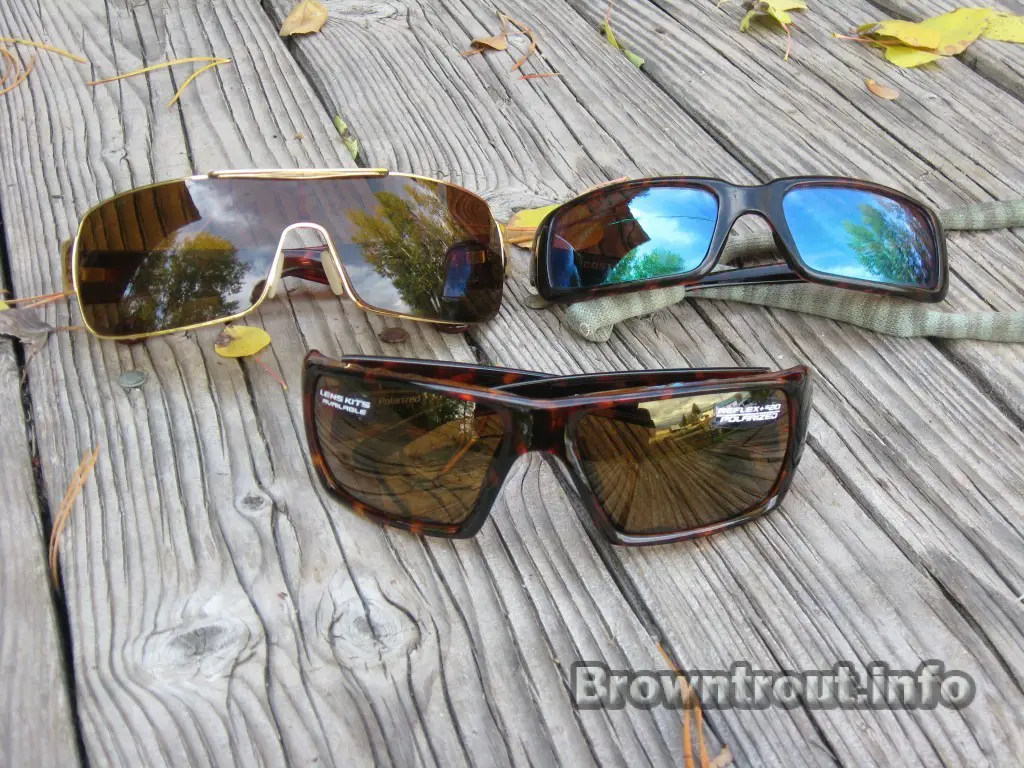 Polarized Fishing Glasses: What are the Best?
Choosing the right glasses is essential to being able to see fish. But there are other reasons for wearing sunglasses while on the river. Have you ever considered the danger of hooks buzzing over your head all day? A fish hook in the eye would be an absolute disaster, and can easily be prevented by wearing a quality set of glasses that fit your face well. As a fly fishing guide, I come across all kind of people. Some people actually don't want to wear sunglasses because they don't want a tan line around their eyes. Personally I absolutely never in a boat while someone is casting without wearing eye protection. Being blind is not worth the risk of taking a hook to the eye. Now that you are aware of one good reason to wear sunglasses while fishing, I will get into all the other good reasons to wear them and what kind and color to choose.
What Color Polarized Glasses Do I Need?
Well that depends on where you are fishing. I find that if the bottom of the lake or stream is grey colored I will opt for grey colored lenses. This will allow you to see everything in between your eyes and the bottom of the lake, river stream etc. Personally I am fond of amber colored lenses in most situations. I have about 10 pairs of polarized glasses and at least 6 of them are amber colored. There are a couple different reasons for this:
Amber Lenses
Amber lenses tend to be lighter colored and will work in low light and darker conditions: It's nice to have to only carry one color of sunglasses on a given day. They are expensive and easy to misplace it seems. If the sun is shining bright one minute and the next its cloudy and overcast, amber polarized lenses will offer good visibility in both conditions.
Most bottoms of lakes and rivers will be brown or amber colored: All the dead algae and sand will make these brown lenses the ones you want to wear in these conditions to see the most fish.
Grey Lenses
I also do however enjoy on occasion wearing extremely dark gray lenses in many situations. If you know that the sun will be out all day and your eyes are feeling fatigued from fishing everyday, these dark lenses make things very comfortable in my opinion. They are superior to use in rivers and streams where the bottoms are limestone and have mostly grey bottoms. These would be a good choice for the PA or many new England areas.
Yellow/Vermilion/Rose Colored Lenses
These light lens colors are great for those cloudy days, but will usually be too weak to use on bright sunny days. They really do make you feel happy, the world seems much brighter on overcast days when you put on these light lenses.
Mirrored Coating Vs Non Mirrored 
The mirrored coating will offer you more benefits than being able to look wherever you want without anyone seeing your eyeballs. They have a purpose and will really help to cut down the glare. The mirror or flash coating will help to cut glare by reflecting much of the light away from your eyes, hence help you see better with less eyestrain.
Fit
While choosing your sunglasses, you should consider one of the most important factors to be how nicely they fit your face. Make sure that there is no light (or minimal light) coming in around the edges of your glasses. Any light that comes in will affect your ability to see, because it reflects off your face onto the lens. Its the same effect as this: Notice how you can easily see outside on a sunny while you are sitting in your house, yet if you go outside and try to look in, you will likely not be able to see inside your house at all? Don't allow light in the back side of those glasses!

Lens Material
The lens material is another factor to consider when choosing the right fishing glasses. Here are the options:
Glass: These are the heaviest lens material, but offer the most clarity of all of the options. These also offer the most scratch resistance of the options listed here. If you have an impact with your glass lenses they won't shatter, they will crack in a similar fashion to a windshield. I have a pair of glass Costa Del-Mar glasses that suffered a heavy impact with a nymph this summer, they likely saved my vision in that eye. They did crack, but they are still the pair of sunglasses I reach for as my daily fishing glasses. I can still see through them without noticing the crack until I take them off and look at them at an angle.
Acrylic: These are the cheap glasses you will be able to buy at the corner gas station. They have the least amount of clarity, but they are however very inexpensive and worth the $9.99 price tag.
Polycarbonate/Polyurethane Lenses: These are lightweight, fairly scratch resistant and are the most common materials for higher end sunglasses. They are both great at impact resistance and are a good option for overall protection for your eyes in a fishing situation.
 Brands of Sunglasses:
There are a lot of great brands to choose from. I have become particularly fond of:
All of these companies offer great warranties and are well worth the money spent. I have noticed that for the money if you need a good decent pair of glasses Native eyewear has a lot of good inexpensive options. My daily sunglasses for guiding fishing trips are Costa Del Mar glass lenses with green mirror. Many fishing guides love Smith sunglasses. I have a pair at all times in my boat as a backup, but they just don't fit my face as well as the Costa's. You should shop around to find the pair that fits best. There are so many options available that it's easy to get confused. If they fit your face and you are happy with the price, then you can consider that a good deal.
Tips To Keep Your Fly Fishing Glasses Safe
Sunglasses are expensive! Take care of them. Here are some tips to keep your polarized glasses intact:
Most good glasses will come with a case to keep them safe: Use these cases and you will increase the lifespan of your glasses.
Buy Corkies or a sunglass lanyard: This will keep your glasses from falling in the water and turning up MIA. Most of these will also make your sunglasses float, which is an extra bonus!
Clean your lenses properly: Another thing most high quality sunglasses will come with is a lens cloth to keep them clean. Try not to use your shirt, as that might have particles of dirt or sand that could scratch your lenses.