This post was last updated on December 3rd, 2022 at 07:42 pm
Drift Boats, Float Tubes, Kayaks, Rafts and Canoes. Which Type of Fly Fishing Boat Should I Buy?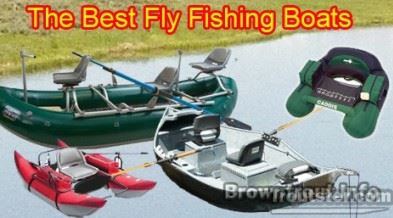 There are a lot of options to consider when it comes to buying a fly fishing boat or craft and a lot of variables to consider before spending your hard earned money on a vessel. Much of your decision will likely revolve around the number of people you expect to take fishing with you. Another important consideration will include the types of water (fast or slow) that you plan to do your fly fishing and boating in. Here we will outline the benefits of each type of fly fishing boat to help you make an informed decision.
Float Tubes and Single Man Pontoon Tubes/Rafts
These are the least expensive option in the lineup. You could realistically be on the water, fly fishing tonight in a new vessel for under a couple hundred dollars! I have had plenty of opportunities I wished I had a float tube on hikes into backcountry lakes. Â Â There are two variations in these boats that you will need to consider before you start searching your piggy bank for spare change to buy one.
Are You Fishing in a Somewhat Fast River or on a Lake?
Many models mentioned below are limited to certain types of water. In order to stay safe on the river, you will need to consider what type of water you plan to be fly fishing and buy a boat that will be stable and safe in your desired type of water. Â If you fishing in faster water you should consider paddle pontoons, kayaks, drift boats or a raft. Although canoes can handle some pretty fast water, they are not ideal and can easily tip if you hit any sort of submerged object or rapids. Consider these options below:
Float Tubes
A float tube can be easily fished on a lake and really slow river. These come with all sorts of features and options. To paddle a float tube you will need to use flippers to navigate around the body of water you are on. Just like many of these lower cost fly fishing boat options, you are very low to the water. Being low means 2 things; you will not easily be able to spot fish and you won't be able to cast as far. You could be in for a serious workout if you are fishing during a windy day on a lake. You won't be able to rely on the current to take you to your destination. This could be a serious downside to the float tube, but they make up for it in many other ways, such as:
Float Tube Advantages:
Light weight
Inexpensive
Stable
Easy to collapse and pack in your vehicle
Disadvantages:
Not so good in the wind.
Limited to slow moving rivers and lakes.
You will probably get wet, so you are limited to fair weather fishing.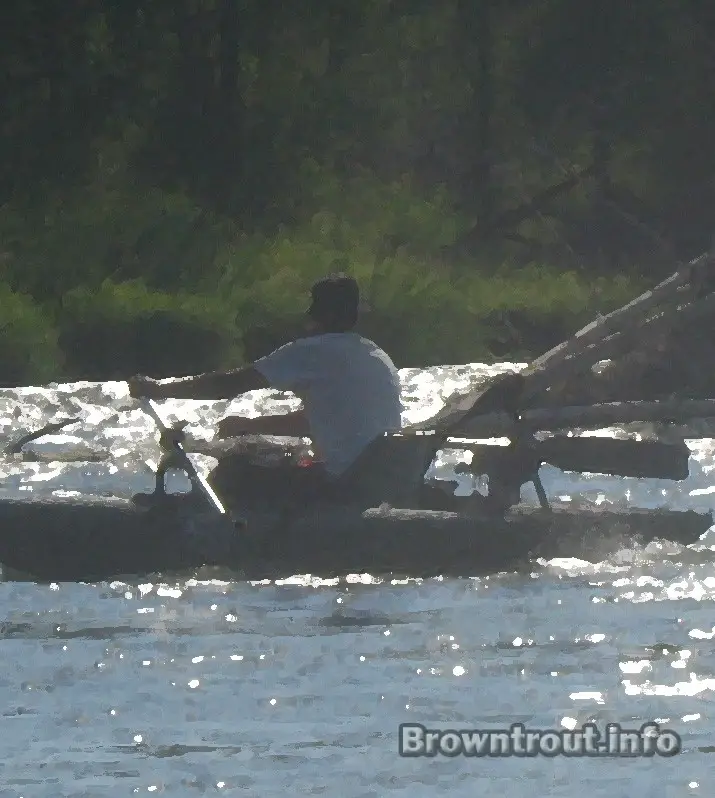 1 Man Paddle Pontoons


These are fairly new on the fly fishing boat scene. They are more versatile than a standard float and therefore come with a higher price tag. The paddle pontoon will allow you to fish a greater variance of water types and you will stay more dry than you would in the float tube. These can be seen floating on some pretty fast water and can be maneuvered quite well in the wind. They will still catch a lot of wind because of their light weight, but with work you could power through most wind.
Advantages:
Lightweight and easy to transport.
Can be navigated better in the wind than a float tube.
Slightly higher up off the water to make easy casting and fish spotting.
Paddle pontoons allow you to fish a larger variety of water types, including fast rivers.
Disadvantages:
You are limited to one person per boat.
Gear storage is limited.
Larger and slightly more difficult to transport than a standard float tube.
2 Man Kayaks and Canoes

These are versatile fly fishing boats that will also allow for great fun outside of fishing opportunities. You can take another fisherman or friend along with you, this is an advantage over float tubes and single occupant pontoon rafts. They can be enjoyed by the whole family on a leisurely trip down the river, or a hard core fishing expedition into the back country. The main point to consider when fishing and traveling in a canoe or kayak is stability. You will have to remain centered and seated at all times, or you could be fishing for your gear in the river. You should also be concerned about floating on top of hidden objects such as rocks and logs. An object underneath your craft can tip you quickly! The canoe and kayak offer a lot more to the avid outdoorsman than many options in this list. An obvious advantage is having a partner with you to do the paddling, while you do some casting for trout.
Advantages:
You will be higher up off the water and be able to cast and spot fish easier.
These can be taken in many different types of water.
You will be able to enjoy the company of a friend.
Versatile crafts: canoes and kayaks can be used for things other than fishing.
These have enough capacity to store a large amount of gear for long term trips.
Disadvantages:
Heavier than inflatable models mentioned above (although many kayaks are available in inflatable versions).
Can be a hassle to transport, if you don't have the proper type of vehicle to move them to your fly fishing areas.
These are much less stable than any other options on this fly fishing boat list (not too bad if you buy a wide stable model).
You will not be able to safely stand and fish (do to the stability issues).
Canoes are Limited to slow/medium speed water for the most part.
 Drift Boats and Rafts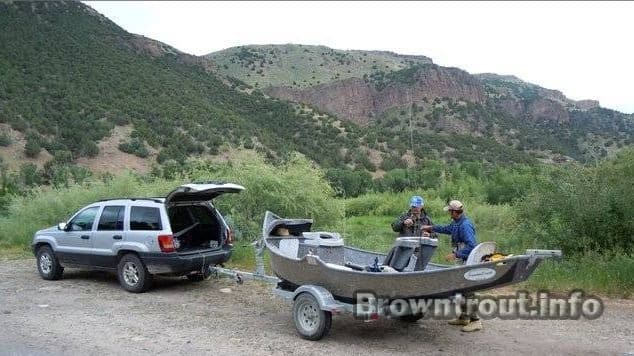 Drift boats are among the top of the possible fly fishing boats you can buy for most conditions. They are good in fairly fast water, right down to fishing lakes and smaller rivers. They have tons of storage to keep everything you could possibly need right at your finger tips. Many drift boats even come with luxuries; such as rod storage, insulated coolers under the seats and even deluxe foot control anchor systems. That's right! Put your foot down on the pedal and your anchor will drop to the bottom of the river to keep you in place. Probably the single most appealing part of fishing from a drift boat is the knee braces or knee locks. These will hold you in place, even in rough water while you safely cast to fish. The knee brace is a very important thing for keeping older people on the river. Even the most unstable person can safely cast standing up in a drift boat due to this great invention.
All the extra bells and whistles that come with the drift boat might come at a cost. There are endless reasons to choose a drift boat for fly fishing if it can meet your criteria for a fly fishing boat. There are also  potential disadvantages to the drift boat that many people cannot likely get over. These might include the overall cost, the need for a trailer and tow vehicle. or even their limitations in launching areas.If you want to pop into a river in a lightweight inflatable you can access almost anywhere, but with a drift boat you will need to find a halfway decent place to launch it. I have slid my boat down the side of hills plenty of times to launch, but most people will likely prefer a designated boat ramp.
Drift Boat Styles
There are Many choices in styles of drift boats to choose from, high side, low side and various lengths. The high sided drift boat is good for rough water, while the low side will catch less wind and likely be easier to row in windy conditions.
The width of a drift boat is also another important factor. The wider your boat is the more stable it will be, so choose your boat wisely! There is a company in Michigan called Stealthcraft, they make nice wide driftboats that will suit nearly anyone's needs.
Advantages to a Drift Boat:
Stable and safe in almost all conditions
Very easy to fish from and cast, due to the ability to stand upright
Plenty of storage areas and extra luxuries are available, such as rod storage and anchor systems etc.
Disadvantages of a Drift Boat:
You will need a tow vehicle
The cost is potentially prohibitive to some fly fishing boat shoppers
Pulling a trailer can be a hassle for some people
 Rafts
The raft is a versatile boat and are very functional. There are of course multiple types of rafts to choose from pontoon style or standard. I have found they both row good and will conquer whitewater and flyfishing almost equally.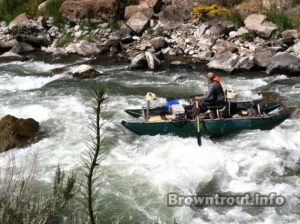 These are not quite as good in really heavy water due to the center of gravity being higher. The platform you stand on is usually up off the water nearly a foot, so you are higher up than with a standard type raft. This can however be an advantage to casting and seeing fish; the higher up you are the more sloppy your back cast can be without hitting the water. These rafts will also catch more wind than the standard lower profile version, they can be very difficult to row in heavy wind!
Lower profile:
These rafts have many of the luxuries of a drift boat, and the whitewater ability second to none. They are low to the water and very stable. Â Due to the heavy gauge rubber used in the construction of these rafts they are nearly as heavy as fiberglass driftboats.
Advantages of Rafts:
Can be used in any fast water fishing situation
Often times lighter than a drift boat
Frame can be disassembled and fit onto smaller vehicles without a trailer (this takes a long time)
Less expensive than a drift boat
Disadvantages: Â 
Lack of storage in comparison to most drift boats
Usually don't have anchor systems
Can be punctured and popped
They do not row nearly as nice as a drift boat
As you can see the options for fly fishing boats are almost endless. Each type of craft has its advantages and disadvantages that can be weighed by your personal needs. Please be sure to subscribe below to get the first look at any new articles!