This post was last updated on March 18th, 2016 at 06:02 pm
How to choose a Fly Fishing Rod for Brown Trout
The rod weight is an important factor to consider. They vary from 0 weight all the way up to 12 weight and beyond. The weight is essentially the stiffness of the rod. A good all around size to buy for the average trout fisherman is 5 weight rod. It is big enough to land most trout, and is also good for bluegill, Grayling etc.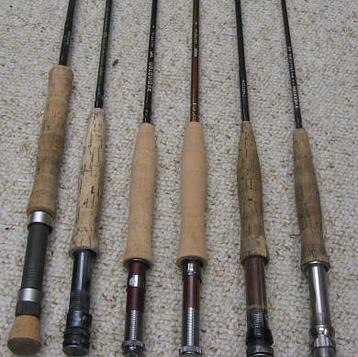 I have even caught plenty of smaller sized steelhead on 5 and 6 weight rods. (I would not advise going after steelhead deliberately with a 5 weight though).  For most people a 9′ 5 weight is perfect. Most streams are not large. You won't have to cast far, and the fish won't be huge. A five weight should do the trick. If you were to go with a 6 or 7 weight, they are simply heavier. This can fatigue a new caster who does not fly fish regularly. You can always buy a larger rod for different species after you learn the basics.
Where do you plan to use the fly fishing rod?
If you will be doing a lot of lake fishing casting larger flies, or heavy sinking line it might be advisable to go with a 6 weight rod. A stout fly fishing rod will help you to really shoot out line.  On lakes, where there tends to be more wind than on smaller rivers is a great place to opt for a 6 weight. Also, shooting out a heavy weighted streamer will require a larger more stiff rod.
Rod length:
The length of a fly fishing rod will play a role in the distance you can cast, the ability to fight larger fish, and your line control ability. Most fly fisherman start with a 8-9′ rod. They are long enough to cast a good distance, and short enough to easily manage. They also tend to be easier to learn on. You have less margin for error with a longer rod. The shorter your rod, the closer the line is to your body.  However if you are planning to do most of your fishing on very small streams, with lots of overhead cover, a shorter rod might just be for you.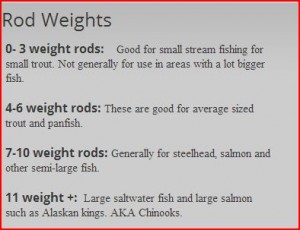 I learned to fly fish with a cheap 8′ 5 weight rod on very small rivers. Once I got a job and became more serious about it, I gradually upgraded all of my rods to many of each size. You will be surprised just how great even the cheap graphite rods feel today over the graphite composite 19.99 specials I learned to fish with. On the other hand, after using a cheap fly fishing rod for a while you can cast like a rock star when you cast a nice one.