This post was last updated on December 3rd, 2022 at 07:42 pm
It is always important to be prepared for the unexpected. This guide will discuss how to use an emergency survival blanket. One easy way to do this is to keep a storage of emergency supplies and especially emergency survival blankets, in case of a natural disaster or other unexpected occurrences. Your goal in keeping these kinds of supplies is to keep yourself and your family safe in dangerous situations where the essentials you may need may be scarce or you are unable to get them.
While you may think that these kinds of things are geared towards the extreme preppers, they are still great to have around for your car or home. Read on to learn more about how to use an emergency survival blanket.
The most common emergency survival blanket is made of Mylar for many reasons and it is always a good idea to keep a few handy. Fist the Mylar blanket is lightweight, this makes them easy to carry when out backpacking and they are small enough to store without taking up extreme amounts of space. There are other kinds of survival blankets, but the best ones you will want to purchase are going to be cheap, lightweight, and compact enough for storage.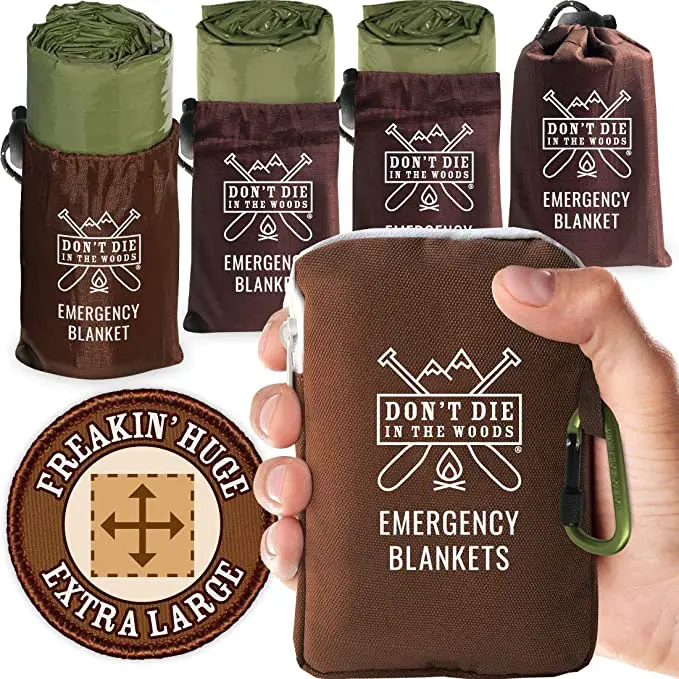 How to Use an Emergency Survival Blanket
Make sure that there's no snow or ice on the ground when you're about to use an emergency survival blanket. If there is, remove it first by scuffing with your boots or digging away the surface using a flat object like a shovel.
When you're ready to set up and use your emergency survival blanket, lay it in an area that's flat and clear of any loose rocks, twigs or sharp debris. Unfold the blanket completely by pulling it away from one side to ensure that it has no holes or tears along the way; the same is true for its grommets.
Now lay down on your back with your head facing away from where you set up the shelter. Place your feet in the middle of the blanket, just below where it's folded over to form a triangle.
Stuff the two remaining corners on your left and right sides under your body by bringing them up underneath both arms at an angle that'll allow them to meet behind you near your waist. Next, take hold of both of the loose ends and pull them in opposite directions to tighten the blanket around your body. You can then secure it by attaching both of the grommets together using a carabiner or other similar object.
You're now ready and protected from harsh weather conditions and other dangers lurking about. Make sure that you have extra clothing handy if things get too cold.
In an emergency situation, you can also use your survival blanket as a one-man tent to protect yourself from wind, rain and snow. Simply dig a small pit just below the surface of where you're going to set up your shelter, then follow the same steps as before by unfolding the blanket completely and laying it out flat on the ground.
Once you're ready to crawl inside, fold it in half with the shiny side facing down and secure each end to the pit's walls by driving a spike through the grommets. The pit will help keep cold air from sinking below your shelter and thus creating a "cold sink".
The Importance of Emergency Survival Blankets
The very first thing to know about emergency survival blankets is that they're not designed for use as a blanket. Instead, these lightweight, compact and easy-to-carry items are made to serve as an emergency shelter or sleeping bag in extreme conditions like those encountered by soldiers on the battlefield, hikers lost in the wilderness and victims of natural disasters. They can also be used as a tarp over vehicles or boats to keep out wind, rain and snow. They can protect valuable equipment from weather damage; or even as insulation around pipes carrying hot water or steam.
Having emergency survival blankets on hand is extremely important as you may need to keep warm or provide shelter to yourself and your family. They are very valuable in emergency situations and have a variety of uses that you may find handy. These blankets are designed to keep the heat in when wrapped completely around the body and can prevent hypothermia in various situations. If you live someplace where you get a lot of snow, it is highly recommended that you keep about a dozen Mylar emergency blankets in your vehicle and your car. If you live someplace where there is a possibility that you and your family may experience numerous natural disasters, you may also want to keep about a dozen or so of these on hand as well as various other supplies.
Factors to Consider When Shopping for the Best Emergency Survival Blanket
While the first factor to consider when shopping for emergency survival blankets is its basic function as a shelter against weather, you'll also want to look into their quality-to-price ratio and any additional features that could come in handy. Some models come with grommets for quick set up and a carrying bag. There are also emergency survival blankets designed to reflect and retain up to 90% of your body heat when you're in cold climates. Other models are made from waterproof material that can be used as a barrier or ground cover when camping, biking or hunting.
If you need an emergency blanket for marine use, look for one that's designed to be extra tough and durable, as well as resistant to tempests and sea spray. The best quality emergency survival blankets should also protect you from the elements even after multiple uses; It'd help if they can stay afloat in water as well as insulate your body heat no matter how wet they get.
You should also check for the materials used in the construction of your preferred emergency survival blanket for any harmful or toxic chemicals that could be detrimental to your health.
The Top 2 Best Emergency Survival Blankets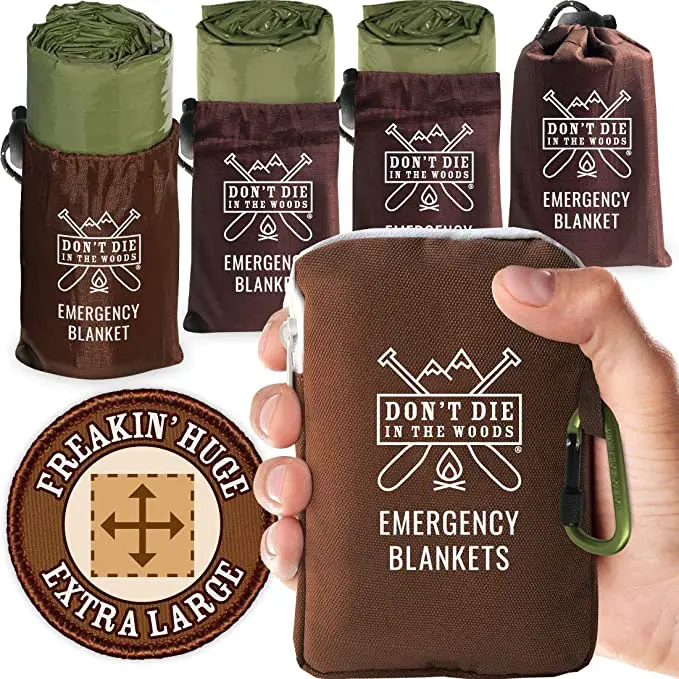 Mylar,nylon
Full body protection with extra large size
Great for hiking, running, fishing trips and more
Extremely durable but lightweight
Premium materials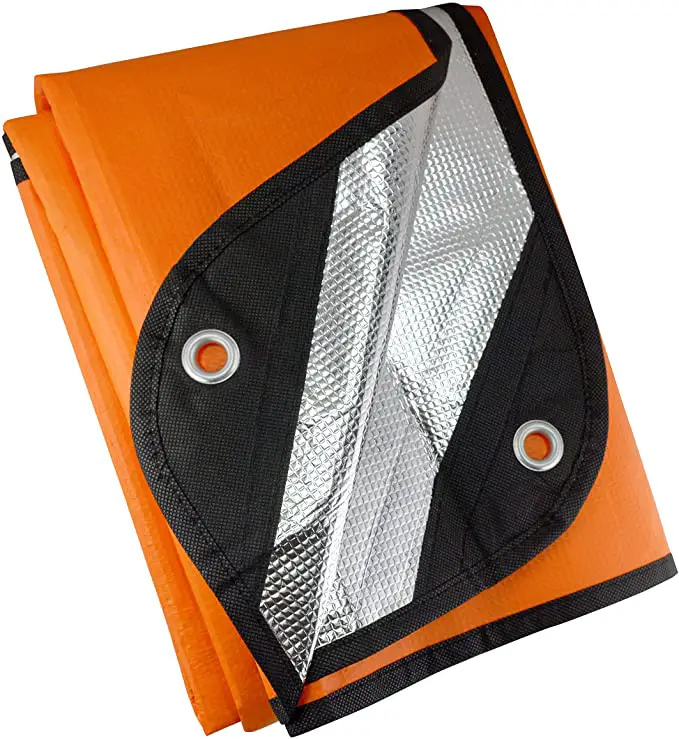 60†L x 83†W and weighs 13.6 oz
Can be used as a lean-to shelter by lashing ropes through the grommets, a ground cloth to reflect heat upwards or to wrap cold/frozen food in for transport
Windproof and waterproof
Ideal for carrying in a day pack for emergencies, or as part of an emergency kit for your car or home
The high-visibility, reflective surface works for emergency signaling and the inside can be used to wrap around your body or your sleeping bag for extra warmth
Key Takeaways – All About Emergency Survival Blankets
Emergency survival blankets cost next to nothing and they will take up almost no space in your backpack. It is a very cheap insurance policy just in case you ever end up wet and hypothermic in a bad situation. Just imagine how many less people would die of exposure if everyone carried these stashed in their car or hiking backpack.
This article discussed emergency survival blankets in detail. You learn what they are, how to use them, why they're important and more. I also suggested a couple reliable survival blankets for sale. Hopefully this guide comes in handy.