This post was last updated on April 8th, 2014 at 04:53 pm
The memory will last forever with a replica mount
Lets say you have traveled to the other side of the country to go fishing for the elusive brown trout. There are many areas where it is taboo, if not forbidden to keep trout. Perhaps the thought of killing such a beautiful creature is just not for you. If you enjoy catching trout and releasing them you and I have something in common.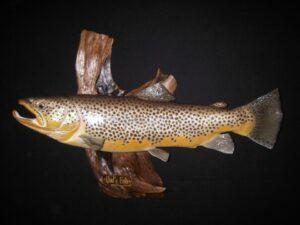 But what if this fish was so huge a picture was just not good enough.  Or maybe it was memorable for another reason.Perhaps it was the first trout that you ever caught with your son, or maybe you haven't fished with your dad in a really long time and for whatever reason the trout invoked a feeling of the days when you were younger. Alas, there is a way to release the trout and maintain the memory forever on your wall or desk. With artistic ability and modern technology a taxidermist can preserve your fish forever. Simply a picture and some key measurements will be all the taxidermist needs to recreate the trout in the form of a replica mount for display in your home. Below I will explain how to do just that..
Measuring your fish for a replica mount
1) Measure your trout from the tip of the tail to the tip of its nose. 
By taking the measurement in this manner you will get the actual length of the fish. by measuring in the fork of the tail, you will be getting a sometimes significantly shorter measurement. After all you do want your replica mount to be as realistic, and as close to the actual trout as possible.
2) Take the girth measurement at the widest point of the fish
This wide point will generally be right before the dorsal fin towards the front end of the fish.
3) Take a great photo of the fish.
This is pretty important but not required. Sometimes there just isn't a camera available. The more quality pictures the take the better the artist will be able to recreate the natural look of your specific fish. Trout are a lot like people. They all have a certain look to them. Colors can also vary widely. In fact the same trout could appear totally different if seen at 2 different times of the year. Near the spawning season a trout will have bold color, and bright spots. Trout that have spent a lot of time in lakes will generally have less color and appear more chrome looking.  If you are interested in a quality replica mount consider using Rivers Edge Wildlife art (208) 921-3311 or visit them at Rivers edge wildlife art and on Facebook