This post was last updated on December 3rd, 2022 at 07:42 pm
Most of this Redington Hydrogen fly  rod review could be summed up in one word "Light"! This rod is lighter than the Sage one, the new Sage X and the Sage Mod. It is about the same weight as the Orvis Helios 2. When this hydrogen came into my possession, I was awestruck by the weight. For some applications, tons of power is needed in a rod (streamer and mouse fishing for example). In order to get that backbone/power, you have to add more material. This will naturally increase the overall physical weight of the rod.  For a general purpose all around rod, I just fell in love! If I had only $300 to spend on one rod for every type of fishing for the rest of my life, I'd buy one of these beauties.
Read the rest of this Redington Hydrogen Fly Rod Review to learn more.
Redington Hydrogen Fly Rod Review 2021 – Best Fly Rod Under $300
The Redington Hydrogen has more than enough backbone to toss around small streamers and mouse patterns. It is also soft enough to conquer every other trout fishing application you can throw at it.
Every once in a while, a rod will come along that almost seems like "too good of a deal". A rod that feels like heaven in your hand, is practically dirt cheap and will just do it all. That's what we have here in my opinion. Many years ago I had a Redington Rs4 that felt like almost too much "bang for your buck". So good in fact, that they stopped making them because they probably couldn't sell the more expensive rod models anymore. After all, who was going to spend 2x more for the next step up rod, when that rs4 felt just as good? I feel like that is the exact situation we have here. Once enough people get the Redington Hydrogen in their hands, the more expensive models sales will suffer—causing this beautiful slice of fly rod heaven to end up only available used on Ebay. I hope I am terribly wrong about this, but the thought of it happening makes me want to buy a lot more of these things.
In a few days I'll be taking to the Snake river in Idaho to attempt some midge fishing. During that trip, I'll make a short video review of the hydrogen rod on the water. In the meantime I will talk a little more about it.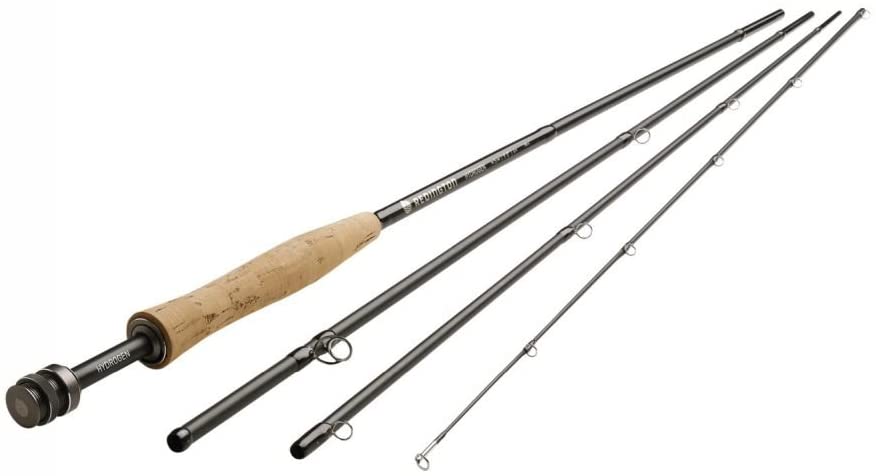 How Did They Make This Rod So Light?
Basically they cut out all the BS we didn't need anyway. That little chunk of wood that goes in the reel seat=gone! I have never been one to buy a fly rod based on looks anyway. I don't need a piece of wood cut from a tree in the Amazon rainforest to fancify my fly rod. Not to mention that piece of wood is pretty heavy. Instead of a standard type reel seat, the Hydrogen basically has an exposed blank.
In Conclusion – Redington Hydrogen Fly Rod Review
This Rod is light, versatile and can pretty much do anything including catching cuttthroat trout! I can honestly say that after casting this around, it is probably one of my favorite fly rods that I own. If you are searching for a rod that can cast a long ways and easily handle any fishing situation your search might be over. I'm confident in saying this is one of the best fly rods for under $300. Hopefully you enjoyed this Redington Hydrogen Fly Rod review. Happy  fishin'!