This post was last updated on December 5th, 2015 at 07:08 pm
The Ultimate Trout and Fishing Related Decorative Items to Spice up Your Fishing Cabin or Home
I am not exactly an interior designer, but I know a good thing when I see it. Here is a list of items that could turn your boring house, man cave or cabin into an outdoorsy escape. There is nothing better than arriving at your favorite outdoor cabin or hideout and getting the rustic and up northy feel from your furnishings and decorations. There is a point where you could go a little overboard with some of these fishing home furnishings. I hope you get some ideas from these options.
Fishing Furnishings for the Bathroom
Lets start in the bathroom. How about a fishing reel toilet paper dispenser? If your guests are using too much of the tissue from your normal toilet paper dispenser, you can turn up the drag on this one to limit their usage. Actually it doesn't have an adjustable drag, but maybe that will be included in the next edition?
River's Edge Unique Deluxe Wood Fishing Reel Toilet Paper Holder
Since you are now rested securely on the porcelain throne admiring your fancy fishing reel toilet paper dispenser, feast your eyes upon this next item.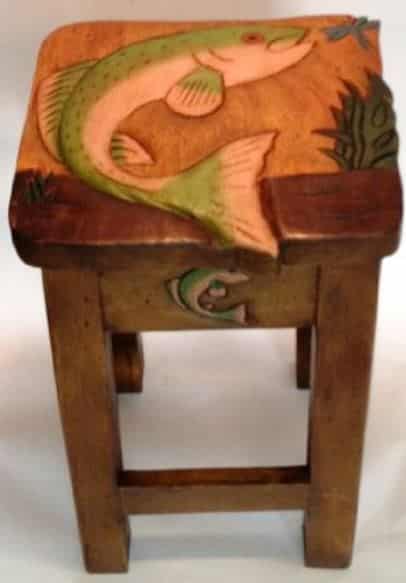 Trout Hand Carved Wooden Stool/Table

With this hand carved trout stool, you will have a very convenient place to pile up your fishing magazines near your throne. It could also be used anywhere in the house. I like this stool and would consider it for my river front cabin if I had one.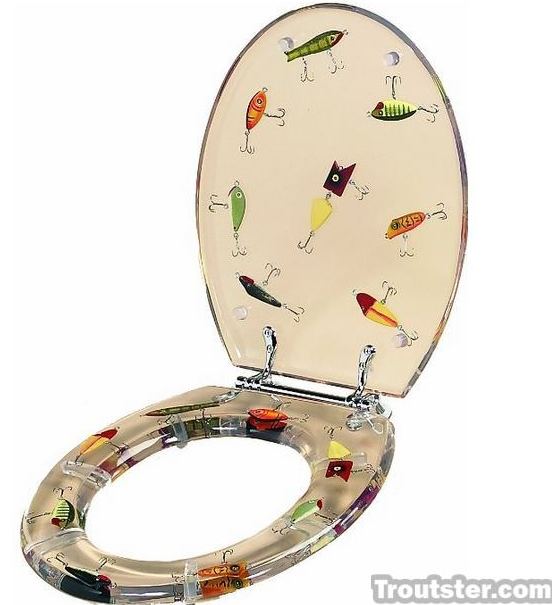 If there was ever a fine place to rest your rear, this next item is surely it. You can never really be a true sportsman until you have completed a #2 on a toilet seat such as this one.
This toilet seat with flies embedded in it is a fine place to reside, while you go about your natural bodily functions in style.
Before you sat down on the throne, surely you hung up your coat a a convenient nearby location? You likely put it on this rainbow trout themed coat rack.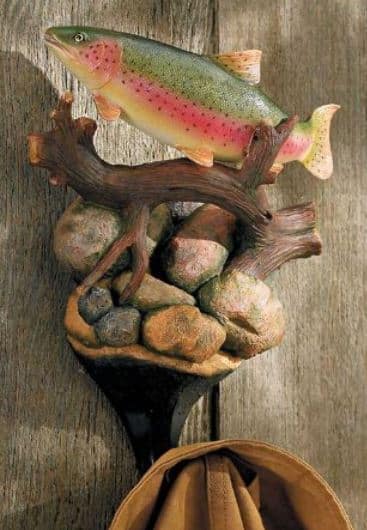 Rainbow Trout Fish Wall Hook by Mark Susinno
You could also add a nice fisherman's touch with these trout and creel shower curtain rings.

Trout and Fishing Cabin Decorations For Living Areas of Your Home
These bronze trout bookends would make a fine place to park all of your reading material. They appear to be well crafted and reasonably priced.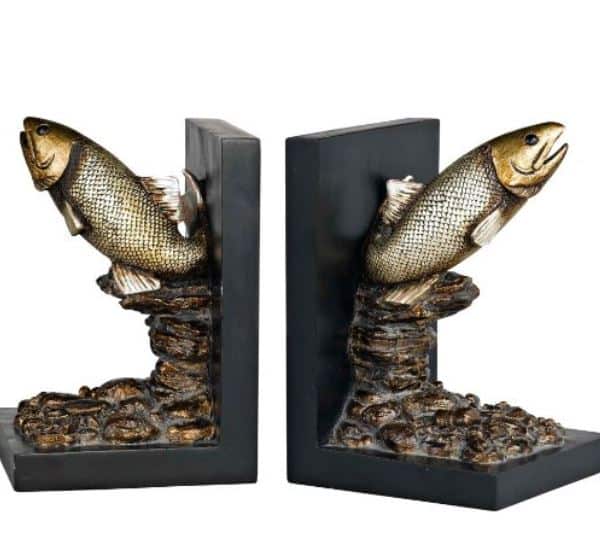 Here lies a perfect example of something you will need in your living room. How can every fly fishing fanatic on earth not already own a coffee table with a hand carved trout stream in it? This would truly set off a room in my opinion.
Big Sky Carvers Trout Stream II Coffee Table II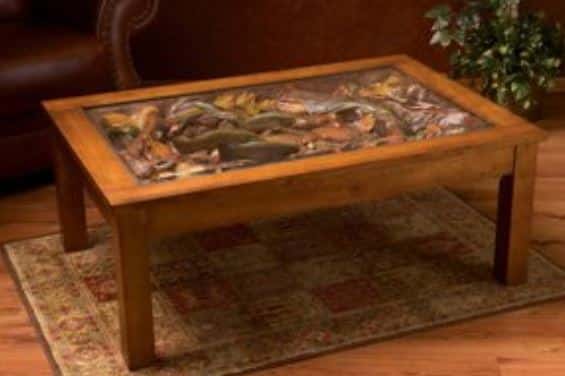 Hopefully you were able to get a couple ideas to decorate your home or cabin from this little show of trout and fishing decor products. I have very minimal experience when it comes to decorating. Perhaps in the future I will stick with fishing articles only.
Key hanger trout decor!
Hang your keys on this great trout key holder. It would also make a great rack for your ties or whatever else you might feel the need to hang up. Click the image for more information on this tremendous trout fishing gift item.
Trout pens
What better way to show your love and appreciation for trout fishing than to have a great looking trout pen. This would be a good stocking stuffer or a conversation piece at the office.