This post was last updated on April 8th, 2014 at 05:17 pm
A Day on the River With My Dad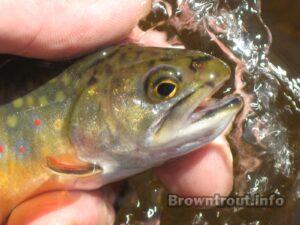 My Dad and I went on a float on a smaller river in northern Michigan yesterday. It was a pretty good time with a few events taking place. We didn't catch a lot of fish but we saw a few nice ones and got some decent pictures. We started out the day with me sleeping in of course. After I woke up around 11 am we started the drive finally. Hitting the river around 2 pm we instantly started catching small  brook trout. We were unsuccessful in catching any big brown trout, but we had some chances. My dad was waking a dry fly near some deep water and we got a good look at what was probably an upper 20″+ brown. We also had a good brown drakes in the air at dark . The fish were out feeding on them for about 10 minutes before the temperature dropped almost 20 degrees and shut everything down.
we Enjoyed what my dad said were the best sandwiches he ever made. They were humongous with everything imaginable on them. Usually when I make food on the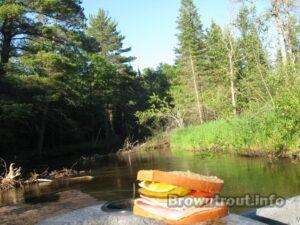 river, I rarely ever take to the time to make it fancy. He brings a big cooler with all the fixings and really decks things out. I would normally eat just a couple bags of candy and maybe a sandwich bought from the clearance bin at a gas station.
The Chimp also enjoyed a big river lunch. She has a can of Alpo poured onto the side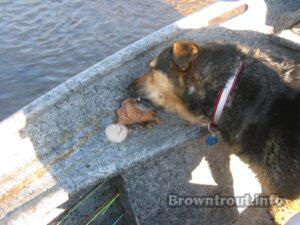 rail of the boat. She's not a real picky eater, and is happy to eat wherever food is available. This was evidenced at the vet the other day, the doctor said "your dog is really fat" :).
There were a lot of insects hatching and in the area. We encountered a couple patches of Isonychia's and many damsel flies. The highlight of the evening was when I pulled in to a huge logjam to extract a mouse pattern from it after dark. We were using really heavy monofilament, so I didn't want to risk breaking the new flyline. I pulled in close to find the fly and my oar slipped out of its lock. It was likely 5 minutes before I noticed it.  I started freaking out and frantically floating downstream at 12 am with no flashlight and one oar. I managed to find a flashlight, my dad's keen eyesight spotted the oar in a back eddy about 100 yards down stream. This was a very good moment, because I cannot afford to replace that oar before guiding season starts. They don't give away carbon fiber wrapped sawyer oars that's for sure! After that incident we decided to head for the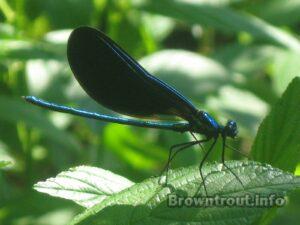 boat launch and call it a night. It was around 1 am when we reached the car. My dad was getting a little chilly anyway, the temperature at this point was in the 40's, and the fish were nowhere to be found. I was glad to have the oar back and sit in the car with the heater cranked. I had been swimming a couple different times up to my chest after dark. We will hopefully get to try this again before I head back to Idaho any day now. We didn't get to hook any big fish, but it was a pretty good time.