This post was last updated on December 3rd, 2022 at 07:42 pm
I have always and still am a big fan of getting people into the great sport of fly fishing for as inexpensively and easily as possible. With that in mind, I have compiled a few different options for some of the best beginner fly fishing kits for the money.  While inexpensive, they'll still get you on the water in a jiffy. All of these beginners fly fishing kits include nearly everything you will need to hit the water (some even include flies!) Fly line, leaders and backing are included in all of these great combos. Read on to learn more about the best beginner fly fishing kits for 2021.
Complete Beginner Fly Fishing Starter Kits Review 2021
1. Wild Water Fly Fishing Kit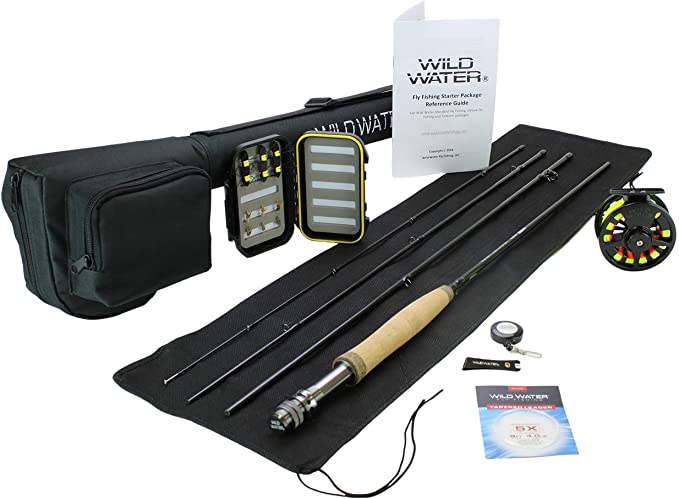 Our first beginner fly fishing kit is from Wild Water. This combo comes with a lot of great accessories such as:
Rod sock
Storage tube
9 trout flies
Fly box
5/6 weight rod
Die cast large arbor reel
Floating line and backing
Spare leader
4 piece rod w/ lifetime warranty
The main gripe people seem to have with this setup is the quality of the reel. The rod is 4 piece slow action mid flex. This rod alone weighs in at 5.7oz which is quite heavy, but since this is a beginners setup you are probably not expecting a feather for a complete setup for around $100.
My opinion of this combo is for the overall price it could be hard to beat in this price range. Don't expect any of the included accessories to be top of the line, but you can expect to get your monies worth. The rod also comes with a lifetime warranty which is likely the deciding factor for most people who buy it.
Bottom line:
A fly fishing kit that comes with everything you need and a lifetime rod warranty is a great deal for just over one hundred dollars. The soft action rod should be easy to learn to cast with, but in the long term it will probably not be an extremely versatile rod for big fish, large flies and heavy wind etc. You will without a doubt be getting your monies worth for this inexpensive and bargain fly fishing combo.
2. Redington Topo 9′ 5 Weight Combo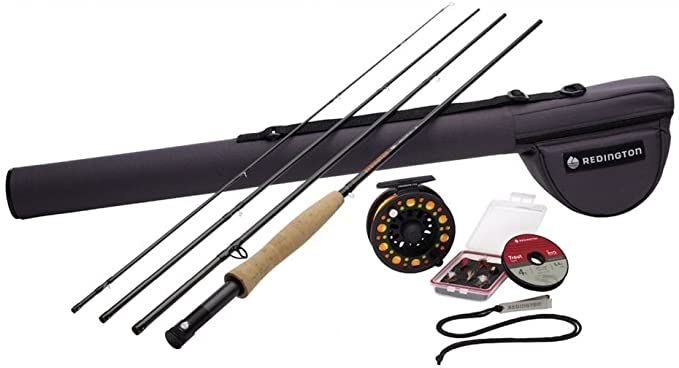 This combo has a price tag higher than the one at the top of the list, but is likely to have a little more versatility and surely has much nicer accessories included. This complete fly fishing kit includes:
Path rod with lifetime warranty
Redington Crosswater reel
Rio Mainstream fly line
Backing
Leader
Rod tube
This combo comes in under $200, so essentially almost 2x more than the first model listed on this page. In return for the cost, you are getting a rod that has much more backbone, providing new casters a more versatile rod with much easier casting in the wind and while casting heavier rigs. These snappy rods could be used for trout, bass or bluegill. Another obvious advantage is the Redington Topo's super light weight. This rod weighs in at 3.1oz for the 9′ 5 weight model. That's almost 50% less than the Wild Water model above.
For the angler with a little bit higher budget and looking for a higher quality setup than the Wild Water fly fishing kit mentioned above, you will be happy with the Redington Topo outfit. Use this versatile rod for bass, bluegill and trout while easily casting large flies.
3. Scientific Anglers Fly Fishing Kit

In my days of working in fly shops and sporting goods stores I have sold absolutely tons of these great combos. For a bargain price under $100, these are a steal! I have given casting lessons to atleast 20 new fly fisherman with this rod and have found it more than acceptable for learning on and using for a fairly long term setup until you are ready to invest in higher end gear.
This fly fishing kit includes:
Flybox
4 piece rod
Disc drag reel
Fly fishing made easy dvd
WF Line/backing
Leader
One of the great benefits of this combo is the solid case that comes with it. For the money, it is totally worth the price. The action of this rod is in between the action of the 2 rods mentioned above and is nearly ideal for beginners to learn to cast with. Check out the full Scientific Anglers Fly Fishing Kit review.
In Conclusion – Best Beginner Fly Fishing Kits
I have tried to appeal to the average price range that most new fly anglers seem to expect to pay for a beginners fly fishing kit. All of these setups mentioned above are great deals and will satisfy new fisherman's needs. Hopefully you found this best beginner fly fishing kits review helpful. Happy fishing!
---
Best Beginner Fly Fishing Kits FAQ
What is the best fly fishing combo for beginners?
Wild Water Fly Fishing Kit
Redington Topo Combo
Scientific Angler Fly Fishing Kit
Is Fly Fishing Good for Beginners?
Fly fishing can be a fulfilling, exciting sport for any skill level of fisherman. With a beginner fly fishing kit and a few fly fishing lessons under your belt, you'll soon see that fly fishing for beginners can be highly rewarding and tons of fun!
What do you need to get started fly fishing?
To get started in fly-fishing, you would need the following. You can find mostly everything you need in the fly fishing kits we've reviewed in this article. 
Fly rod and a reel

Waders and boots for cold-water fishing

An assortment of flies

Polarized sunglasses are helpful