This post was last updated on December 3rd, 2022 at 07:42 pm
This great fly tying kit from Scientific Anglers seems to have everything a new fly tier might need. It would be easy to walk into a fly shop and stumble around trying to buy all the gear necessary to tie a large array of flies, but in the end it would cost you a small fortune. The beauty of this kit is that it not only comes with a perfect assortment of materials and fly tying tools, it also comes with a DVD to get you on the right track.  All of the basic ingredients are covered here and are neatly organized in a nice little case. In my opinion this is possibly the best fly tying kit I have seen for the beginner. Keep reading to learn more in this Scientific Anglers Fly Tying Kit Review.
Scientific Anglers Fly Tying Kit Review 2021
Don't expect to be able to fill your fly boxes with every fly pattern imaginable, but you can tie a bunch of basic stuff and get the general idea of tying flies down pat with this kit before concentrating on any elaborate patterns. This fly tying kit comes with a few different sizes of hooks and some very commonly used colors of dubbing material to tie natural looking flies that are sure to catch fish. You can surely tie flies that will catch bluegill in your local pond and lakes all day long, along with some classic trout patterns such as variations of the prince nymph and Adam's dry fly.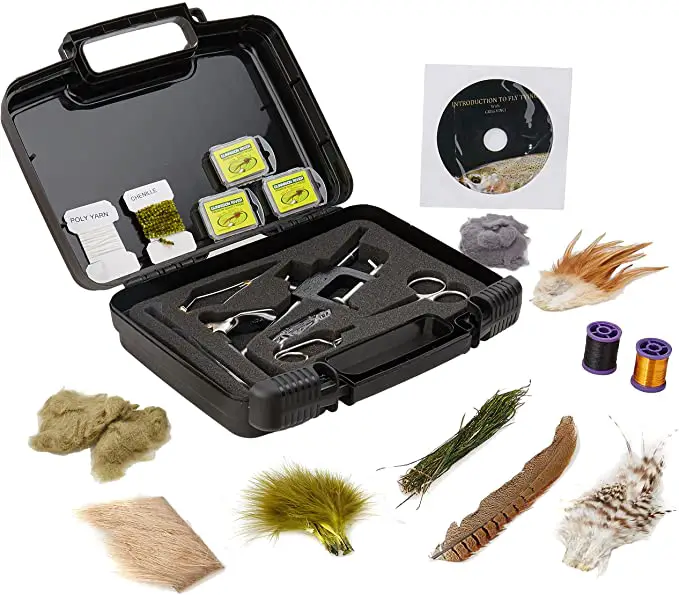 Contents of the Scientific Anglers Fly Tying Kit
Tools
Fly tying Vise
Scissors
Bobbin
Bobbin threader
Hair stacker
Hooks
Materials
Dubbing (2 Colors): Often made from rabbit fur this material is the most common body type for dry flies. It can also be made from various synthetic materials which offer better buoyancy and increased durability.
Chenille: This stuff looks like pipe cleaner and makes great bodies for streamers and other large flies.
Marabou: Used to tie streamer flies and the tails of many wet flies. This material is known for the way it pulsates under water and tends to really attract fish.
Hackle (2 colors): Hackle is the puffy floating part of dry flies. It is essentially chicken feathers taken from the neck area of a rooster.
Elk Hair : This buoyant hair is great for tying wings.
Peacock Herl: Flashy versatile material makes great bodies of flies (such as the prince nymph and zug bug)
Pheasant Tail: This material makes great wing cases, bodies and tails of many different fly patterns.
Poly Yarn: Perfect for tying the wings of spent winged mayflies. It is also commonly used in tying the floating portion of emerger patterns.
Thread: This is the foundation of all of your flies and what you will use to hold it all together.
Copper Wire: Used to give the bodies of flies a nice little sheen and natural appearance. Works great to achieve the segmented natural insect look on the body of your flies.
Learn some more basics about fly tying feathers.
In Conclusion – Scientific Anglers Fly Tying Kit Review
This fly tying kit is great for the beginner and I find it to be a pretty good deal for the price. If you're looking to start tying flies, this kit will provide everything you need to get started. Hopefully this Scientific Anglers Fly Tying Kit Review was helpful. Now go tie some flies!