This post was last updated on December 3rd, 2022 at 07:42 pm
How to Keep Warm While Fishing in the Extreme Cold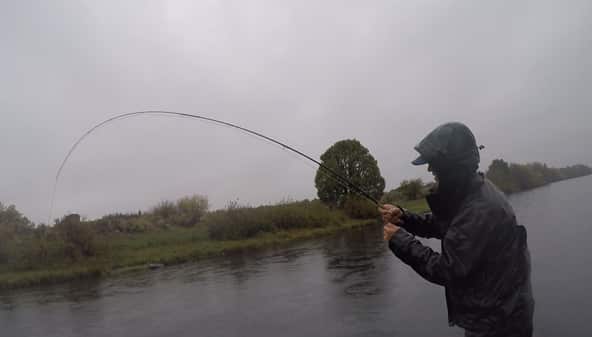 It is October in Idaho and the weather is just starting to take a turn for the worst. A couple weeks ago I went fishing on the Henry's fork with my buddy Walker, and I remembered just how cold and miserable fishing can be without proper gear. Fishing was very good that day, but the rain and snow prevented me from getting great footage for a fly fishing video. I did get some decent Gopro video, but was not taking my big Canon camcorder out of it's case in that precipitation. During that first cold weather fishing trip of the season, I was able to stay pretty warm because I brought the proper fly fishing cold weather gear…If I hadn't, it would have been a miserable day.
Preparing for the Cold By Wearing the Proper Fishing Attire
Your head and feet are the 2 most important things to keep you warm. Once these body parts get chilly, you'd better get them warm.  The most important piece of gear to keep you comfortable is a hat. I recommend one that is waterproof, because eventually the snow will melt and start soaking in. Even though the myth of "people lose 40-50% of body heat through their head" (See British Medical Journal article) has been debunked, you'll still lose a large amount of heat in an exposed head, especially if its wet.  Once your head and feet get cold, the rest of your body is sure to follow. Stay warm on your next winter fishing trip by following this short gear guide.
So..The Number 1 most important heat saving fly fishing apparel is a waterproof or wool hat. A wet cold head will drain a ton of heat from your body in no time flat. The fact is however, that any part of your body that gets wet from either sweating or precipitation is going to cause significant heat loss. So it is always a good idea to prevent sweating while hiking into your fishing spot. You might be nice and warm when popping out of your car and starting your hike, but by the time you get a ways down the trail you could be drenched in sweat and overheating. Once you start fishing, you'll cool right off and probably start freezing, so walking to your fishing spot in minimal gear will keep you dry and comfortable the rest of the day.
Moisture Wicking Socks and Thermal Underwear
As I mentioned above, staying dry will keep you comfortable, in some situations it will help you stay alive. Wearing cotton socks and clothing under your waders will not do you any good once sweat starts to form. Cotton has almost no insulating ability when wet, and getting a hole in your waders or taking a spill is always a real possibility in the river.
Spending a few extra dollars on good moisture wicking fabrics will be well worth it if you get soaked by rain, snow or sweat.
What are the Options?
New smart fabrics – These materials will pull moisture away from your skin and keep you warm even when wet.
Wool – This time tested old school fabric does continue to insulate your body even when it is wet.
These great wicking materials have saved my life in some very extreme situations. I won't get into any stories too deep, but I have been fully submerged under water in sub zero temps many miles away from civilization and lived to tell about it because of wearing these great fabrics.
Gloves
If your hands are cold, your ability to tie knots and do basic things will begin to deteriorate. It is always a good idea to bring at least 2 pairs of gloves with you. I usually go with fingerless wool gloves that have a mitten portion that flips over to cover your fingers.
As a backup I recommend bringing a super warm pair of waterproof mittens. Sure, it's not really easy to fish in large bulky mittens, but you will be able to get your hands warmed back up if you really need to.
Backup Clothing and Survival Gear for Extreme Winter Fishing Trips
If it all hits the fan and the temps are sub zero, you have taken a swim or are just cold beyond explanation—this stuff could save your life! I personally put all of this gear into a tough waterproof bag just in case everything goes wrong.
Waterproof Bag: A small bag such as the one to the left is a good thing to store your winter survival gear. If this stuff gets wet during your swim in the arctic water, it will all be worthless.
Extra Coat/Jacket: You can pack a pretty warm down jacket into a pretty small space. I have this Patagonia jacket that packs up as small as a baseball and is amazingly warm. Even any light rain jacket as a backup will be better than a wet coat in the cold. Of course you'll want to bring extra pants, shirt and socks as well.
Matches/Lighter/Firestarter: It is obvious why you really should always have this stuff with you. If you find yourself in the middle of nowhere in the extreme cold and you get soaked, you'll probably die without a way to start a fire. Not only will you need matches or a lighter, but some sort of dry kindling or firestarter like these could make starting a fire much easier.
Summary: The bottom line is that fishing in the winter and late fall (especially for huge brown trout) can be very good, but you have to dress properly. As long as you dress for success and make sure to bring along extra clothing and basic survival gear you can fish safely and comfortably. In any sort of extreme temps, you'll need to use a little extra caution, but it can be done and the rewards of low fishing pressure and active fish can be great.