This post was last updated on May 21st, 2019 at 09:31 pm
Drift Boats and Features.. What are the Options?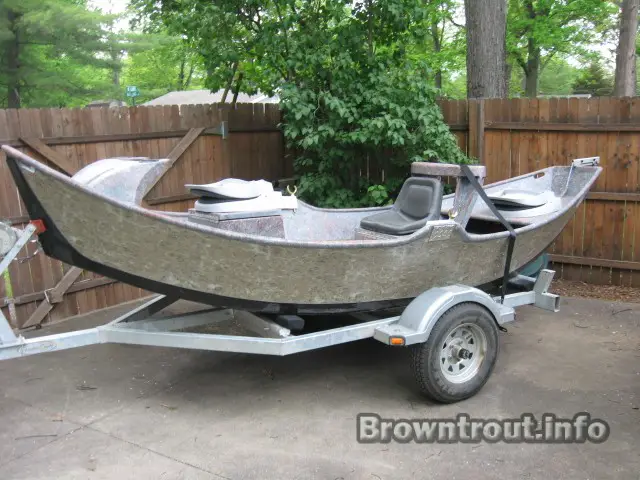 There are a lot of different drift boats and companies out there these days. It would be easy for a buyer to get confused and not be quite sure what style to buy. Here I will outline the styles of boats, so you can make the perfect decision when you finally commit your hard earned cash to a boat.
Very soon I will outline all the different boat manufacturers and offer advice based upon what I have noticed and what other guides have told me about their particular models and brands. I was initially going to put all that information here, however it was too much information for one post. As a matter of fact I have just decide to create an entire new category for "boats" because this subject is too vast to do even in just a few posts.
Low Profile:
The low Profile driftboat means it has low sides. There are several reasons you might be interested in owning a Lo-pro including:
Low sides=less effect from the wind: The wind in many areas is a concern to the rower, when I wake up in the morning before a guide trip, the first thing I notice is the wind level. If there is just a little wind at 7am, chances are good that the wind will be raging by the time I get on the river. This is a good time to either go to the gas station and quickly buy a 6 pack of red bulls, or pull out the low profile driftboat and relax. High side drift boats in a heavy wind can really ruin your day.
Ease of getting in and out: The lowsided driftboat will be much easier for you to get in and out of. Sometimes a highside can be a bear (especially when there is quite a drop down to the bottom of the river).
High Side Boat: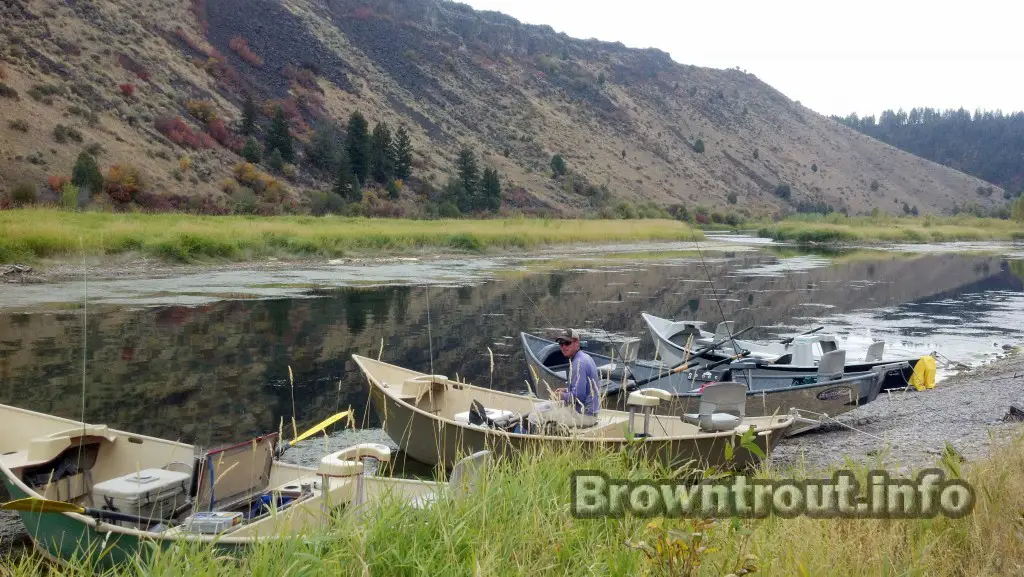 These are a good option for a lot of fly fisherman. The high sided driftboat offers some key ingredients that will be worthy of consideration when choosing your next boat such as:
Safety in high water or nasty currents: The high side drifter will give you piece of mind that you and your riders are safe. It only takes one time with a close call of  water flowing over the edge of the boat on a western river to really want a boat with high sides.
The passengers clumsiness: Basically with higher sides on your boat, your potentially intoxicated passengers will be less likely to find the water. With an edge of the boat above (or near) the knees, there will be less chance for them to lose balance and swim (a potentially deadly scenario in many areas).
Bottom Width:
Generally, the more wide the bottom of the boat is, the more stable it should be. Many companies offer fairly wide drift boats and this should not be much of a concern during your purchase, however there are many older boats that are likely on the market that have  narrow bottom widths. If you are considering purchasing a boat this measurement  is something you should look at, especially if you don't have the opportunity to try it before you lay down the cash.  Any bottom width over 55″ should be good to go, there are many companies that offer bottoms up to 60″ which will offer a noticeable difference in stability in many situations.
Rod Storage:
Most boat companies offer rod storage these days. You are likely to find some that don't have this great feature, so you should decide if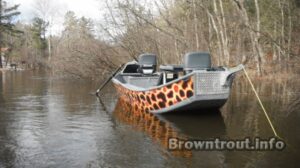 it is something you are interested in. Personally I find on guide trips that rod storage is not needed too much, however if i am out fishing with my buddies, everyone brings at least two rods. A lack of storage with 6 rods in the boat can become a class 5 cluster in no time.  Streamer rods, nymph rods, dry fly rods you just need them all!
As you can see there are a lot of considerations to make before deciding on the perfect drift boat. Come back soon to see the head to head comparisons of many of the top drift boats.