This post was last updated on December 3rd, 2022 at 07:42 pm
Various Kayaks For FlyFishing
There seems to be a lot of great looking new kayaks to hit the market that should be more than suitable for easy fly fishing. Here I will outline some models that stand out to me. Some of these are very interesting and should be considered if you cannot use a drift boat, and/or often fish alone. Lets get right into it..
Slayer Propel Kayak
They don't exactly give these kayaks away, but they sure do look fun and very practical for the fly fisher. As you can see these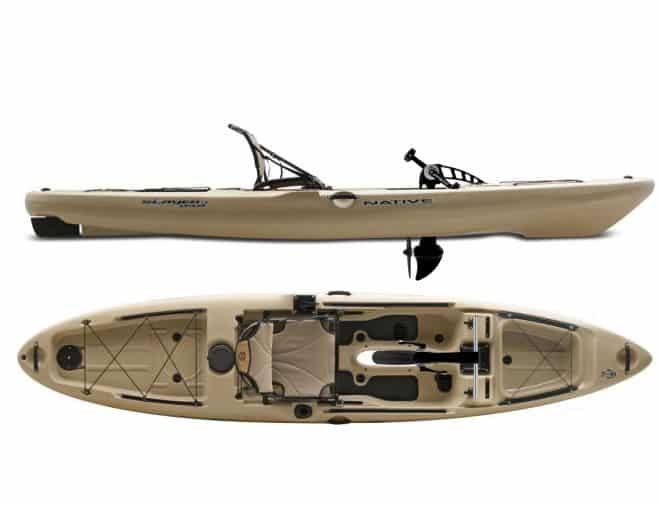 boats are paddle driven and can also move at astounding speeds. Of course there is an option to use a paddle as well, however i doubt they paddle all that good with the prop and steering mechanism below the boat holding you back, so they have a great swinging feature where you can pivot the prop right back into the boat to make paddling  a dream.  They appear to be stable and easy to fish from. One thing that has always bothered me about fishing from a kayak is the need to always drop the paddle each time I need to make an adjustment or move to a better position. With this being a foot driven kayak, those problems are now taken out of the equation..

Freedom Hawk Kayak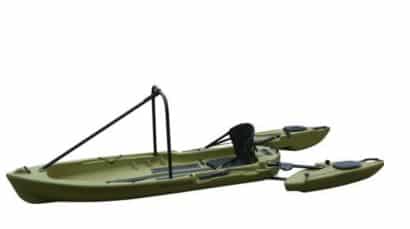 Yowsa! This kayak has a casting brace and two mini kayaks (outriggers) at the back for the ultimate stability. These are adjustable with a lever, so you can spread the outriggers and retract as soon as you are ready to make a move to another area. Â It has a lot lower price tag than the slayer mentioned above, except this one you will have to paddle yourself. The stability of this kayak is likely very good, as for the maneuverability, I am sure its not too bad either. Frankly the fact that you can safely stand up while being braced, makes this a winner in my book. Watch the video below and you will quickly notice that you can attach a motor to the back. The feature that stood out more than anything in the video, was watching the guy do double haul casts, and the boat barely even moves! If I have ever seen a perfect fly fishing kayak, this is very close. Â This boat also seems to have some well placed storage areas. Â I can picture myself in the mangroves getting pulled around by a 60 pound tarpon in this thing, and it makes me very happy..
Jackson Kayak Coosa
This is a full featured very wide and stable kayak. I like all the bells and whistles on this baby! The seat on this boat is up much higher than most kayaks, however with the extra wide beam I am sure you can get away with it. In my opinion this is surely a kayak that can be considered for the hardcore fly fisherman!
This is just a few very interesting options on the market. There are a lot of great fly fishing suitable kayaks not mentioned here. If you have some boats that you think deserve to be on this page please leave some comments and tell us about them! Thanks