This post was last updated on June 1st, 2022 at 11:00 pm
If you are looking for a trout fishing net big enough to haul in trophy sized trout and strong enough to last a very long time this net is the ticket! This article discusses the Frabill fishing net review. I bought this net just before a guide trip last year for a fishing trip in Idaho. They day before I had broke the hoop of my large boat net and was desperate for some sort of net to bring along. I tied the handle from my broken net onto this and landed fish all day without any issues. Since then I have purchased a larger net for my drift boat, but I still use this for wading trips. Buying this trout net was possibly the best accident ever, because I found a new favorite wading net. It might not have the traditional look of a classic wooden net, but if that doesn't concern you, this might be the one for you!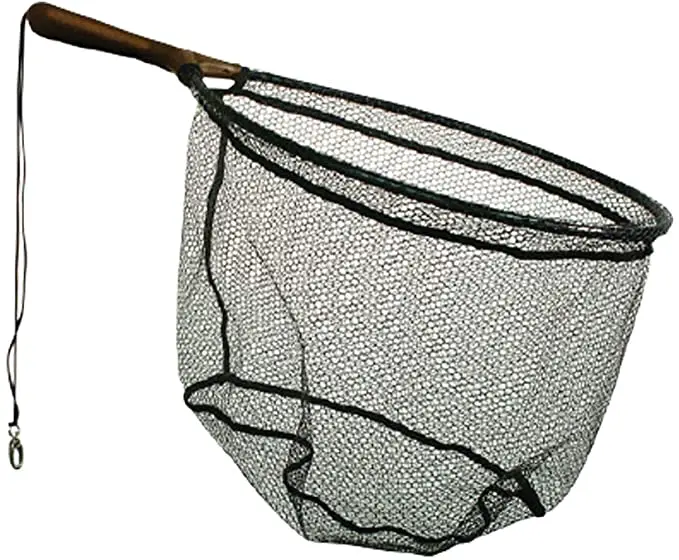 Frabill Trout Fishing Net Review
The super deep netting easily keeps fish safe and secure while looking for my camera.
The super strong hoop and handle don't feel like they will ever break.
Rubber coated handle gives a great grip and it's just the right size.
The netting material is soft enough to keep the trout safe for release with very little friction from the net. It also has a rubber coating that prevents flies (and I am sure lures) from getting tangled for easy removal.
Summary – Frabill Fishing Net Review
The Frabill rubber handled trout net is the perfect size for using in a kayak, canoe or float tube. It's super durable, yet soft netting will not be torn by trees or brush on those rugged wading trips. At a cost of $20 this net is an absolute steal and I can honestly tell anyone to buy one with confidence, because taking the price, durability and functionality all into consideration this net is Awesome!