This post was last updated on December 3rd, 2022 at 07:42 pm
Do you need a good Frogg Toggs Waders review? Well, here it is! Of course, the thought of catching a large trout or bass is undeniably exhilarating. But then, where can you find these big game fish? They are wise and shy away from the shores. For you to catch one, you may need a quality pair of waders. Moreover, you can't afford to wade into the water half-covered. Whether you're fishing in shallow waters or wading in deep flowing rivers, chances are that you will get soaked after countlessly throwing your weighted lure into the water. You wouldn't want to appear like some drenched rabbit when presenting your trophy catch, would you? You need a chest wader.
Frogg Toggs Chest waders are a great accessory when fishing. This is due to the fact that they are water-resistant and can warm your body during cold weather. In addition to this, they also guard against trench foot which is as a result of standing in the water for a long time. They insulate your ankles so that they do not hurt when wading and fishing.
Increasingly, chest waders make fishing much easier. The best chest waders increase your mobility and efficiency while helping you enjoy the fishing process. In this Frogg Toggs waders review, we will cover important qualities to look for when shopping for Frogg Toggs waders, wader FAQ and the top 5 best Frogg Toggs waders in 2022.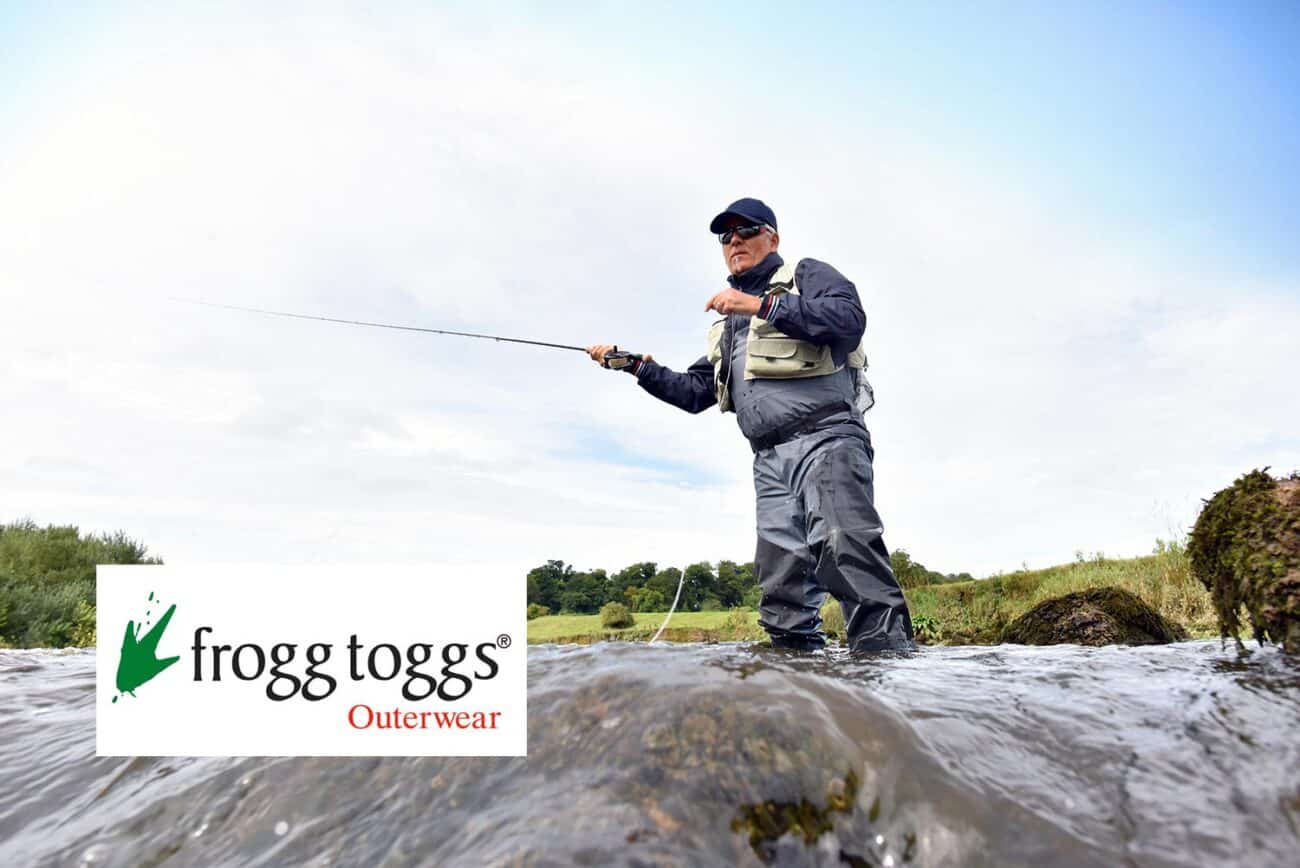 Important Qualities to Look Out For when Buying Chest Waders
Chest waders are excellent tools for fly fishing, surf fishing, hunting, and many others. However, you will want to make sure you select the right pair for an amazing fishing experience. As such, It's advisable you pay attention to some factors and features when shopping for your next pair of chest waders. Here are some of the most important factors.
Materials
One of the key factors you should evaluate before getting a chest wader is its material makeup. This should be influenced by the weather condition you are expecting when fishing. In warm temperatures, you may want breathable waders. If it's cold, you'll need warmth and insulation.
However, if you fish in all seasons, we recommend a durable pair of breathable waders. Breathable waders are usually more versatile than cold weather waders. The most popular breathable waders are either made from polyester or nylon. Also make sure that they have a durable water repellent (DWR) finish to help minimize incidents of slipping into the water.
Boot Liners
Waders are designed to have either a bootfoot or a stocking foot. Bootfoot waders have ready-made boots which are integrated with the leggings. Although this is much costlier than the counterpart, it provides extra protection and saves you the headache of purchasing new wading shoes.
Stocking foot waders on the other hand feature Neoprene socks in place of ready-made boots. Unlike bootfoots where you are stuck to one style of wading boot, stocking foot waders gives you the liberty of adding your fashion sense while dressed in your wader. They are also much easier to clean.
In all, review the boot sizes to make sure they are fit for your foot size. You can find the sizes from the manufacturer's notes or customer reviews.
Storage
Chest waders typically provide as many storage solutions as possible. The most common storage spaces in chest waders are their large collection of warm pockets. They can help you to keep your hands warm in colder temperatures. There are also additional pockets for your valuables.
No matter the number of pockets you find, you should make sure that the zippers are waterproof.
Cost
Chest waders are the most expensive types of waders because of their additional materials. You may find some chest waders a little pricey but it's advisable that you invest in a pair that would last you longer. This doesn't cancel out low-budget chest waders. There are still many pairs of budget chest waders that will get the job done.
Brand
When exploring the market, it is also important to evaluate several trusted brands for chest waders. Some brands have adopted cutting-edge technologies such as Gore-tex technology. This is the pillar of water-proof fabrics. By choosing such brands, you can make better purchasing decisions.
Top 5 Best Frogg Toggs Chest Waders – Frogg Toggs Waders Review

Features and Benefits
Made using the Dri2pore technology, Frogg Togg Sierran stockingfoot wader features three layers of fabric. The inner layer comprises soft fabric that minimizes skin contact, providing a comfortable wearing experience. The middle layer has the best water-resistant materials, keeping you dry when it's most needed. On the other hand, the outer layer has quality abrasion-proof materials that protect your foot from debris.
Sierran Stockingfoot chest wader is anatomically engineered for longtime fishing. The point is that every angler who wants to spend a long time fishing in the deep waters may want to add it to their fishing arsenal.
Let's look at other amazing features that have made the Sierran Stockingfoot chest wader worth every penny.
Adjustable X-Back Suspenders
It ensures that the wearer can adjust Frogg Togg Sierran stockingfoot chest wader as much as possible and allows for a snug fit.
Zippered Chest Pocket
The water-proof zippered chest pocket stores the wearer's essentials.
Ply nylon feet and shin protection
The 6-ply nylon feet and shin protection feature protect the feet and shin from external impact. For instance, it minimizes the risk of fish-related injuries.
Wading Belt
The Sierran Stockingfoot chest wader comes with adjustable wading belts. The belt minimizes the incidents of accidental drowning. All you need to do is to wear the belt and keep it snug.
Neoprene Boots
Designed with the neoprene material, it keeps your feet warm and toasty.
Pros
Water-resistant zippered chest pockets and other storage areas guarantee secured valuables.
The inner layer of the fabric makes it breathable.
It is affordable.
Cons
There is no return policy.
---

Features and Benefits
The Frogg Toggs Amphib chest wader has a class of its own. It's considered one of the best chest waders for hunting and deeper water wading. Their camo patterns help to match different hunting environments. Plus, amphib chest waders have unique features that can keep fishers happy. It comprises practical features that help anglers withstand the extremities of cold temperatures. Nearly every part of the fabric keeps you constantly warm. It is safe to say that the amphib chest wader is one of the leading chest waders in terms of warmth. For instance, there is a chest pocket that allows you to secure and warm your hands.
Let's look at some of the noteworthy features that come with amphib chest waders.
Thinsulate Boots
The Thinsulate rubber boots come with ultra insulation. It means that it can keep your feet warm and guarded in chilly waters maximally for longer fishing periods. The cleated soles beneath the boots keep you upright. Overall, the boots are surprisingly comfortable since they are a bit high, preventing them from squeezing your legs.
Adjustable Neoprene Suspenders
The adjustable suspenders have some loop attachments that help anglers wearing amphib chest waders to customize the fabric.
Pros
Offers a one-year warranty.
Durable material.
Well-insulated boots.
Constructed with triple-finished seams which lowers any chance of leakage
Cons
Bad placement of rings for the shell holders.
No wading belts.
Excessive insulation.
Not suitable for warmer temperatures.
---

Features and Benefits
Making up the third chest wader in this review is the Frogg Toggs Grand Refuge Bootfoot Chest wader. Grand Refuge Bootfoot Chest wader is a hybrid model optimized for both fishing and hunting. So if you're on a budget and want to purchase only one chest wader, this wader is a good option. The best part is that the Grand Refuge Bootfoot Chest wader is suitable for all weather conditions (colder and warmer conditions).
Aside from adjustable suspenders, boots, storage pockets, and wading belts that come with most regular chest waders, the Grand Refuge Bootfoot Chest Wader has these additional features.
Removable Insulated Liners
The removable Insulated liners have 'zip in' and 'zip out' features that help you to adapt to any weather conditions. It makes excellent rainwear as well as protects you from heat waves.
Dri2pore Technology
Like the Frogg Toggs Sierran stockingfoot chest wader, the Grand Refuge utilizes the Dri2pore technology. It comprises a blend of water-proof materials and abrasion-resistant materials to keep you safe.
Pros
The 10-count shell holder helps to secure portable items.
Helps to hunt as well as fish effectively.
Insulated liners help to work around both warmer and colder weather.
Cons
---

Features and Benefits
Frogg Toggs hellbender chest wader is also a stockingfoot wader. It has sturdy neoprene boots that provide superior protection with a reinforced toe cap and a steel shank. Frogg Toggs hellbender chest wader also comprises zippered pockets, expandable storage space, elastic suspenders, and reinforced knee pads for additional durability. This Hellbender chest wader is known for its high enduring power as far as fishing is concerned. So it can stand the test of time.
Let's look at some of its distinguishing features.
Stockingfoot
Since the hellbender chest wader is a stockingfoot wader, it has a durable and adjustable suspender mechanism. Even if you bend, it won't restrict your movement like a seatbelt.
Knee Reinforcement Pads
The hellbender chest wader integrated more fabric with the knee area to ensure superior protection from abrasions.
Pros
Offers a one-year warranty for repairs.
Reinforced knee pads for optimum protection.
Fitting for surf fishing.
Durable wading belts.
Cons
Designed with more seams than necessary which increases its chances of developing a leak.
---

Features and Benefits
Last but not the least, the Frogg Toggs Rana II PVC Bootfoot Chest Wader. Made from high-quality nylon materials, this wader is sturdy and durable. The Rana II PVC wader features water-resistant boots which offer optimized comfort but is most popular for its suitability for both hunting and angling adventures.
Top Draw Cord
It allows wearers to store their items.
Non-insulated Boot
The boots protect the feet.
Pros
Comprises chest pockets and a top draw cord which are excellent storage spaces.
Ideal for hunting and fishing.
Cons
Non-insulated boots cannot help anglers and hunters to withstand severe weather conditions.
---
Frogg Toggs Waders Review FAQ
What are the best Chest Waders for fishing and hunting?
As explained in this Frogg Toggs waders review, Rana II PVC Bootfoot Chest wader and Grand Refuge Bootfoot Chest wader are some of the best chest waders for both.
Are Neoprene Chest Waders warm?
Yes, they are. They make a great choice during colder conditions.
How do I know the best Frogg Toggs chest waders for specific conditions?
It is simple. Choose hip waders in warmer conditions. Choose chest waders in colder conditions.