This post was last updated on September 24th, 2014 at 05:51 pm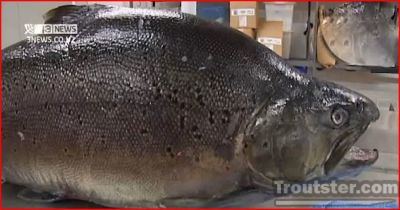 In March of 2013 there was a monster brown trout caught in New Zealand, this giant weighed in at 42 pounds 1 oz, crushing the previous record by almost a full pound! There was a lot of talk and rumors flying around about the legitimacy of this trout, but it has now officially been confirmed to be the largest brown trout ever brought to the net in the entire world (as far back as documented).
After this tremendous fish was pulled ashore rumors spread of the fish potentially weighing up to 45#. No one was sure if the New Zealand angler Otwin Kandolf was going to register it with the IGFA (international Game Fish Association).
Otwin Kandolf caught this fish right about dark on a small canal and by the sounds of it had quite a project ahead of him to get it safely on land. This canal was below a fish farm, so this trout was able to grow to it's mega huge size from eating loose pellets that floated downstream to its lair.
After the catch
he didn't know what exactly to do with it; so he did what any trout fisherman would do, he went to the bar. The local pub held the fish in a large icebox until he could have it weighed. I am sure afterwards he partook in a couple cold beverages and likely told the story to everyone inside the pub multiple times.
The IGFA often takes a large amount of time to confirm world record fish, so I am sure the trout fisherman was sweating bullets for the 5 months it took for his new world record brown trout to be confirmed.
The US has held the title for the world record brown trout for a very long time, and its great that another country gets to partake in the joy of holding the record. My guess is it won't be long before yet another monster brown trout is reported that will rival the giant from New Zealand.