This post was last updated on December 3rd, 2022 at 07:42 pm
Looking for a way to take some HD underwater video on your next fishing trip? Look no further, the Panasonic Lumix is a great camera for fishing. In this Panasonic DMC Ts7a Lumix Review, we'll discuss everything you need to know. Finally an easy way to get those trout release shots underwater via the high megapixel camera or HD camcorder.
If you're interested in purchasing a rugged camera with an array of impressive features, include a top-tier mode for movies, you'll enjoy learning about this highly-rated Panasonic design. It offers average photo quality for a mid-range price tag and includes lots of bells and whistles, such as a Wi-Fi system which is built-in, as well as a GPS. Due to Wi-Fi capability, this camera may be utilized via remote control and photos may be transferred to other devices with total ease. It can also be aa good tool to help you learn how to fly fish for trout. Now, let's look at some other impressive features of this camera.
Panasonic DMC Ts7a Lumix Review 2021
We've talked about this camera's photo quality, which unfrtouantely, isn't great. However, the GPS system and Wi-Fi capability are solid. This really just scratches the surface, as this camera is definitely a feature-packed design. It also includes superb LCD visibility, 1080/60p resolution for video and a stereo sound system for video. When you take movies with this camera, you'll be able to record for a long time and this will give you more freedom and lots of versatility. As well, the GPS system is first-rate, as it's enabled with a manometer, landmark information and a compass.
This design is popular with trout fisherman (and women) as it captures action so well, is rugged enough to perform in an array of outdoor conditions and includes a GPS system. However, it's really a great camera for anyone who loves the great outdoors and capturing nature scenes and more on video or via still digital photographs.
Also, this camera looks great. It has an attractive, royal-blue finish and it's an easy size to carry around. While it isn't really a slim-line design, it's still compact. It has a sporty look overall and you'll probably be proud to use it, as it looks very modern and stylish.
In terms of other features, you'll be pleased to know that this design comes with in-camera Creative Control, via the recording mode, as well as a Creative Retouch feature which functions while the playback mode is operational. If you want to, you'll be able to configure your camera in order to work perfectly for the type of scene that you want to capture. Just choose the right high-tech pre-set and the camera will adjust its settings automatically. This will help you to take your best photos ever!
One of the premiere features of this superlative and durable camera is its waterproofing. You'll have the power to take still photos and videos in full high-def, whether you're in the water or out of it!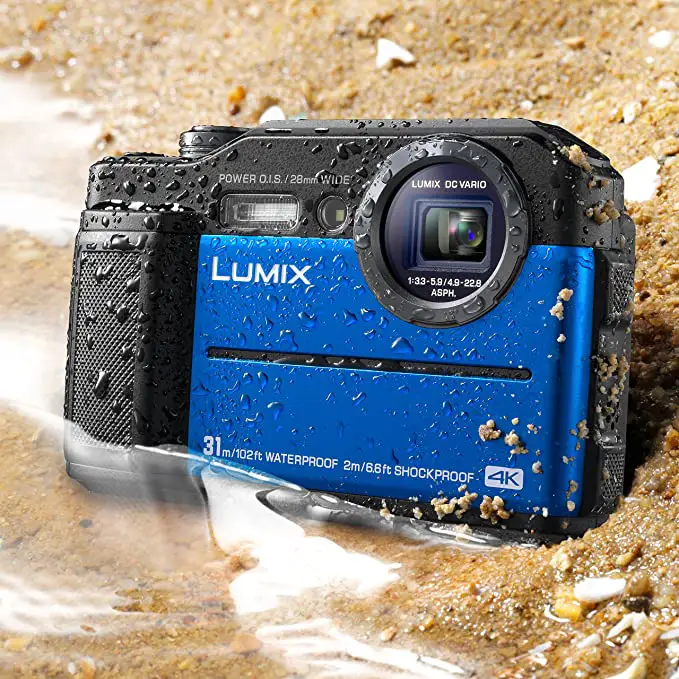 Pros and Cons – Panasonic DMC Ts7a Review
Pros:
Its movie mode is wonderful
It offers high durability which makes it a perfect choice for outdoorsy photographers/videographers
The wifi connectivity makes photo transfer eaasy
Good mid range price
Cons:
Picture quality is not great
Lens which some owners find a little slow
It's flash may be weaker than the flashes of comparable models
In Conclusion – Panasonic DMC Ts7a Lumix Review
Panasonic is a trusted brand name for cameras and other forms of electronic devices. If you're interested in learning more about this attractive and functional model, we recommend that you check it out here at Amazon. Ideal for those who fish or other sporty types who like to play outdoors (and take pics and video of what they see!), this camera wiill last a long time and its price tag is really pretty affordable. There are cheaper cameras, but most don't have the same array of features.
Overall, I probably wouldn't recommend this camera as there are a lot of complaints about the photo quality, which is obviously important. Hoefully  you found this Panasonic DMC TSs7a review helpful.