This post was last updated on December 3rd, 2022 at 07:42 pm
My dad has had this vest for quite a while now and he loves it. If there is one thing I can say about this vest, it's that this thing has an insane amount of storage. Literally it has pockets on top of pockets. It also has a very large pocket in the back for storing extra reels, food raingear or whatever other large items you feel the need to bring. Check out the rest of this article for the full Prestige 26 Pocket Fishing Vest Review Prestige 26 Pocket Fishing Vest Review.
Prestige 26 Vest Review 2021
Features
Rod holder in the front to keep your hands free while you are monkeying around with your flies or tying on some tippet
Polyester Cotton blend material that is of course safe to wash in your washing machine
Removable fly patch is included
2 D rings on the front to easily attach your fly floatant or nippers. A "D" ring is included on the back to attach your net or zinger. It also comes in handy to hang it up after usage.
2 main pockets in the front are large enough for some very large fly boxes
Tons of small pockets to keep all of your smaller gear at your fingertips
This vest is available in a huge range of sizes from small all the way to XXXL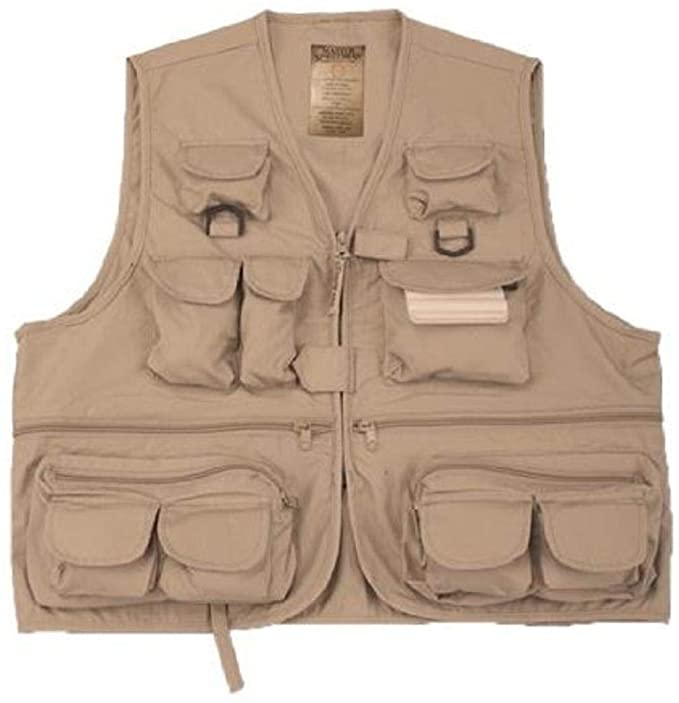 Summary – Prestige 26 Pocket Fishing Vest Review
At the cost of about 25$, I find this vest to be a great deal. My dad loves his and the reviewers around the internet for the most part all love theirs. You could easily find a more luxurious fly fishing vest if you wanted to, but why? The prestige 26 pocket fishing vest might not be made from high tech fabrics and be lined with fine silk, but it does a good job at storing everything you could ever want to bring with you on the river. With the litany of pockets (including a giant pocket in the back) It's hard to go wrong with this vest for a mere 25 bucks. Hopefully you enjoyed this Prestige 26 Pocket Fishing Vest Review! Happy fishing!