This post was last updated on December 3rd, 2022 at 07:42 pm
Whether you are going on a full day trip in the Florida keys for bonefish or mahi, or just a float trip for various trout species—you surely need one of the best fishing coolers to keep your beverages ice cold. Some coolers are much better than others, so below we have outlined the best fishing ice chests for the money. The worst feeling I can think of is to reach into a cooler on a hot day to grab a soda or beer, only to find out that your cooler has become warm. Fishing coolers are made to be more hardcore than your average everyday family coolers. These are tough as nails and can hold ice for multiple days in a row. Not only are these awesome coolers perfect for keeping your beverages and food ice cold, they are great for keeping salmon and saltwater catches fresh on those offshore fishing trips.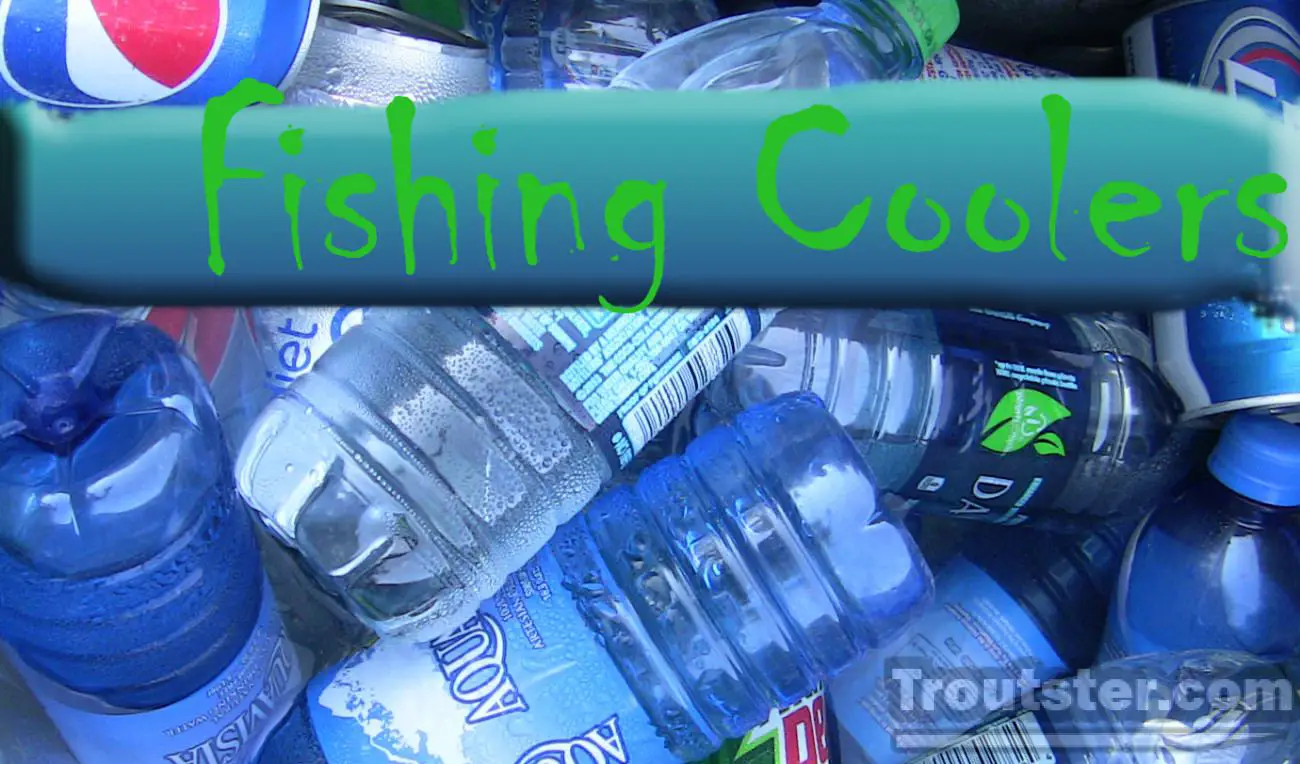 The Best Fishing Coolers Reviewed
In most cases, fishing ice coolers are not just to keep your fish and beverages cold, they are also used as seats. They will often be banged around much more than standard coolers because they'll typically be riding in boats (on the water and on the trailer). We have displayed below some of the toughest fishing and marine coolers known to mankind, because basically—fisherman are hard on things. Find out what cooler will fit your needs the best, in our extreme list of coolers designed just for people who are extra hard on gear. Keep your beverages icy cold for up to a week with these great fishing coolers below!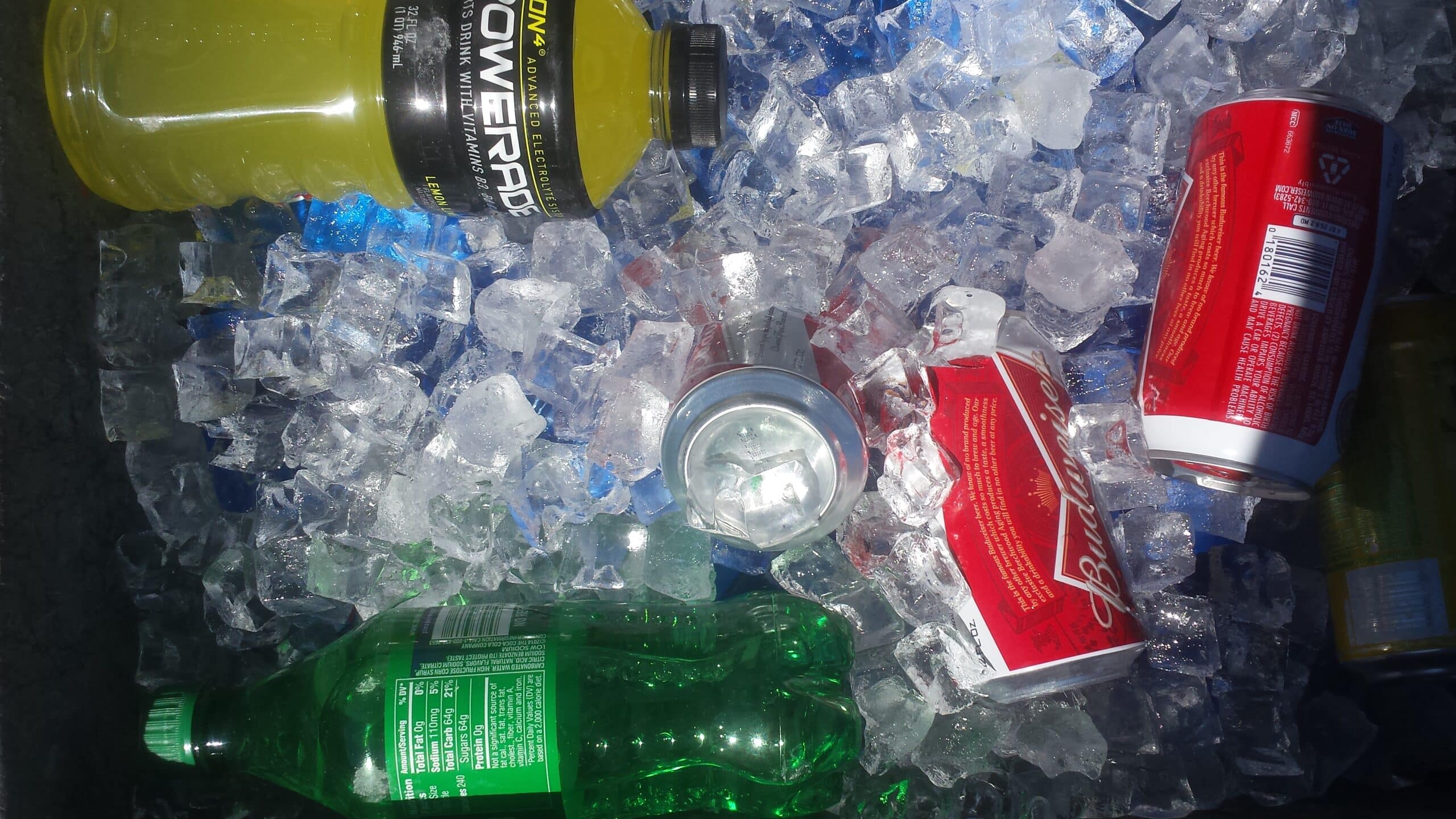 Price: $199.99-$359.99 (depending on the size and capacity)
Capacity: 30 Qt
Ice Holding time: 7-10 days! Yes that is correct, this fishing cooler will keep ice for up to 10 days straight.
Special features and summary:
This amazingly durable cooler is available in white and tan colors. It has 2 inch thick insulation and is crafted from the finest materials. This company has a long reputation for quality products. If you are searching for the best fishing cooler available, you have definitely found it.
The pelican elite fishing cooler has multiple tie down points for securing in a whitewater raft or to strap down as a seat in the front of your drift boat.
Freezer grade gaskets for years of cooling
Large hinged handles to easily move the cooler around fully loaded
Measuring tape molded into the top
Threaded hose adapter to drain out water easily
Certified bear resistant
---
The yeti tundra is a great marine cooler and will hold everything you need. It also holds ice for multiple days straight.
Price:Â  Around $300.00 for the 45 Quart. Several other sizes available
Capacity: 35-420 Quart available!
Ice Holding time: 4-5 days
Special features and summary:
The Yeti tundra is certainly one of the best fishing coolers. It features 3 inches of insulation in the lid and 2 inches on the sides. It is certified as a bear resistant food container when 2 padlocks are attached to the front corners. These fishing coolers are tough as nails and will not let you down. My only gripe with yeti coolers is the rubber straps that keep them closed. They can sometimes be a pain to use, but they work well.
Yeti Tundra fishing coolers come with a nice rack for keeping sandwiches and other items dry and out of the ice.
Freezer grade gaskets
Optional tie down kit and many other accessories available
Non slip rubber feet to keep the cooler stable
5 year guarantee
---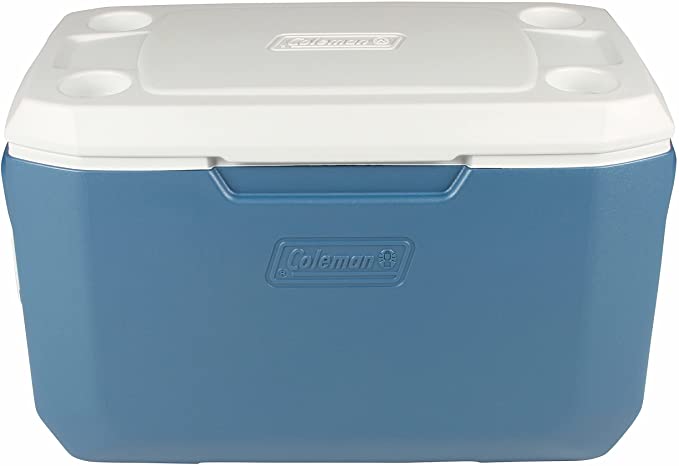 Price: $52-$99
Capacity: 70 Quart
Ice Holding time: 2-4 days on average
Special features and summary:
Coleman Xtreme marine fishing cooler is not as high quality as the options above, but for a fraction of the cost of the Yeti and Pelican, it can be considered one of the best fishing ice coolers for the money.
Tight closing lid
Holds ice well for the price
Cup holders built into the lid
A pretty light #17 weight
Holds up to 96 cans
---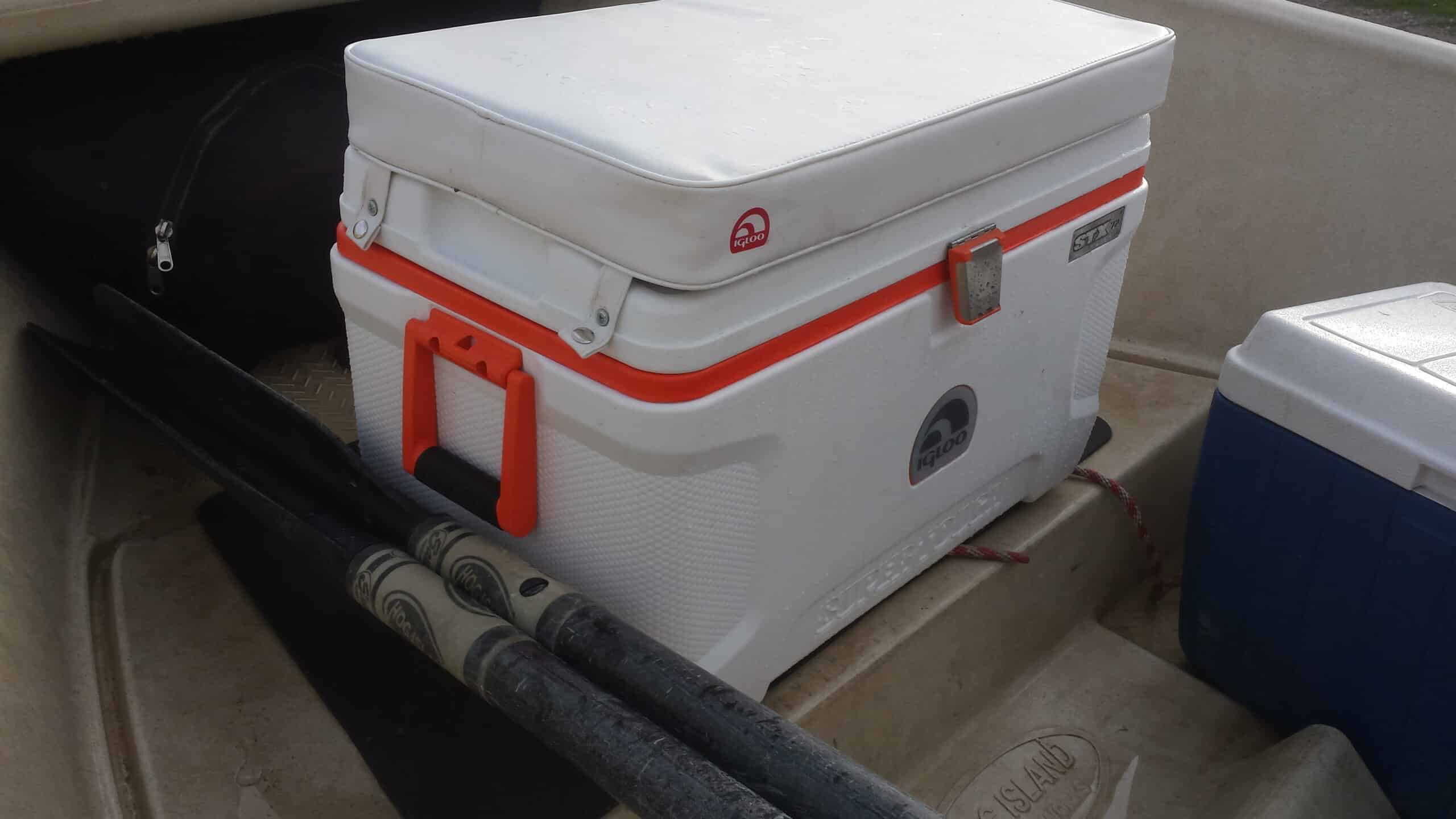 This Igloo STX definately fits in the best fishing cooler category. My friend has used this very cooler (in the picture above) for 3 trout fishing guiding seasons on the Snake river. His guest that rides in the front of the boat sits right on the cooler while navigating the river. The foam pad on the top is an optional accessory. This cooler comes with beefed up heavy duty hinges for long lasting durability. Everything about these coolers are tough, because if they weren't, my co-worker would not still be using this cooler after 3 years. In the summer months fishing guides are going in and out of coolers non stop, if the hinges aren't strong – they'll fail (especially with people sitting on them). This versatile cooler is made with the fisherman in mind and it holds ice very well. It comes with a 3 year warranty from the manufacturer, but chances are – you won't have to worry about this cooler failing.
Price: $79.00-$149.00
Capacity: 54 or 72 quart
Ice Holding Time: Cooler stores ice up to 5 days at 90°F
---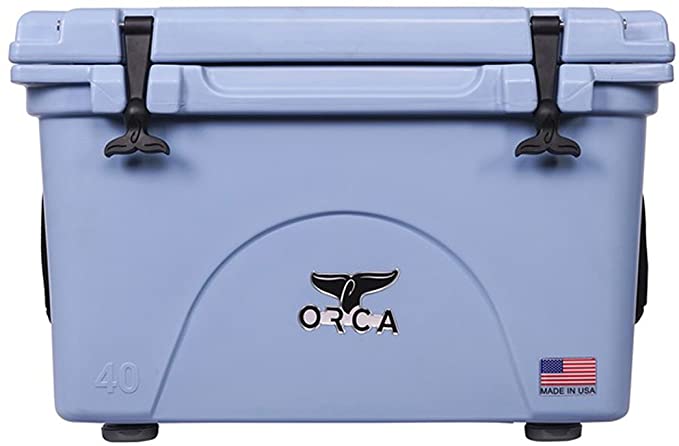 There is a large price range of these coolers, because they are offered in such a wide range of sizes.
Orca is a recently created marine cooler company. The beauty of this company is that all of their coolers are made here in the US. Upon looking at Orca coolers, you'll quickly notice the similarities to Yeti coolers. Orca coolers are bear proof (just like the Yeti's) and will hold ice just as good as the Yeti brand. Orca is a growing company and I for one, really like their great lineup of coolers. This company also has a nice array of available accessories for these coolers, some examples include pads for the top and even wheels for easy rolling around. You can also get your cooler custom silk screened!
Features of the Orca Brand Coolers
Made in USA
Various Size Options: 20 qt, 26 qt, 40 qt, 58 qt, 75 qt, 140 qt.
Lifetime Warranty
Holds ice for up to 10 days
Watch here to see a 700 lb grizzly go to town on an Orca. This bear gives this cooler a good workout, but it still doesn't ever gain access to whats inside. The odds of your cooler ever coming into contact with a grizzly are fairly slim (unless you live in my area) But still, this video does a good job of showing the durability of this lne of American made coolers.
---
Summary – Best Fishing Coolers – Fishing Ice Chest Reviews
As you can see there are a lot of great cooler options and a wide range in price. These are just a few examples that I am familiar with. In my opinion, the best fishing cooler overall is the Pelican elite. All of these great coolers have strong points, and they will all do a great job of keeping your beer and pop cold on those fishing trips. You can determine which cooler is best for you by evaluating the features above and making a sound decision.
If you aren't looking to break the bank the Igloo STX is among the best fishing ice chests on the market for the money.  If you are looking for the best and toughest coolers you can buy, the Pelican, Yeti and Orca coolers are a good way to go. If you are not interested in spending a small fortune and you just want the best fishing cooler for under $100, take a closer look at the Coleman marine extreme cooler.