This post was last updated on April 26th, 2015 at 04:19 am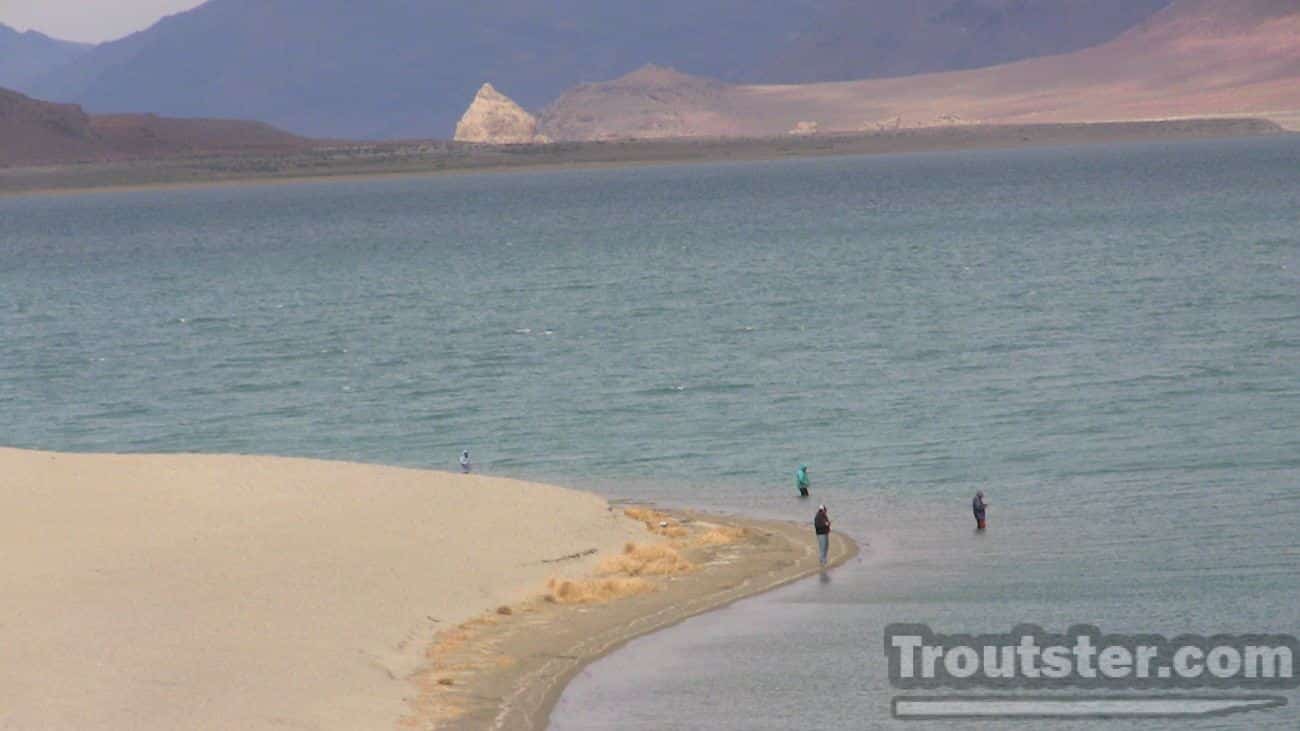 Pyramid lake sits in North West NV just a short drive from Reno. It is not only great fishing, it is the home to the world record cutthroat trout. As I type this I am sitting in my car on the side of the lake waiting for an opportunity to get a picture of the elusive lahontan strain cutthroat that calls this lake home. I have to admit that my jealousy of the fisherman I am watching is close to an all time high. I came on this trip knowing that I would want a fly fishing rod, but I decided that I would spend too much time fishing and not get to see everything I wanted to if I had one. However I do have multiple cardboard boxes filled with stickers, flyboxes and backing so I can ship items from the gear store with me, but no flies aside from the few hanging from my visor.
The most common way for anglers to cast out into the cutthroats active feeding area is to use ladders. Casting from shore seems to work ok, especially with spinning gear; but it is not ideal.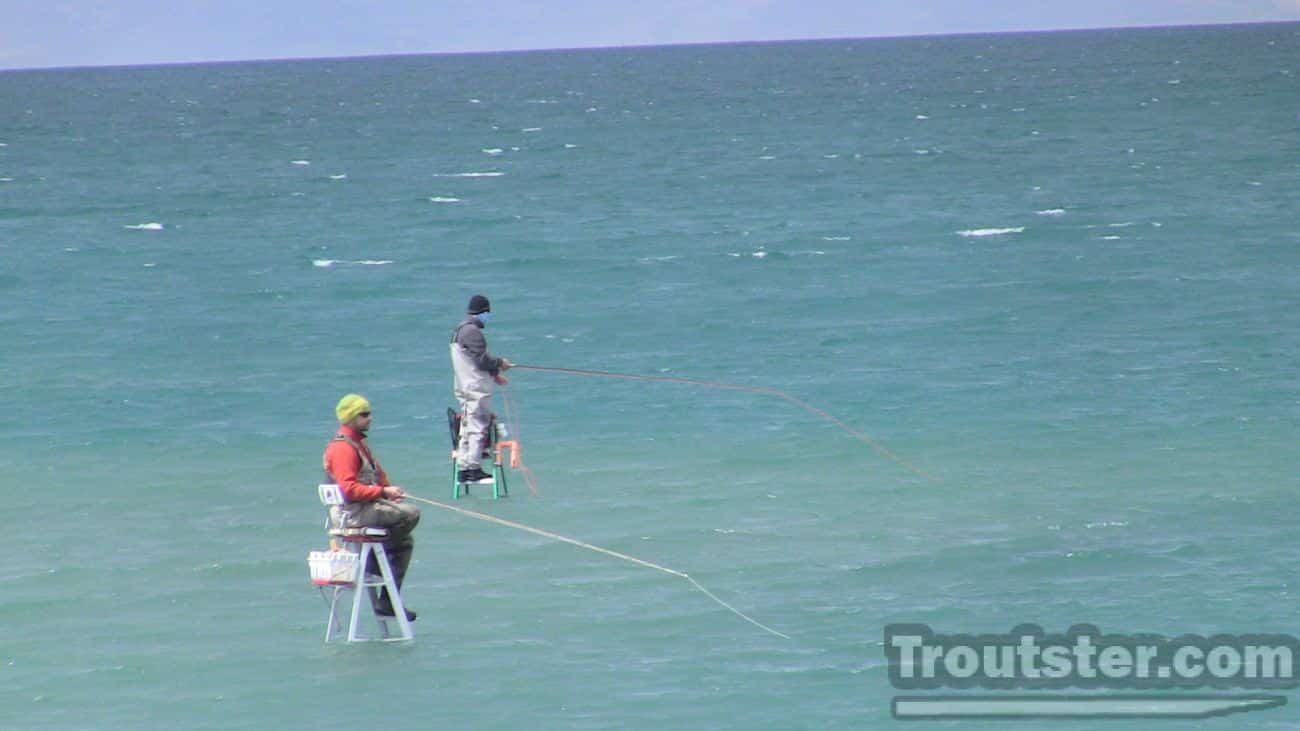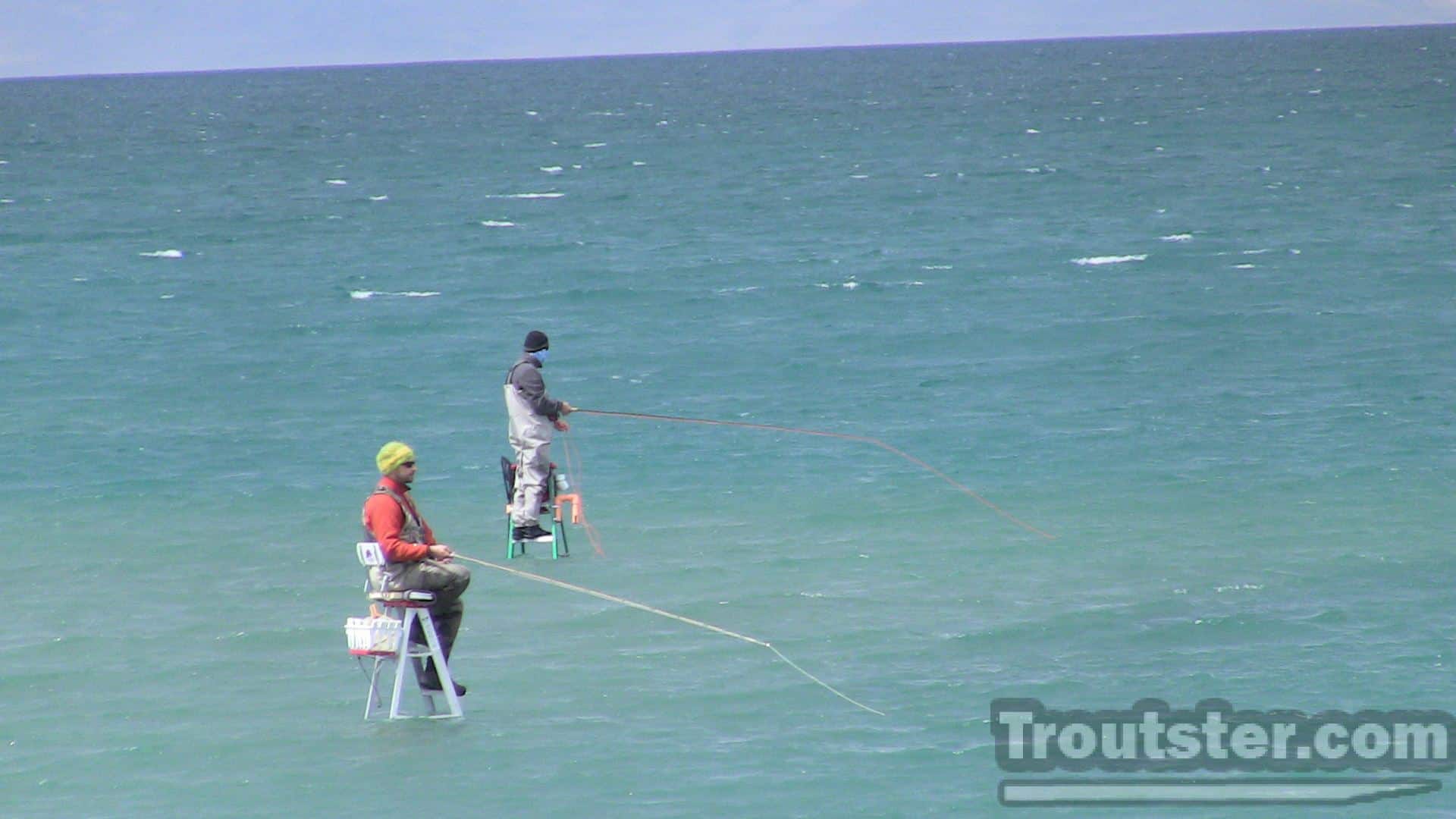 As Good As It Gets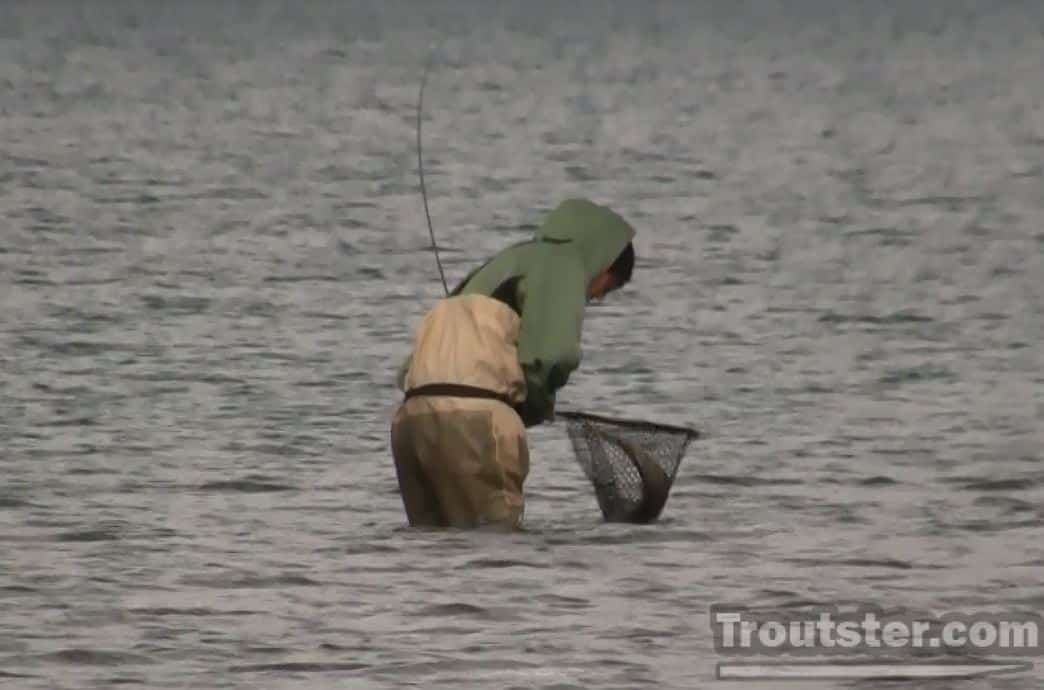 The giant trout in these waters are the biggest cutthroat in the world. It is very common for anglers to catch trout in the 10-15 pound range, with the average fish being over 20″. You have a very good chance of hooking fish here that exceed 20 pounds! People travel from all over the country to fish Pyramid lake, and for good reasons; nobody is sure when the new world record cutthroat will be caught.
The Strategy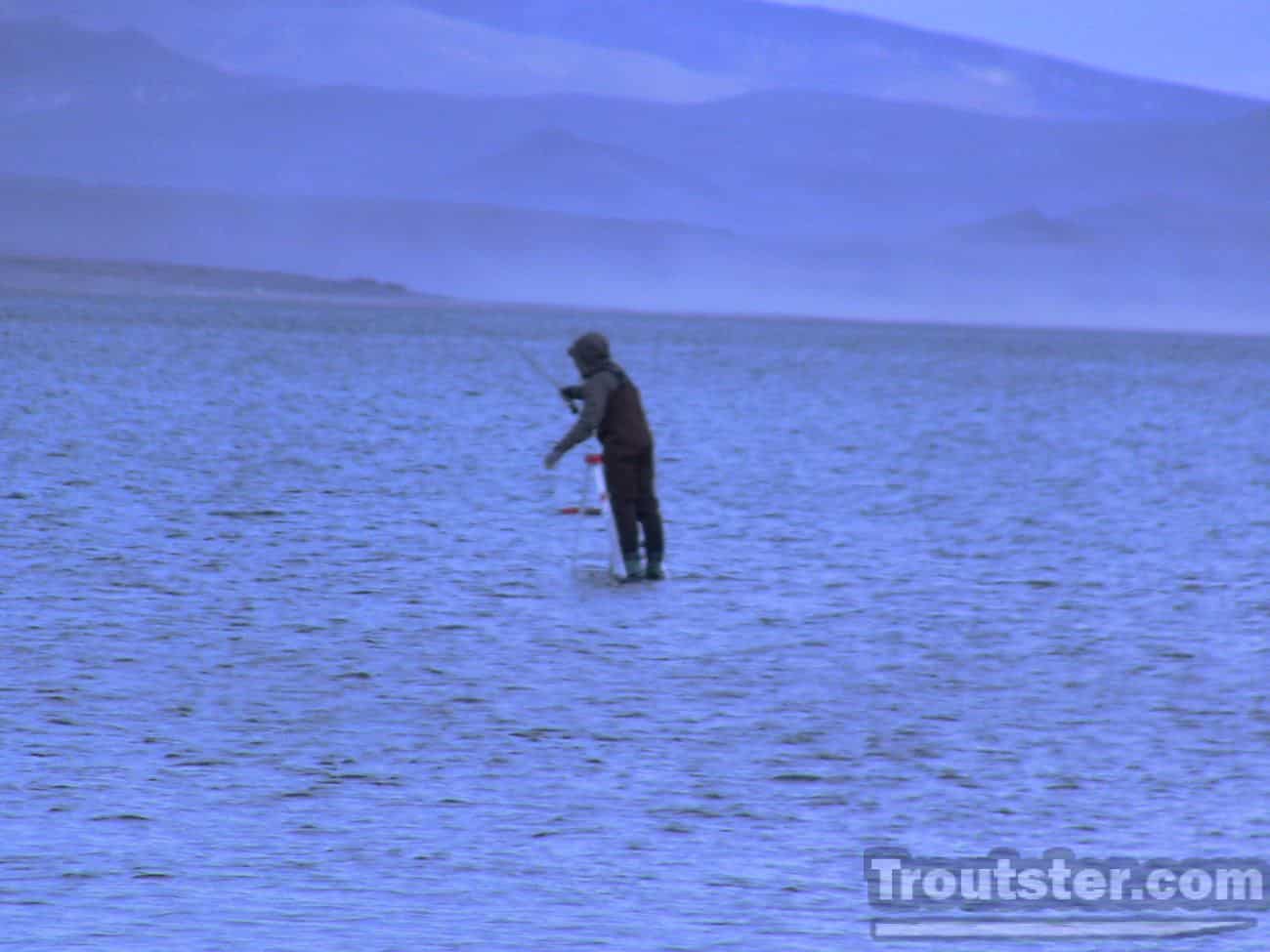 Most anglers prefer to strip streamers and small nymphs. A set of 2 nymphs in tandem slowly stripped along the edges of the lake seems to work well. Boise angler Jay Holmes prefers to use smaller streamer patterns and has concentrated today's efforts on fishing a point. The heavy winds should theoretically be pushing bait fish against the point, causing a concentration of the lahontan cutthroat here. The fish tend to cruise along the breaks and drop offs in search of food, and you just never know when that monster might come swimming by to scoop up your fly.
Fishing on Paiute Tribe Land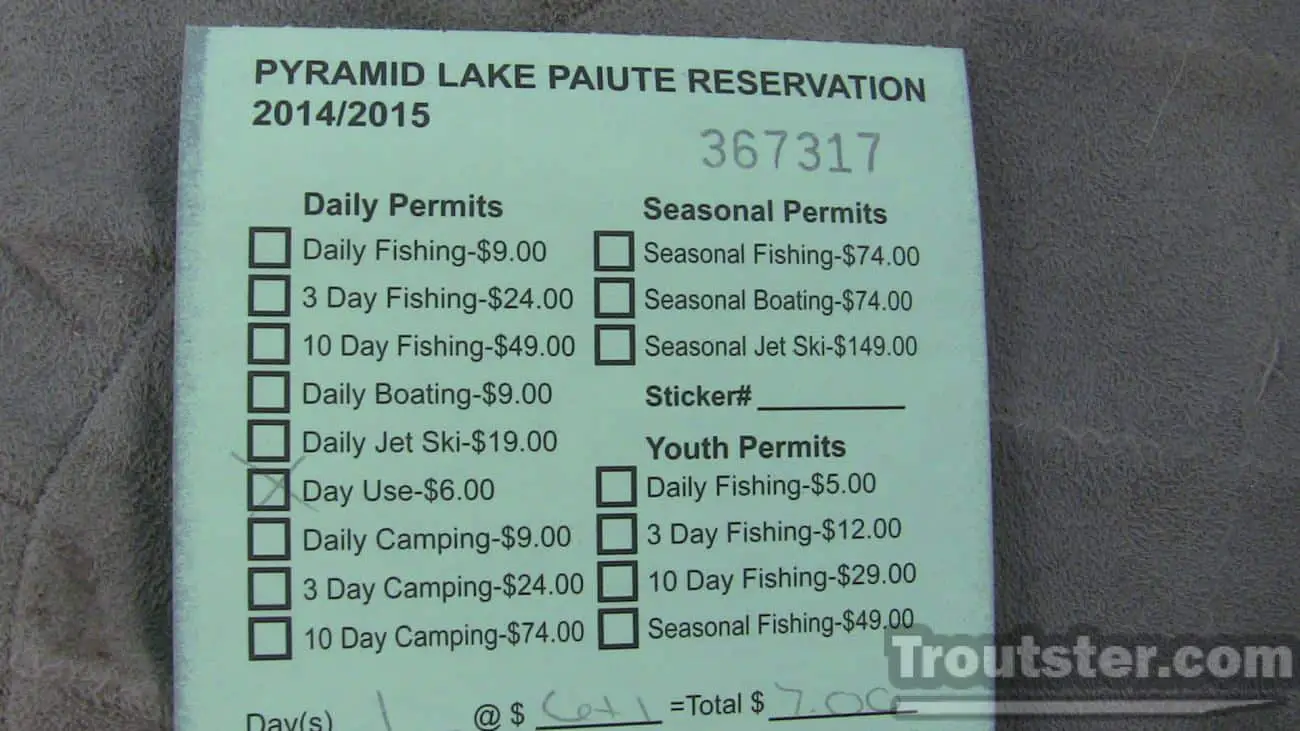 Pyramid lake resides on the Paiute reservation, so in order to fish or recreate you will need a permit. The fees are small and well worth the price of admission.
Fees:
Day Use: $7.00
Daily fishing $9.00
3 Day fishing pass $24.00
10 day pass $49.00
Camping in a Trout Bum Lakeside Camp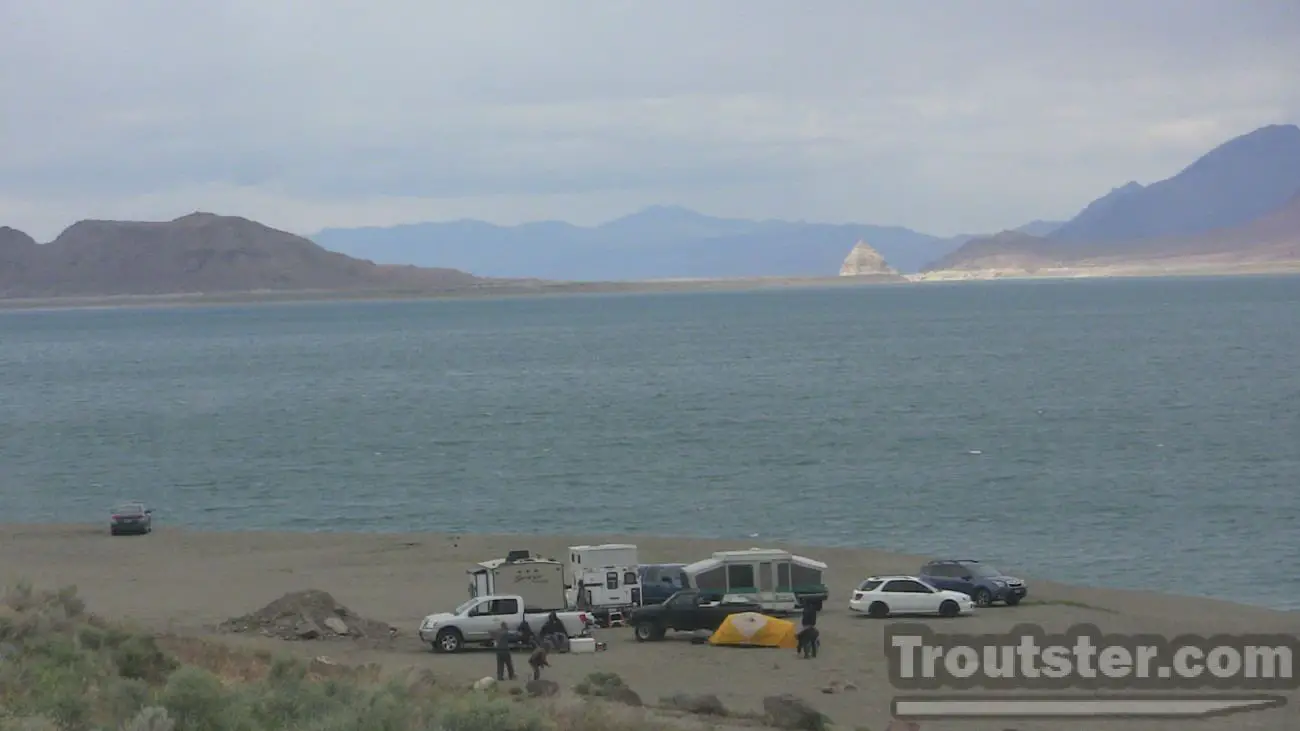 If you wish to camp on the tribal lands it will cost you $9.00 per day and there are no shortages of good campsites. Bring a tent, bring a trailer or sleep in the back of your truck. This is a great place to be a trout bum as you can see in the image above. I can say with certainty that camping at the lake is a much better idea than staying in nearby Reno, NV. If you ever get a chance, visiting pyramid lake for fishing or even just sight seeing it is well worth the trip.
Ramblings About What Happened to me After my Visit: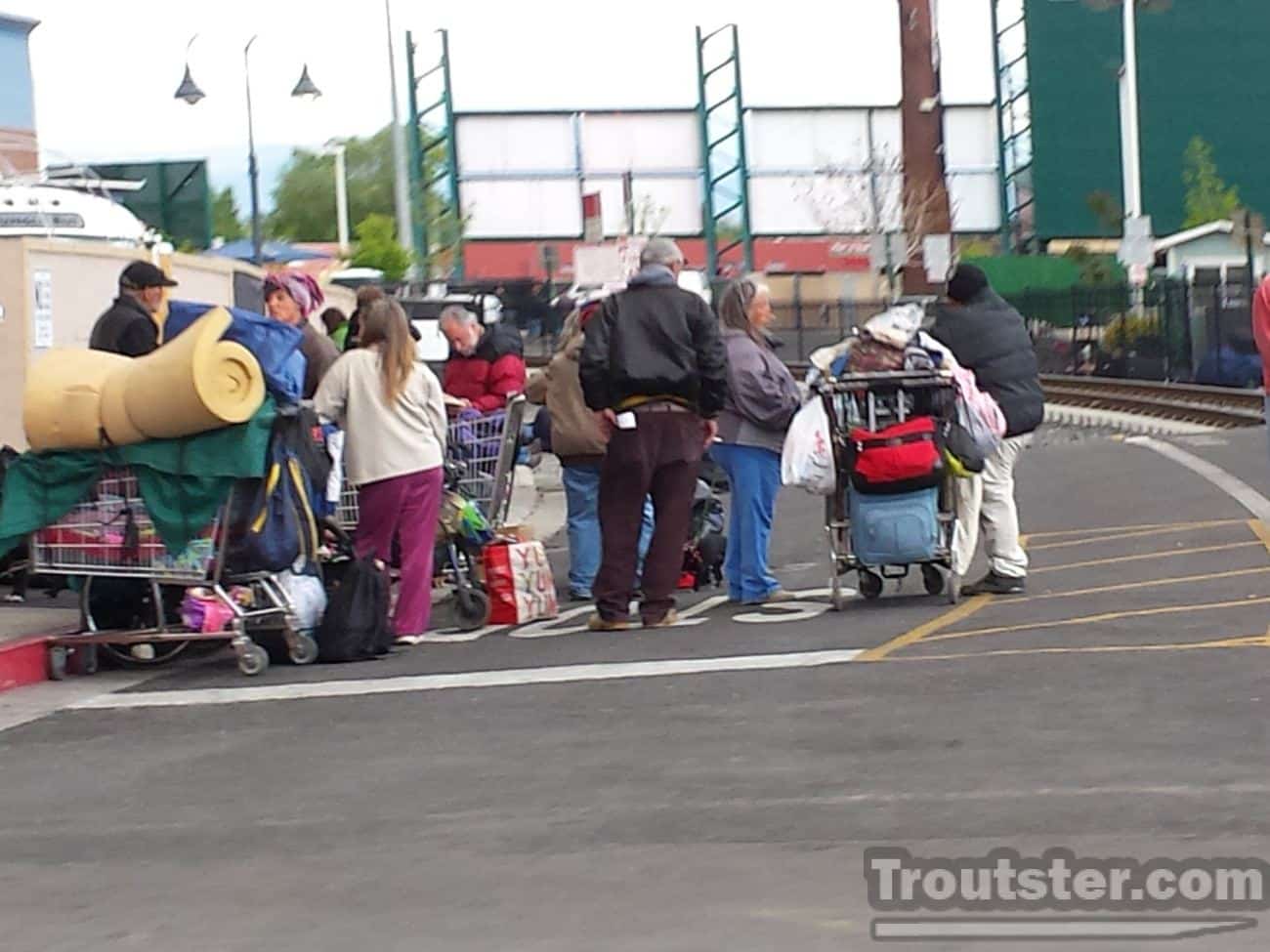 It's hard to believe that in about 30 minutes from the lake, I was in the heart of Reno, and I will say I did not like it very much. I had planned to get a room there for the night, but after actually going in the city, I no longer felt comfortable leaving my car unattended at night. I honestly saw more homeless people walking around than I did other random people. As I pulled up to an intersection near the Eldorado casino I was greeted by a fight on the corner. Being a pretty opportunistic guy I reached for the camera on my dash board to get some sweet Youtube fight footage. Just as my hand hit my camera; this very loud, and very obnoxious woman ran right by my car window, she was screaming obscenities practically in my ear. I lost grip of my camera and it fell off the dash directly into my dogs bowl of water sitting on the floor. I pulled it out fast and removed the battery, but I don't know if it will ever work again. I'll give it a try it in a few days, fortunately I have another video camera with me so I won't miss any great opportunities. I didn't remember to bring a change of clothes, but at least I had 2 video camcorders..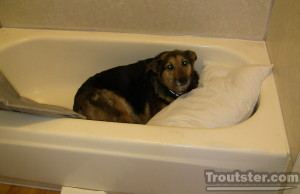 Shortly after entering the city I blew a fuse to my cigarette lighter, which I thought was not an issue. I replaced the fuse and the lighter still didn't work,   I never knew how much I relied on that thing until I didn't have it. I was running my internet off my phone as I typed most of this article sitting by the lake, and that really burned up the battery. By the time I got into Reno I had a dead computer and a dead phone with no way to charge it. If you are old enough, you might remember how much it sucks having to ask people for directions and even looking in phone books! Since  knew I had to get out of Reno ASAP, I got on I-80 and started driving. I did not hit a town that had a visible motel that would allow my dog until I got to freaking Sacramento! (where I am sitting now). Tomorrow, I am going to see some giant redwoods and start driving back home to Idaho.