This post was last updated on December 3rd, 2022 at 07:42 pm
What Material and Brand of Fly Fishing Waders Should I Buy?
There are a ton of different waders available. I think at one time or another I have owned waders from every major brand on the market. I have decided to give my opinion about the various brands and materials in order to help you narrow down your search if you are looking for a new set of waders.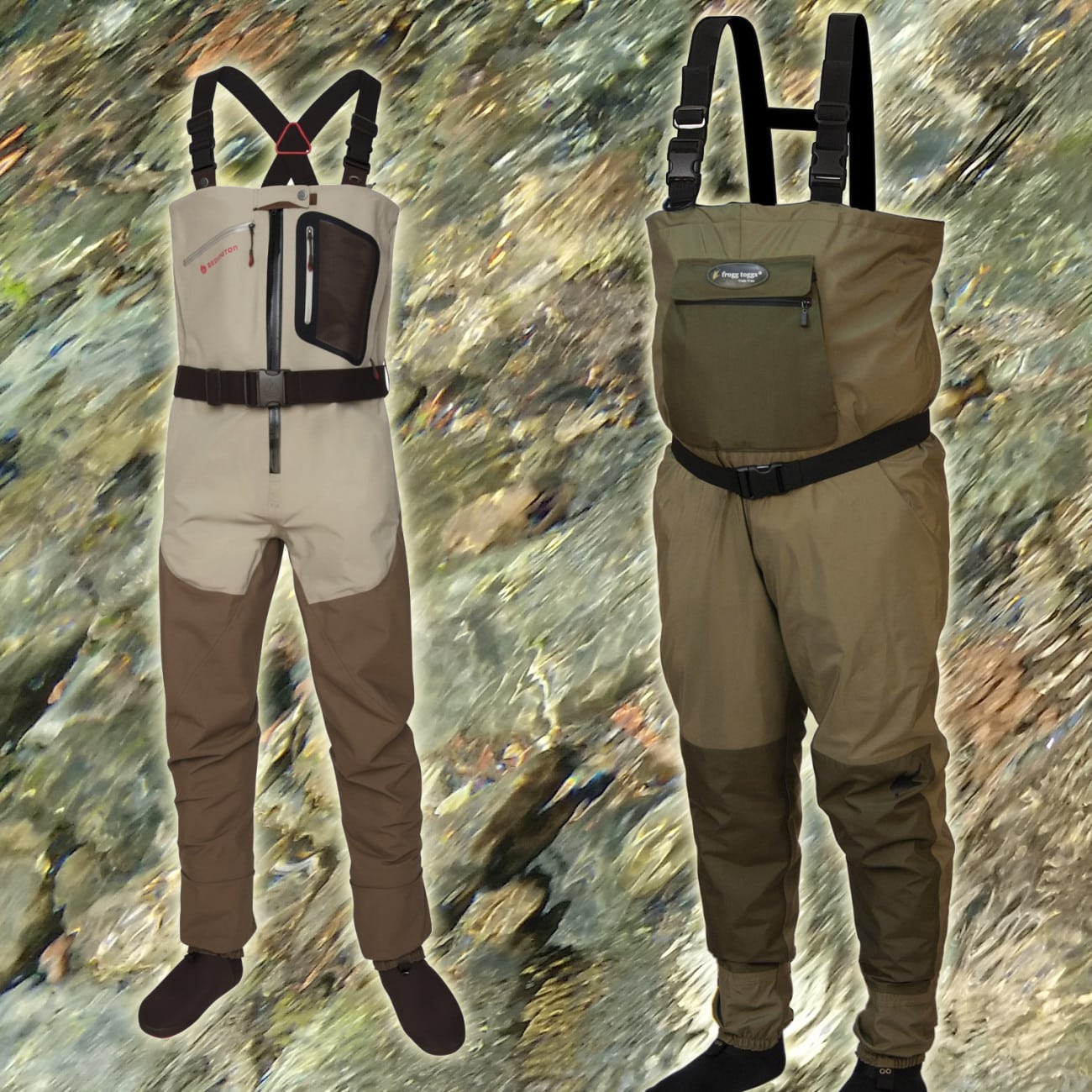 Here I will outline the various wader materials and from there you can decide what type and brand you should buy to get the most from your money. You should make your decision based upon how much walking you do, how much durability you need and how cold the temps are when you plan to be fishing.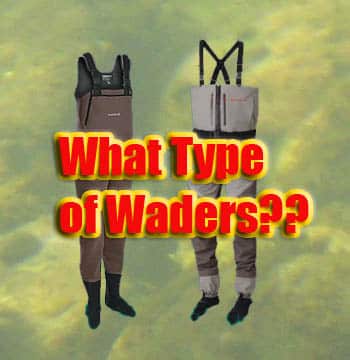 Different activities will call for different waders. You can buy a thick pair of 5mm neoprene's for duck hunting and winter steelhead fishing, a high quality pair of breathable waders for the hardcore fly fisherman who does a lot of walking, or a very cheap set for the once in a while wader user. Here are your choices:
What are the Various Materials Used in Fly Fishing Waders?
Neoprene
Breathable lightweight materials such as gore-tex and others
Rubber
Canvas
Neoprene
This material has been around a long time and was the standard for many years, however due to recent technology they have become a rarity to see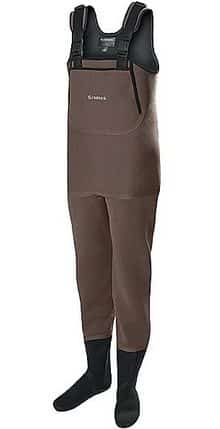 on the river.
Durability: Good
Weight: Medium-heavy
Breathability: Bad
Cost: $70-299 depending on the thickness and durability of the shell.
You are likely to get hot in neoprene waders if you are doing a lot of walking around. More often than not you will remove them to find a sweaty surprise inside. However if you are fishing for winter steelhead or during the late fall, they make a decent set of waders. Don't expect to be comfortable in the summer on a 70+ degree day wearing neoprene's. If you are planning to buy a set of good waders for duck hunting, neoprene makes a great choice.
Positives: One benefit of neoprene waders over all the other options on this list, is the flexibility of the material. You can wear a lot of clothes underneath.  Some people pack on so many layers under their waders that they look like the overdressed kid on the Christmas story show. Even if you are wearing 10 layers of clothes, neoprene will still allow you to bend over easily without tearing the material.
Another benefit (and curse) is the tight fit that neoprene offers. Tight fitting waders will not allow water into them if you happen to go for a swim. You can wear a wading belt with all types of waders and prevent water from pouring in over the top, but with neoprene you will not have to mess with a belt.
Cons: Now here is the "curse" part of tight fitting neoprene's: If you happen to need to use the restroom urgently, it's going to take you a minute to get them off. The entire removal process of tight waders is a real bear. Perhaps the biggest negative aspect of owning neoprene waders is the heat factor. You will get hot wearing this material unless it is cold out. Neoprene fly fishing waders do not offer any type of breathability, so on those long hikes on the rivers edge—plan on working up a sweat!
Breathable Waders: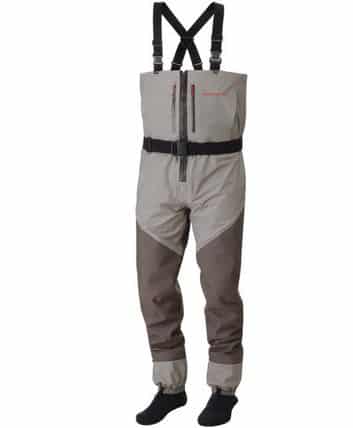 As far as I know, the first breathable waders were the Hodgman Wadelites. These came out sometime in the 90's and were a good wader for the money. It didn't take long for all the other companies to follow suit. There have been dramatic increases in durability and styles in recent years. When people think of lightweight breathable waders, perhaps they think they are only good for warm weather fishing, however this is not the case at all.
Breathable's are great at all times of the year. They are loose enough for you to bundle up underneath with your finest microfibers and moisture wicking materials. The breathability will allow you to move around even on extended fishing hikes and prevent sweat from accumulating against your body. No matter what material of waders you are using, if you are sweaty, you WILL get cold.
Durability: This can vary highly, however they are for the most part less durable than all other mentioned wader materials.
Weight: Light
Breathability: Good (As good as waders get)
Cost: $99-500+
When you put on a pair of breathable lightweight waders, you will honestly feel like you are not even wearing any. They allow you to walk long distances without any trouble.
The durability of breathable waders is their only downside in my opinion. If you are planning to walk through thorn bushes to find your way to a secret fishing hole, you could easily end up with a puncture. However they are easy to repair even on the river, but by that point you will already be wet. The higher end materials of these waders are much more durable than they have ever been before.  Most will come with sturdy and puncture resistant material on the knees. This will do a good job of keeping your waders from turning to swiss cheese, when you have to crawl or charge through low hanging bushes.
You will rarely ever see a fishing guide on the river that is wearing anything other than lightweight breathable waders. They are by far the most expensive type of wader on this list, but they are worth it. As far as the best material for fly fishing waders, this breathable type is certainly the best overall.
Pros: Lightweight, breathable, easy to put on/take off.
Cons: Expensive, not as durable usually as most other materials.
Canvas and Rubber: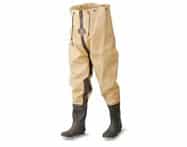 These are very similar in specs, so I decided to lump them together to minimize the length of this article. They are both very heavy materials that make for cheap waders and high durability.
Durability: High (canvas being slightly more durable than rubber)
Weight: Heavy
Breathability: None
Cost: Cheap $49-99
You will find these to be good waders if you are hesitant to spend a lot of money on a high dollar pair. They should suit your needs if you are a once a year fisherman, or you need a cheep durable pair to install your dock on your lakeside home in the spring.
Wearing rubber or canvas waders and doing any amount of walking around you will get uncomfortable. They will cause you to sweat and you will notice quickly the extra weight of this heavy material will eventually take its toll. For a cheap pair of waders that will only get used once in a great while, these are a good way to go.
Pros: Cheap and durable
Cons: Heavy, no breathability, hot to walk in, will often pinch your skin if you bend at an awkward angle.
So these are your options for wader materials. Choose the proper type and you will be comfortable in your desired outdoor activities.
Fly Fishing Wader Brands
There are a ton of different companies making good fly fishing waders these days. I'll just give you a short list of brands that I have had experience with and let you make a choice.
Redington

I currently own a couple sets of Redington waders and have been very happy with them. You really can't go wrong with their top notch customer service. The sonic pro zip front waders are really awesome. I also have a pair of the Palix river waders and boots (see image left) and have had great luck with them. You might notice that throughout this website I almost always recommend Redington products. This company has always been very good to me throughout the years. If I ever have a problem with a product breaking or something goes wrong, I can count on Redington to deal with the issue. I feel very good advising people to try out their great line of fishing gear.
Frog Toggs

These guys started making inexpensive rain gear in the early 2000s and have since gotten into the wader business. They have always offered products at very reasonable prices and seem to make high quality gear. Frog Toggs makes some really nice breathable waders and they also have a line of inexpensive neoprene varieties. This companies gear falls well into the great bang for your buck category and I feel good about giving them a place on this page.
Orvis

These guys make some quality gear and they do in fact have some very good waders on the market. Orvis is another company that does a great job of standing behind their products. I feel good telling you to have a look at their gear and see for yourself. Orvis has a long history in the fly fishing industry and they make gear that is top notch.
Hopefully at this point you have a good understanding about what materials and brands are available in the fly fishing waders arena. If you have any suggestions about other waders you like, feel free to leave a comment below.