This post was last updated on December 3rd, 2022 at 07:42 pm
I bought these cheap hip boots 2 weeks ago for a river crossing while deer hunting. So far I've been very happy with them. They are lightweight slide on easily and most importantly they are super inexpensive hip waders! I have had Frog Toggs rain jackets before with good results. I have found Frogg Togg products overall to be a pretty good buy.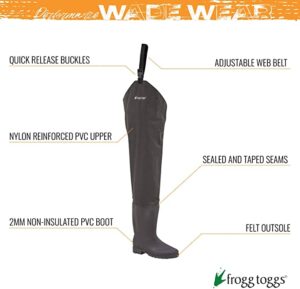 Check the Current Price Here on Amazon!
Frogg Toggss Rana II Review
I bought the Frog Togg Rana II hip boots from Amazon exclusively for deer hunting in swampy areas and for crossing creeks and rivers during hunts. I also bought this inexpensive grunt call (which sounds great BTW). I might use them a bit for fishing in smaller creeks for trout on occasion as well.
I really like wearing boot foot waders and hip boots VS the stocking foot variety. It is so nice to just slide in and out without worrying about laces. Honestly I'm not sure if I'll ever buy another pair of stocking foot waders again in my life!
What I Like About These Frog Togg Hip Boots
They are a smoking deal at the current price
Lightweight
Easier to slide into than most boot foot waders and hip boots
They seem durable and the material is quite pliable
Available in felt sole and cleated bottoms
These hip boots are not breathable, so if you are wearing them in the summer heat you can expect to sweat a bit. Otherwise, there really are no downsides that I can find with these hip boots.
In Conclusion – Frogg Toggs Rana II Review
Overall I find these inexpensive hip waders to be a great buy for under $40! If you want a cheap way to keep your feet dry and something you can easily slide into quickly, the Frog Togg Rana 2 boots might be for you!