This post was last updated on December 16th, 2015 at 07:30 pm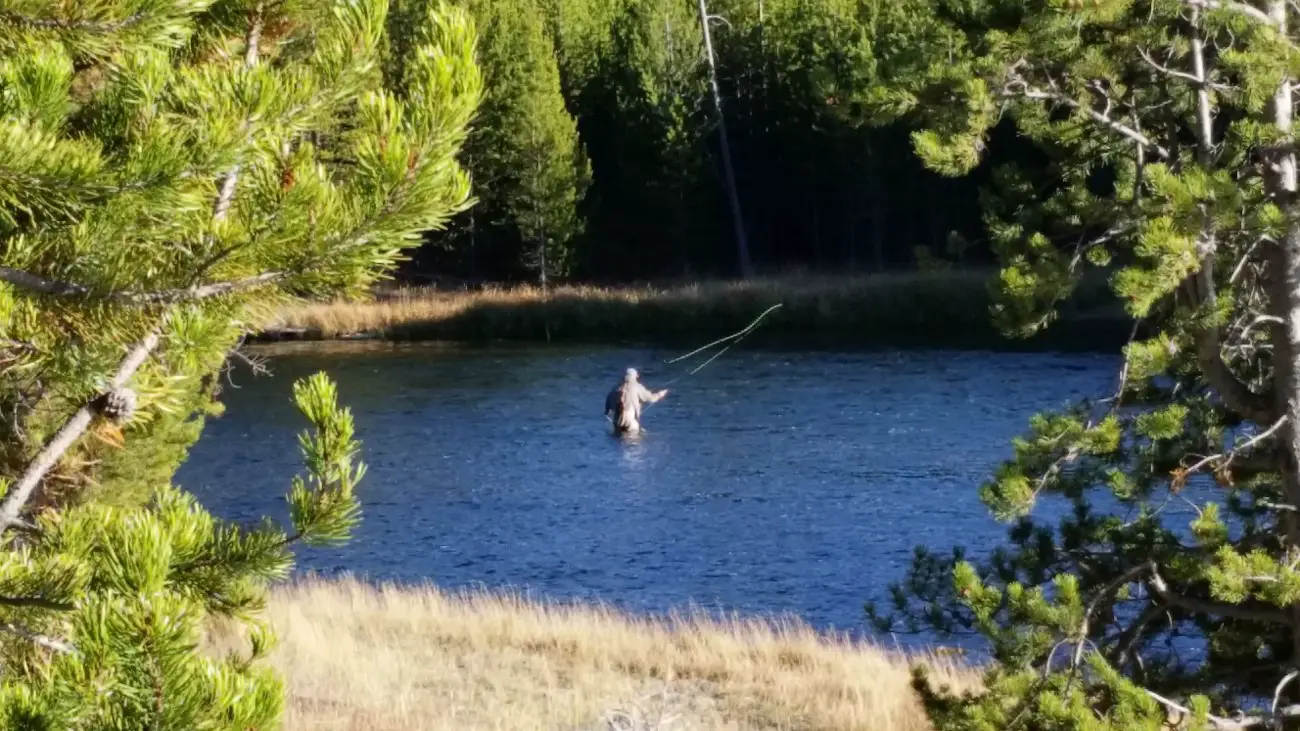 It's no secret that fly fishing provides great exercise and can help to keep you in great shape. While it is possible to simply sit in a boat and cast all day and not get too much movement in—most of the time this great sport will get you a ton of exercise. Whether you are wading around in the river in search of the perfect fishing spot, or standing in the front of a drift boat you are getting some health benefits. The act of maintaining your balance in the front of a boat will keep your muscles working, I see it every day in the summer. People who are not accustomed to this will notice it quickly at the end of a fishing trip with sore and stiff muscles.
Most fly fishing will take you on rivers in often very remote backcountry locations. In order to catch a lot of fish you will inevitably end up doing some hiking and wading through slippery rock rivers—this is of course great exercise!
Stress Relief
It has been proven that fishing actually does reduce stress levels. I often hear people talk about their stress levels being lowered the moment they step off the plane to come on a guide trip. After a day or 2 of flyfishing, you can notice the difference in peoples moods usually.
Another benefit to fishing in remote mountain streams and canyons, is there are many occasions where a cell phone signal is non existent. Nothing will make a high stress person coming from the big city more relaxed (usually) than no emails, no phone calls and text messages—simply not being able to respond is a huge load lifted off peoples shoulders.
Nature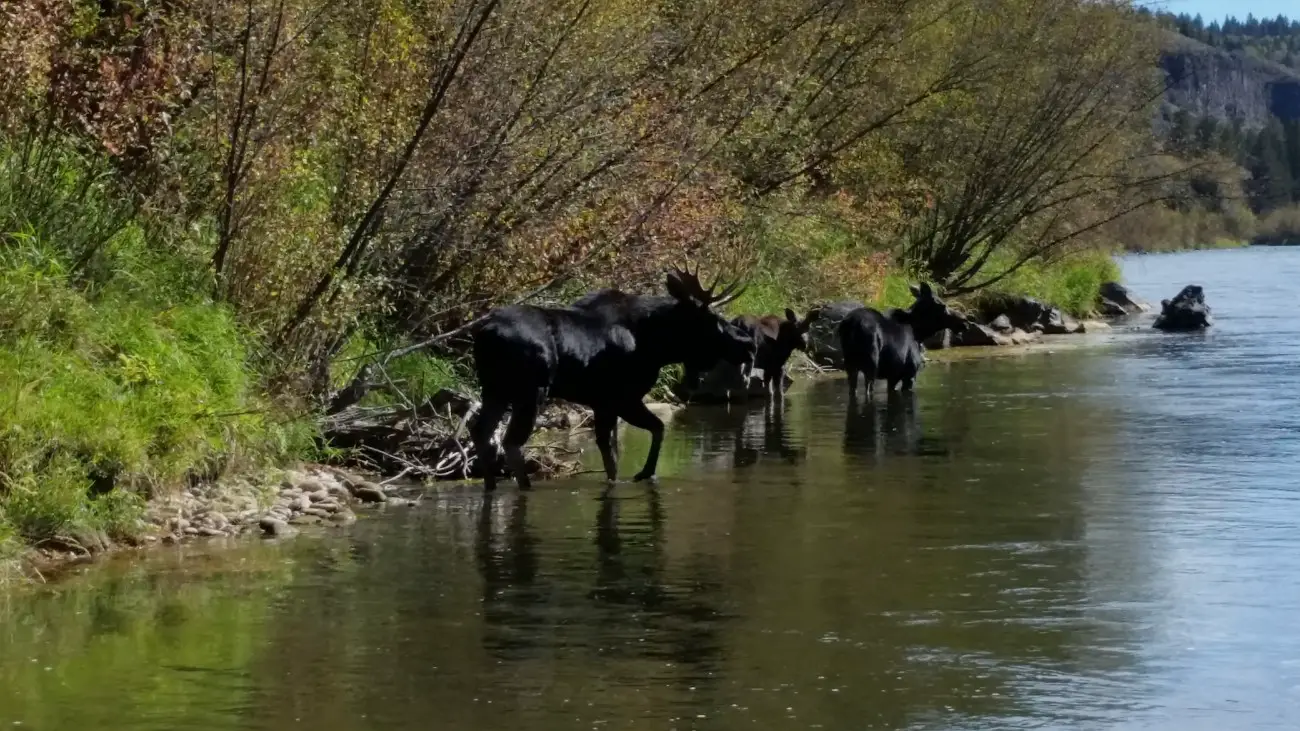 Some of us have become so accustomed to staring at cell phones and sitting at stop lights that watching animals can snap people into a sense of calmness that would be hard to achieve in the city. It's hard to be worried about checking emails when you are staring at a bull moose eating grass on the side of the river, or watching a school of cutthroat popping dry flies on a slow shoreline.
Keep Fishing Fun
Many times people come out here to Idaho and decide it's a good idea to have a big fish (or quantity of fish) contest. In my opinion it seems to only add stress to the day. I recall a fishing trip this summer where a large group of guys all put 100$ on who would catch the largest trout. Frankly this contest removed all of the fun from the day of fishing. One of my clients hooked a big brown trout early in the morning and we all knew it was a very big fish as soon as it ate his fly. By the time that fish hit the net his legs were shaking, knees were knocking and he had a full blown fishing version of buck fever! The entire rest of the day all he could worry about was whether someone was going to catch a bigger fish than his. He did end up winning like $3000 that day, but with the added stress of the contest – I am not sure it was worth it. I was happy however that the next morning he found me getting my boat ready for another guide trip and he handed me an $800 bonus tip for winning him the contest!
I won't even get into here just how much I hate when people count fish so they can brag to their friends. There are some people that actually bring clicker counters on the guide trips. That way they can keep perfect count of the number of fish caught. If you ask them at lunch how much they are enjoying their day, they might say: Meh.. we've only caught 15 fish so far. Counting fish and actually being concerned about the number of fish caught is a great way to ruin the fun for the entire day. Just don't do it! If you want to fish in competitions and worry about fish counting, I advise you start fishing bass tournaments or something. If the sole purpose of going fishing is for bragging rights about the number of fish you caught, you are totally missing the point.
Eating Fish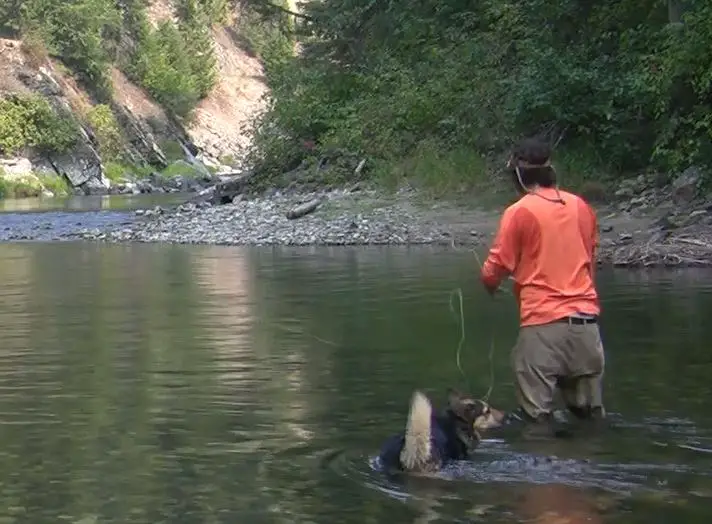 I am a huge fan of catch and release trout fishing. As a matter of fact I have only eaten one trout in the last 15 years, (and that's only because someone else killed it and decided they didn't want it). Prior to that the last time I ate a trout meal was during a "living off the land" excursion one summer after high school. However when it comes to other varieties of fish I don't mind eating them. Actually crab and shrimp are my favorite foods on earth! I also enjoy eating bluegill and other panfish, which are very fun to catch on a fly rod.
Now that I'm done ranting about that, I will get into the huge benefits of adding fish to your diet according to everydayhealth.com
Fish helps prevent heart disease
Increases brain function
Reduces risk for Alzheimer's
Can help reduce depression
Now I don't advise you to go out and kill a bunch of trout and eat them, because catching and pursuing them might be just as good for you as eating them (and we want other people to be able to enjoy it by releasing them). But if you want to go to the lake and eat some walleye, perch, bluegill or especially various saltwater fish and salmon – that's a fine idea!
Other Ways Fishing Helps People
PTSD Releif
This study from 2009 basically proves that fishing can help ease symptoms of PTSD in veterans.
Question: Is the fly fishing retreat linked to significant improvement in perceptual stress, PTSD symptoms, and sleep quality?
Answer: Yes.
Perceptual Stress: t(50) = 5.04, p < .001; PSS scores displayed a significant reduction from Baseline (M = 23.27, SD = 6.57) to Follow Up (M = 18.75, SD = 7.13), representing a 19% reduction from the baseline score.
PTSD Symptoms: t(49) = 6.66, p < .001; PTSD scores displayed a significant reduction from Baseline (M = 60.29, SD = 13.78) to Follow Up (M = 48.78, SD = 15.24), representing a 19% reduction in PTSD symptoms.
Sleep Quality: t(50) = 3.23, p = .002; PSQI scores showed a significant reduction from Baseline (M = 12.82, SD = 3.57) to Follow Up (M = 11.41, SD = 4.01), representing a 11% reduction from the baseline sleep quality score.
Casting for Recovery
castingforrecovery.org The mission of Casting for Recovery® (CfR) is to enhance the quality of life of women with breast cancer through a unique program that combines breast cancer education and peer support with the therapeutic sport of fly fishing. This website also states that the casting motion of fly fishing can help women recover by stretching the tissues after having breast cancer.  They also have retreats which are free to women in any stage of or recovery from breast cancer. Now this is a program I can get behind!
As you can clearly see, fishing is good for you! Go out there and fish as much as possible if you want to live a long and healthy life. If you are new to the sport of fly fishing you can get an inexpensive fly fishing starter kit to get you into the sport. Many of them even come with instructional DVD's.