If you have ever done some shopping for fly rods, you have certainly noticed that some high end rods are extremely pricey. However it is possible to get smoking deals on used gear of all types.

Ebay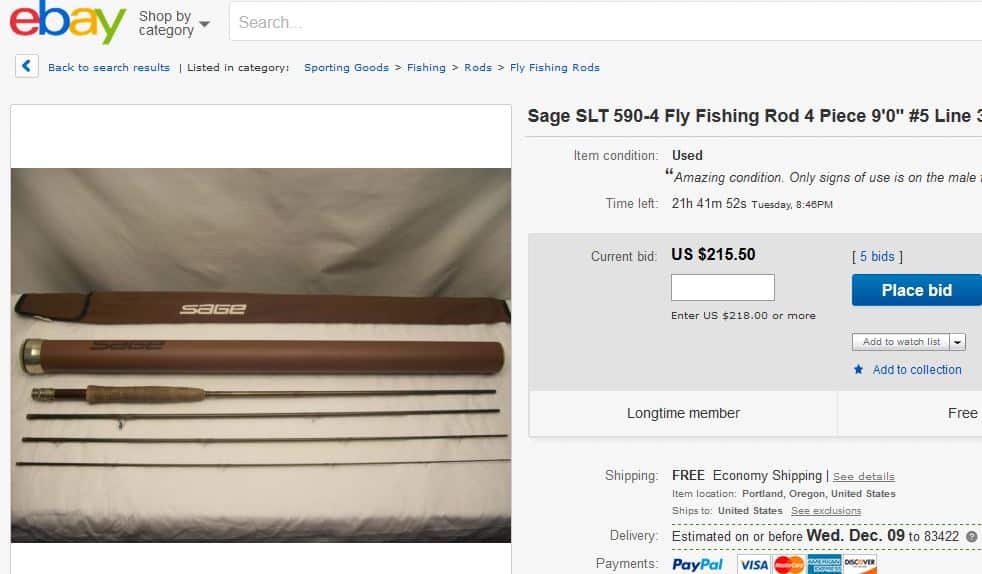 Probably the best place to search for high end used gear is Ebay. You can get drastic discounts on fly rods in the comfort of your own home of up to 70% or more off retail. While the deals are not nearly as great as they once were in the glory days of Ebay in the early 2000's, bargains are still available every day of the week.
Click Here to View Ebay's Bargains on Used Fly Rods
Craigslist
This website is a real sleeper spot to get huge deals if you live in an area where there is a lot of fly fishing going on. I wouldn't expect to find too many used fly rod deals on craigslist.org if you live in Central Nebraska, but if you live in a state where a large percentage of the population fishes, you should keep your eyes peeled. I have heard of people buying split bamboo rods that are valued at thousands of dollars for 20$. I think a lot of times people just don't realize what they have, or someone passes away and is left to sell a loved ones fishing gear. It can be kind of a long shot, but if you can find them, craigslist can be a goldmine.
Steep and Cheap
It doesn't happen very often, and this website is easy to get addicted to, but steepandcheap.com can really deliver some deeply discounted fly fishing gear once in a while. Steepandcheap always has good deals on clothing, skiing and all sorts of outdoor sporting goods, but the fly fishing stuff seems to show up in clusters. If you happen to look at that website on a day where the fishing stuff runs, you had better make sure you have a high limit on your credit card—you'll want it all!
How it works
If you aren't already familiar with steep and cheap's program, I'll tell you how it works. Essentially they list one highly discounted product at a time for a pretty good price. They will often list items that they only have 10 of left in stock for 90+% off, and once they are gone (or the time limit runs out) they will list another product. It is the website backcountry.com uses to liquidate items that they are going to discontinue or they have too many of in stock.  Smoking bargains are easy to get and if you are a gearhead, I recommend you be very careful that you don't get addicted. Have you ever heard of the retirees that max out credit cards and go in debt watching QVC? Yea, it's like that..
Garage and Estate Sales
Scoring discount fly rods in garage sales is another long shot, but if you happen to drive by a garage sale on your way to the river (especially at river front homes) there is a good chance you could at least pick up some flies or fishing decor. Practically every river front home on a trout stream will have fly rods in their garage, don't be afraid to ask if they have any rods or reels they want to sell—they are in the "selling mode" after all and are looking to clear out some merchandise!