This post was last updated on March 7th, 2016 at 01:19 am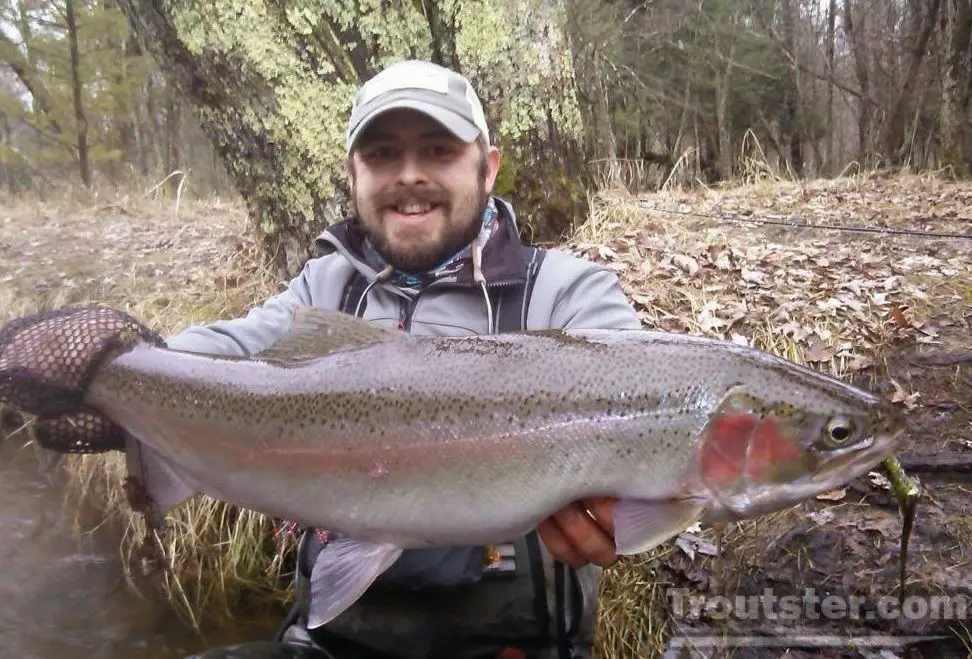 The Rivers of Michigan that Have Steelhead Runs
Update – 03/06/2016: See the new Michigan interactive steelhead river map here – Hot off the press
The state of Michigan has a lot of great rivers for steelhead fishing. No matter where you are located in the state, you should be able to find fish within a couple hours of your home. Below I have listed a bunch of the more popular rivers to catch steelhead in MI, but this is by no means a complete list. Almost every one of these rivers has smaller tributaries attached that you can find even more fish in. Often times the small tribs flowing into main rivers can hold tons of great holes full of fish that rarely get fishing pressure. So dig out your steelhead rod and get out your topo maps (or Google earth app) and prepare to find some michigan steelhead!
While much of the state has wild steelhead reproduction, a lot of rivers do get hefty plantings from the Michigan DNR. By visiting here you can type in any body of water in the state to determine if it has had fish stocking take place. This is not only a great resource for steelhead, but all other fish species as well.
In addition to the rivers listed below, you can go to: troutster.com to find even more fishing areas in the great state of Michigan.
Manistee River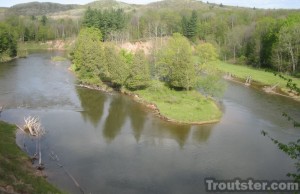 This river runs all over the state, but in order to catch steelhead you will have to fish the lower sections near Lake Michigan. The upper sections are good for trout fishing and the middle sections can produce nice bass (including the dammed up lake areas of this river). Fishing for steelhead and salmon takes place below Tippy dam, because fish tend to stack up there in large quantities. The remainder of the river downstream of Tippy dam is tough wading. Most successful anglers will take a boat of some sort to easily navigate the deep water. You will find a lot of great boat launches and access areas between Tippy dam and Lake Michigan to launch a boat or begin a tough day of wading around.
Pere Marquette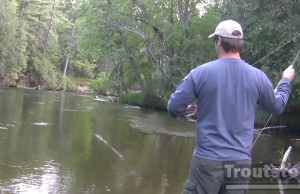 The Pere Marquette is a smaller sized river, but gets great runs of steelhead starting in the fall. Right about the time the king salmon start to die off, the steelhead begin piling in. You can catch large numbers of fish all winter long. Most people start their fishing adventure in the Baldwin area, with several drift boat and canoe launch areas around. This river is quite wadable throughout much of it's length, but since a lot of the riverbank is privately owned you will have to be careful about staying in the water. As I mentioned above, there is no shortage of river access. You should be able to walk in at one of many different boat launches or well marked trails and find great fishing.
The flies only water (starting at the M-37 bridge) rarely freezes over too bad and usually has a good amount of fish in it. You might also be interested to know that it is quite wadable, especially in the lower winter water levels. For more information about fishing the Pere Marquette you should contact my friends at: Baldwin creek lodge
Ausable River
This Lake Huron tributary is perhaps one of the most well known rivers in the state. Its upper section has great trout fishing in the North branch, South branch and the Mainstream. The areas close to Lake Huron will offer you great steelhead fishing throughout most of the year. There is only a small section of river that can contain steelhead, because only 11 miles from the mouth of the river is Foote dam, which blocks all passage of the fish. This smaller section of river tends to concentrate the fish quite well, so any decent holding water and you should be able to locate some steelhead to target. This river gets one of the largest steelhead smolt plants in the state, making it a destination areas for most of Michigan's East side steelheaders.
Betsie River
Another West side river that can produce great fishing. This small body of water can be tight in a lot of areas with roll casting likely to be your best bet. This river has a tendency (in my experience) to blow out or get dirty quickly even in mild rainstorms. Usually this rain will cause a fresh push of fish from Lake Michigan, so it isn't all bad.
St. Joseph's River
This fairly large slower moving river gets a good run of steelhead in November and can typically be fished until January or so when it freezes over. The steelhead don't leave when the ice comes, but unless it is an unseasonably warm winter this ice will make fishing almost impossible. When the spring thaw arrives, that is when most steelhead will be caught from this Southwest Michigan river.
Grand River
Flowing out of Lake Michigan directly through the town of Grand Rapids, this large river gets a great run of steelhead. This is actually Michigan's longest river at over 250 miles in length.  Steelhead can be caught as far upstream as Lansing (in the middle of the state) and throughout many of the small tributaries feeding into it. Most fishing on this river takes place in Grand rapids, but you shouldn't have too much trouble finding fish in the Spring. 6th street dam/rapids is a popular area, with easy access on both sides of the river.
Boardman
The Boardman flows into Grand Traverse bay in Traverse city and is not a particularly large river. You can have a tough time finding good access unless you are a good map reader and ready to go for a longer hike.
Muskegon River
The Muskegon River is a great winter and spring steelhead stream. The stretch between Newaygo and Croton dam typically stays open all winter. You may not be able to wade all the way across the river, but you can go deep enough to effectively fish this section on foot. You will find good river access at Croton dam and Newaygo to either start your wading or even launch your river boat.