This post was last updated on December 3rd, 2022 at 07:42 pm
This post is an Adamsbuilt Fishing Net review. So a few weeks ago I was out making a funny fishing video and in all of the commotion I ended up leaving my net hanging over the side of the boat after catching a fish. I floated off apparently leaving my net in the river somewhere. The next morning I had a guide trip and realized it was gone. The first thing I did was order this Adamsbuilt net via Amazon prime so I at least had a decent net on the way. I have now used this net for a few weeks and hundreds of fish. I feel good about giving it an honest review after some hardcore use.
The Adamsbuilt Fishing Net Review for 2021
Super Lightweight
When this beautiful net arrived on my doorstep, I was amazed at how lightweight it was. I have used a lot of different types of boat nets and I must say that whether you realize it or not, a light net will allow you to scoop faster—essentially getting you more fish. Since my job is to row a drift boat and help people catch fish, a lightweight net is truly critical for me.
If I have to take both hands off the oars to net a fish the boat could turn and make landing the fish even more difficult. If you have ever used one of the very heavy rubber nets, you will notice it's a lot like trying to maneuver a sledgehammer (it's just not a one handed deal). Essentially this feather weighted netting machine allows you to scoop up and swing at fast moving fish that you could not even attempt to net with a standard rubber net.
Hook Free Rubber Coated Netting (Sort of)
This netting material is dipped in rubber and your flies (or lures) won't hook into the actual netting, but they will certainly tangle in there. Sure, it might take an extra 5-10 seconds to pull the hook out of this net once in a while, but you can't have it all. Its better than having a 10 lb net that you can hardly move without using both hands.
This material is also just as safe and easy (if not more so) on the fish as the soft catch and release netting that has become so popular in fly fishing.
The true beauty of this nets material comes in the form of very thin netting. This allows it to cut through the water much, much faster than a thick rubber net could ever dream of. This will give you the ability to net fish that are moving fast and let you scoop 5x faster than your average rubber net.
There are a few spots in this net where there is some exposed fabric on the sides and in a seam down the middle. I have found that occasionally the flies will get caught in this material, taking a little extra time to get the hook out of it. Honestly it's not that bad.. I only had this happen a few times of all of the fish netted.
Other Features – Adamsbuilt Fishing Net Review
Collapsible: This boat fishing net slides into itself and collapses down to 30 inches for easy storage under your boats seat, or just plain taking up less space in your boat or car during travel. It actually gets small enough that you could take it on wading trips without too much hassle. It comes with a nice clip on the end of the handle, allowing you to easily strap it on to the back of your fly vest to take into the backcountry or use on your float tube or portable pontoon boat.
Rubber Handle: A good gripping handle at the end made from fairly thick foam.
Zip off Removable Net: I'm not sure what good this feature is aside from easily being able to replace the netting if it gets torn or tattered. I suppose that is a good enough reason to have this zipper.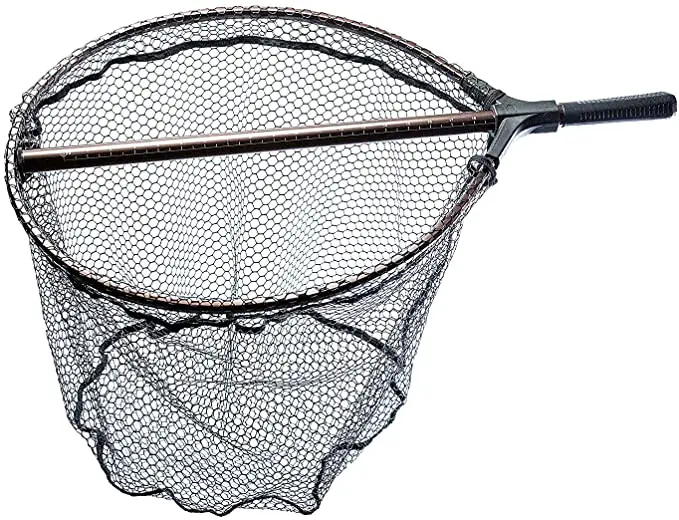 Summary – Adamsbuilt Fishing Net Review
The lightweight nature of this net, it's portability and the great price—make this an amazing net to keep in your boat for trout, bass or just about any medium sized fish. Sure you might get your hooks caught a little bit in the netting, but the bottom line is you will successfully net more fish with this netting material than you would with the thick, super heavyweight rubber netting. Hopefully this review of the Adamsbuilt fishing net answers all your questions.