This post was last updated on December 3rd, 2022 at 07:42 pm
It's been a bit since Redington popped out a new rod. This Redington Crux review is only my opinion. I'm not being compensated by Redington for this. It seems like this company has been gradually increasing the top end of their rod lineup, but has still kept a variety of lower end rods for which they became famous for. At this time, the Redington Crux is the highest end rod in the lineup, It's also hailed by Redington as "The best rod we've ever built".  I bought and reviewed the Redington hydrogen not too long ago, and I can say with extreme confidence that the Hydrogen is a stunning piece of gear that feels like a million dollars in your hand. So lets get started and find out if I agree with Redington on their claims of this new "Crux" being the best they've ever made. Read on to learn more in this Redington Crux Rod Review.
Redington Crux Review 2021 – How Good Is It Really?
Definition
Crux:Â [kruhks]
noun, plural cruxes, cruces
1. a vital, basic, decisive, or pivotal point:
Sounds about right for this Redington Crux review! This is surely a turning point for rods in this price range. The crux has the feel of a $900 Sage, at half the cost. The best way to describe this rod in once quick sentence would be "extremely versatile with the feel of your favorite bamboo, combined with the power of a modern day graphite." Holding it, you would never think it would be so capable, and then you start casting and the line goes out effortlessly. I don't think anyone is going to use this rod in the distance casting championships, but for an all in one workhorse it really is a great piece of gear.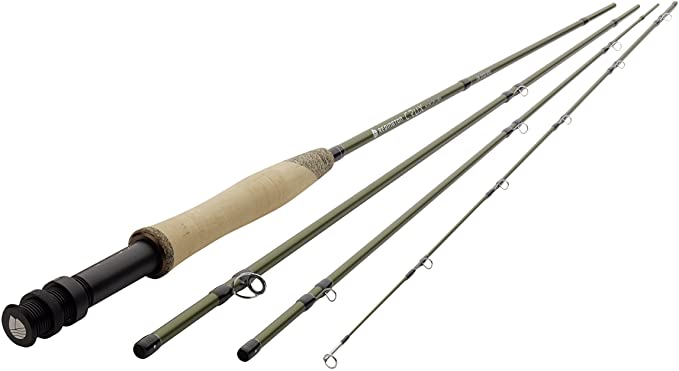 Sizes and Features – Redington Crux Rod Review
The Crux is offered in the full array of sizes. Everything from a 7.5 foot 3 weight to a 9′ 10 weight! All of these retail on the Redington website for $399 . I bought the 9.5 foot 6 weight option because I thought it might make a perfect nymphing rod addition to my rod collection. After finally taking possession of this one, I'm thinking I need more. I'm strongly considering the crux 10′ 8 weight for salmon and steelhead!

Check out the video review of the Redington Crux here. I find out just how this rod is at hooking and fighting trout!
So after my Crux came in the mail, I instantly departed my house to go to the river. Not only did I get to try out the rod, but I also got a new Behemeth reel. I have special plans for that reel, but for today it is safe anchored onto the Redington crux 6 weight..
In Conclusion – The Redington Crux Lives Up to the Hype
The moment I began casting this rod I could tell it is not what I expected, it was better. I felt nearly the whole rod flex in the same way that all of my personal favorites do, but there was something else……it was snappy power. Usually rods that flex in this manner don't have the speed that this rod does. It is very strange (in a good way), this is why I find this rod to be extremely unique and capable of every task you could give it.
I'll be adding more to this review soon. I also filmed a video review which I'm currently editing. I'll post that here as soon as it's done! I take this rod out and do some casting and catch a bunch of nice fish to give it some real world testing. The Redington crux performed well in my video review, as you'll see soon.